You'd like to Japan, but no money for an expensive ticket? Then by all means get to know works of Japanese drummers Yamato, who recently came to Kyiv with his show. This embodiment of all the Japanese, as we know and do not know. Each of their attack on drums – is one step towards Japan. Thus, five shots – five steps to the East.
---
Begin the path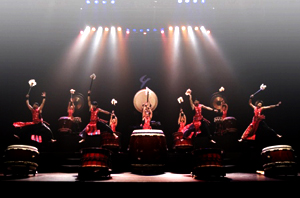 …Yamato – a group of Japanese drummers, who has over twenty years fascinates the world. It consists of seven men and three women. In his concerts musicians use drums, age of over four hundred years …
General information that you need to know about Japan are like area of the country about 380 thousand square kilometers, ninety-nine percent of the population – the Japanese. The average life expectancy of children samurai more than all the other people on the planet – 76 years. And it's common. The main thing is that Japan – this is one of the most pronounced character and mentality. Its inhabitants are very different from Europeans, and especially – Americans. And from that Japan does not cease to be interesting. On the contrary.
Step One: Japanese character
… The concert beganonly with a delay of ten minutes. To measure the level it is even time. In addition, the delay was not due to the musicians, and through the audience, which filled the hall nekvapno. When the drummers started their show, all convinced of the clear organization and felt the frantic energy. Yamato were given concert completely, causing the room to cry and laugh with them …
Organization, diligence and compliance procedures – that are as specific to the Japanese. Whatever they do, try to do better. The famous writer and scholar yaponist Boris Akunin writes about them so: "The Man of Japan could conductor job in эlektrychke or baker, but in so doing, clean up your cause of otnosytsya k s pochtenyem and Full, otdachey. Yskat in Nam meaning of life. And indeed, not table preferably something òû zanymaeshsya. Important dvyhatsya k perfection. "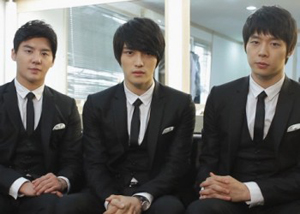 Sometimes the Japanese organization reaches bizarre proportions for us. For example, the first of September every year from the foot of Mount Fuji is the entire staff, because "as you want." And next summer you do not get to the mountain. Although "our people" still climb the mountain, because no one puts obstacles. Or the end of summer on Japanese beaches start sounding announcement that the season comes to an end. One of the online forums Ukrainian shared event from his life on the subject: "I decided to swim in the river. It was somewhere in early October, the water temperature – about eighteen degrees. When went ashore, he saw that I came to save "fast" and the police. They decided that I want to drown himself. When explained that just wanted to swim, policeman shook his finger to his temple, and muttered something about "abnormal haydzyniv" ("haydzyn" – "foreigner" in Japanese
In Japanese office air conditioning and heating turned on at precisely the scheduled time. Never mind that the weather outside does not meet the room temperature. Students change the uniform at a time when it spelled out in the charter school. Often in the streets of Japanese cities can be found schoolgirls who trembles from the cold in skirt and blouse with short sleeves.
The Japanese keep the rules of life: "Make your peace with the situation, whatever it was," "the opportunity to follow the rules", "limit itself to have fun ',' cause its only the evil itself." These principles have formed in a Japanese fatalism, which is more inflammatory Slavs seem somewhat strange and unnatural.
Elena Kodruk (Ukrainian living in Japan for eight years) says that for too long got used to the Japanese mentality, "The Japanese are always very collected, they will not allow themselves to" cry "and spare yourself. During the earthquake you do not see panic. They are generally very easy to just put. Although sometimes, frankly, even angry, when a man does not respond to my comment. "
Step Two: Traditions
… Speech drummers are traditionally Japanese. Even not knowing who it serves, once you understand – is Japanese … In his speech, they try not to stand close to each other, behave politely and bow to the audience is very low, showing that we respect the "dosage" …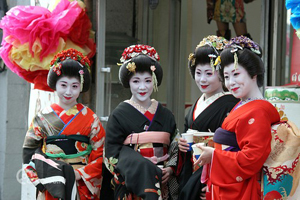 Loyalty to tradition – that is what distinguishes the inhabitants of East Europeans. Even some fashion world trends they manage to transform their own way. Japan and perfectly combines high technology development and business with traditional values. They have a very developed sense of beauty, in children with malechku raising aesthetic perception of the world. Even the poorest families at home, on the wall in a special niche, must have colors and patterns. The Japanese point out a few days of flowers a year, and the New Year is celebrated for a week.
In the Japanese belief is strengthened, "we should be like all". If a child goes against the wishes of parents, it is perceived as a wrong act.
The Japanese are very patient, used to bring any matter to an end. They always prefer debt to them as real samurai is a matter of honor. These qualities should learn.
People in Rising Sun, like the omission, riddles and mysteries. In their literature and art of many symbols and images. It fascinates and attracts attention. But to understand some characters should probably be Japanese.
Step three: architecture architecture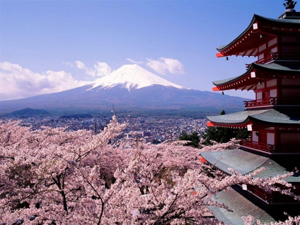 Design Scene … well balanced, nothing more. All functional and beautiful. Yamato move drums on stage, scenery and easy going …
Traditional Japanese buildings were made of wood. They had massive ceiling and walls are weak. Was done so that Japan's climate is mild and often go rain, and there is a large number of earthquakes. The architecture clearly shows the Japanese aspiration to harmony with itself and the outside world. If you ever visit Japan, do not be lazy to punish ancient temple complexes, which are scattered throughout the country.
In order to keep Japanese art and architecture monuments, open businesses in these buildings public library.
Step Four: kitchen
… During a break the audience rushed to the buffet. Unfortunately, the Japanese guests not brought us a real sushi and tuna, and eat substitutes Ukrainian is tired …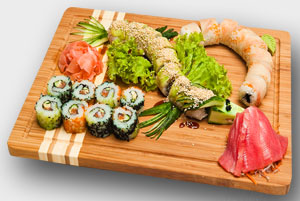 In food as in everything else, the Japanese attitude as a phenomenon in which everything must be beautiful and harmonious. Samurai prefer natural, minimally processed foods, which is still yaknaykorysnishoyu. Very popular seafood dishes from fish and rice.
The Japanese eat small portions, using sticks, we are trying to learn how to use. For many tourists a real Japanese food is one of the main impressions from the trip. For even "land" properly known as "sushi". Best restaurants buy whole fish for sushi in the world's largest fish market called Tsukidzi. He suffered from the earthquake last year, but now quickly "comes to life."
Step Five: Music
… Drummers of Yamato would not let the scene within fifteen minutes, and off the frantic applause for the day in Kiev for lovers of drums was a real celebration of music…
Japanese music manages to combine traditional and motifs that are specific only to this country, and adopt Western trends. Boasts music of this country not only for its originality, but also unusual musical instruments – a suykinkutsu and singing bowls.
Suykinkutsu consists of a scroll, buried in the ground pitcher who is puddle of water. Water droplets gradually fall to the vessel through a special hole on the bottom and create pleasant sounds that form a simple melody, like the bell.
Singing Bowl – a stationary bell, which is used for their rituals the monks. Now use them for meditation posluhovuyutsya and relaxation.
Traditional Japanese singing is based on intervals of human respiration, rather than mathematical calculation, as in other countries.
Over the past few years the popularity of the movement becomes so-called "musicians androhiniv" – is the guys that look like a person without sex.
Of course, in order to describe Japan, five steps are not enough. It is a country with a really great history and traditions. Cover everything in one material is almost impossible, but let's hope that the distance between the two cultures can be overcome as easily as to hit the drum …
Alexandra Politova