A ethnofestival «Pidkamin» already more than five years makes happy his visitors by a warm atmosphere and interesting funs. Every year feel sharp taste of fear from stagger an ancient mystic village and sweet taste Ukrainian – from folk song to the national clothing. What does it follow to expect in 2012?
---
Legend of symbol of festival – the Devil stone
The enormous Ukrainian seating capacity has strange and mystic history. However many were heard the Pidkamin of Brody district of surprizing settlement, that on Lviv Region. Long-long time ago this small locality became a limit between reality and device, world of Good and Evil. Talk, that in the village of tendon defenders of the Ukrainian people, that contested with impure forces and enemies. Once Devil got out from the dark and deep caves, to avenge all lost sworn brothers. To destroy folk defenders, Devil brought with itself the enormous Devil stone. He barely make him to the mountain from that must whip off on a village. However sincere force of prayer and force of the Ukrainian brave giants managed to stop not only bad intentions of Devil but also danger as a stone, that he with itself brought. Since on a mountain in a village a Pidkamin overpeers block sandy, that is the symbol of this locality, its charms. When to walk up the top of stone, then it is possible to the loss of consciousness to be granted pardon by boundless Ukrainian landscape, and if it will be driven, to detect the poppy heads of Pochaiv Lavra. A place is so obvolute legends, interesting fairy-tales, that young people decided to organize there an annual ethnofestival in sign of strength of the Ukrainian mind and patriotism to native land.
And it seemed, ordinary gamble
First a ethnofestival «Pidkamin» was conducted as early as 2007, id est in 2012 will be him 6. Honestly speaking, rarely it happens so, that a non-standard gamble can last so long. Why gamble? Because not many guessed that nevertheless will come the Ukrainian young people such event is liked.
First everything was created on amateur principles: they say, as be – so it will be. It should be noted that a material base of event is not the best. Much what it is impossible to realize, as a festival almost constantly is in the financial snares of misunderstanding and confusions both with sponsors or with participants. Without regard to it, organizers of action and did not notice, as pulled in them in the whirlpool of ukrainization: music, traditions, patriotism, friendship and competitions. Incredibly, but all of it takes place in a Pidkamin. It appears that fully really in the ordinary Ukrainian village to conduct the festival of international level. Now in him musical groups participate from Belarus, Poland, Moldova, and the artisans of these countries present the wide assortment of national products.
Not such, as all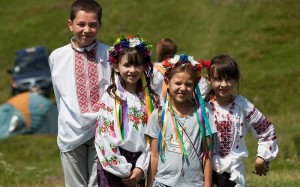 In what feature of this mystic ethnofestival? Second unofficial name of festival – «Bog festas». History of the name is though sad, however (well already quite) such, as in all. Business is in that, that for throughout the year of existence of this event a weather did not make happy visitors by the affectionate rays of a sun and blue sky, though a «Pidkamin» always takes place in summer. During a festival from four concerto days three days necessarily cloudy, with a thunderstorm, and under feet is a «medley» from dirt and water. Many can think that it all is nonsenses and nothing special is not herein. But organizers of event, in particular Ivan Sheremeta, considers it the visiting-card of ethnofestival: «I am sure that not a single festival has such feature. What be more, regular visitors already got used, that on a «Pidkamin» it is necessary to get dressed warm, and rubber knee-boots are a main attribute of action. Although, will disbelieve, there are many people that not against to accept mud-baths. Therefore a ethnofestival is a wonderful case, to revitalize a body and fix a spirit»!
Another visiting-card of festival is dress-code. As it is a ethnofestival, then his participants must dress real Ukrainian vyshyvanka necessarily. Except aesthetic pleasure, she gives a right to each on admission free, and also on the independent choice of place of location of tent.
Interesting is that a ethnofestival differs it by a religiousness. On opening of event a priest blesses all on successful realization of action, gives discipline, reflects above position of modern Ukrainian and his attitude toward God, and on closing of festival of parch as Saint Liturgy sincerely thanks events for quiet realization.
The most ponderable feature is that visitors have the opportunity to enjoy «pop» not ditties, but real quality Ukrainian music from little districts and areas. Participants festa become the earliest explorers in musical space of folk-music that changes the range of interests of man definitely. For example, in 2009 public of ethnofestival «Pidkamin» had the opportunity to hear compositions of such groups, as «Okra», «Made of cane cat», «Karalla», «Shade of a Sun», to «Whom downward», «Ethno XL», «Palikir», «Reich», UNIX (Republic of Belarus), Mad Heads XL, «ТIК», «Ringing», «Marigolds», Made in Ukraine, «Opium», «Atmosphere». The leaders of these groups had outstanding resonance among «packman» young people. Every their song was more eloquent, than hundreds of thousands of words of political figures. From such music, checking begins for ukrainization.
Pidkamin from within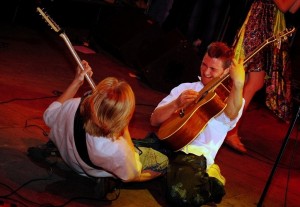 Magic magic of nature, tart spirit of legend, real force of the Ukrainian song is all does a ethnofestival popular and favourite among many people. Here will not find sorrow and tiredness, here gladness and happiness, love and harmony, sobriety and mutual understanding dominate only. On such events people become kinder. On a «Pidkamin» the used for setting fire dances and singing under open-skies do not calm down to late night. And entertainments on a festival and it is really enough. Every day here are exhibitions, presentations, folk masterclasss from wickerwork of straw chaplets, fights in a bog, sport competitions, rural rest from a municipal routine with mantras at a lake, laughter, sleepless nights, fire… A Pidkamin makes drunk, inspires and influences on future exploits. About them more detailed. For the bravest is possibility to feel the real supporter of extremal sports and «go» on the main decoration of edge – mighty giant that overpeers above the singing field. Knight's duels check every youth for endurance and firmness on a battle-field. And what holiday without the real cossack porridge – kulish – and sweet and warm mead? By the way, her, as a rule, one cossack that is helped by fellow-villagers prepares on a festival.
What does expect you on Pidkamin 2012?
This year a ethnofestival «Pidkamin» will take place 5 days – from 8 to August, 12. Unfortunately, headliners are not known, as now actively negotiated between organizers and musical groups. However (from last data) already there are many the amateur to participate in a festival.
One of founders and main organizers of «Pidkamin» shared information on realization of sixth festival. It should be noted, that plans at an organizational committee much. Yet more enthusiasm is in the eyes of people, that help in such noble business, as distribution of home product. The words of Oleksandr Hanushchyn sound more than optimistically. Besides he calls all to the collaboration: «We want finally to realize the old dream and do our festival a ground, where could declare oneself the yet not too »untwisted« groups. The separate stage that will be distinguished for this purpose, hope, will work already from an environment, on August, 9. To Tom, respected performers, if consider that your style can be connected with the format of ethnofestival, – go out on a contact! The unchanging art-director of Pidkamin Pavlo Voitsikhovskyi expects your rings and electronic reports».
2012 year promises to be more fruitful and interesting for a festival. Ivan Sheremeta marks: «We work in order that our festival became unforgettable for the representatives of the most various layers of participants. Want to do so that it was really here interestingly to the admirer of modern music, and judge of folk art, and representative of club of historical reconstruction, and bibliophile, and 2-years-old kid, and eighty-year pensioner. On a festival there will be the most various sport actions, events from services for children and young people and others like that. Well, certainly, hope that, as well as annually, on «Pidkamin-2012» important place will be taken the by a religious constituent».
You are young and active? Then to you on a Pidkamin!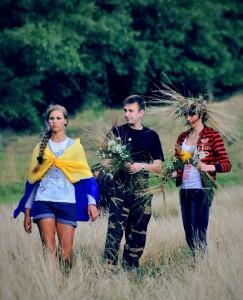 A ethnofestival «Pidkamin» expects new faces, and the habitants of settlement expect a patriotic atmosphere renewed festa. Such events give an opportunity to feel the real spirit of the Ukrainian cossacks, feel the particle of great people the heart of that fights in unison with music of nature and feeling.
To get on a festival, it is necessary nothing to invent and create. The first and the most important requirement (or condition) is a mother of desire to diversify life in summer. Second – to collect the company of friends, acquaintances, relatives, that merrily and with a benefit to spend time. Third – to collect things and leave on a Pidkamin. From any points of Ukraine it is possible to get on an action, and from Ternopil, Rivne, Lutsk, Lviv ply the busses of direct report with the settlement-motherland of festival. It is possible also to reach through a district center, city Fords, and there rout taxis transport all persons interested to the place of realization of event, id est to the singing field. In place it is already possible to choose where to live – in houses, tents or comfortable small rooms in small hotels.
For a feed especially to worry there are not reasons, in fact to choose nevertheless is from what. Firstly, a meal can be taken with itself. In it is the evening possible to kindle a fire and arrange a delicious meal. Secondly, if laziness wins and making dinner is not desirable, then it is always possible to appeal to the peasants that gladly will feed a home meal. Thirdly, cooks that prepare for the visitors of festival every day arrive on a festival, indeed, for a separate pay. Fourthly, it is possible to try (and and free of charge) real cossack kulish and mead. Hungry you will not go about in. The kitchen of festival is so various, that will not have time to try everything. Therefore do not lose a case, to admire boundless landscape of Pidkamin place, to feel the real folk music to the taste, touch, rumor, and who it will be driven, to see her internal many-voiced color!..
Will remind, that a ethnofestival «Pidkamin-2012» expects all persons interested on August, 8-12. Organizers hope on your support and desire to become familiar with to creation of Ukrainian music and propaganda of patriotism among modern youth. In each of us, probably, there is an unbelievable desire to see new character of old and talented, but infinitely romantic native land. It can be done through the prism of «Pidkamin». In actual fact it is very difficult to pass the impression from a festival in words: he is necessary to be outlived and feel a heart. One can be asserted exactly: a Pidkamin is a little country and extraordinarily picturesque nature, real reserve of art in the soul of every conscious Ukrainian. Attached, if to make sure, that Ukraine lives and seethes – it is simply necessary to be able to awaken!..
Iryna Mokrytska