If you favourite places for rest, that got used to choose our compatriots are Turkey, Egypt and suchlike, were already tired of, then bravely choose a country that  certainly will become  wonderful remembrance in your life. Her name is Croatia. Submerge with us in this being carried away trip by a country, to know about her anymore and in the future to visit her. 
---
Geography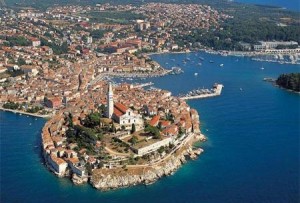 A country is located in north-western part of the Balkan peninsula, on crossing between Central europe and Mediterranean. He is considered one of the most ecological places in the world. The Croatian Adriatic coast is cut with many islands: here counted 1185 islands and small islands(populated only 66). Most is an island Kirk.
In relation to a climate in Croatia, then it is possible to distinguish two his types: mediterranean – on the coast of the Adriatic sea and mildly continental – in the middle of country. Middle temperature of air in summer – 30°C, and waters – 26°C.
If Your hotel is in one of bays, then there is the impression, that you have a rest on an uninhabited island only with the heap of other tourists from Your hotel. On the bank of the west of resort of Umagu to sunbathe on beaches one pleasure: who loves to tan – can take place near water and enjoy the ray of a sun(only do not forget about lotion with the corresponding level of defence of spf), and that, who anymore cares of health, but not about bronze tan able to rest in the chill of small pine-wood that fits closely to the sea, and enjoy reading of the favourite novel.
History and modern problems
History of Croatia is very sickly for her habitants. After Second World she became one of republics of communist federal Yugoslavia. And only on June, 25 of 1990р. independence of Croatia was renewed, but it is impossible to say that now a country is confidently on feet and that past events passed unnoticed in order that she can be named the mighty, strong and influential state. Croats consider that to date a country can count on enriching, mainly, from tourist business the indexes of that grow with every year.
Сulture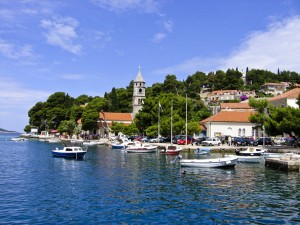 Croats speak in the native Croatian language, but majority knows Italian through close connections with this country. And an auxiliary personnel in hotels additionally owns the English and Russian languages, that problems at communication does not cause.
A national kitchen is extraordinarily near and clear for every Ukrainian. Especially delicious, even luxurious are piraguas with a poppy. If a cossack from the Ukrainian folk song, that "loved a girl and with cheese of piragua", tried these with a poppy, then he probably quickly changed the tastes and even would forget about a girl. As early as Croatia it is possible to find the enormous amount of pizzerias and so-called " jelaterij", where it is possible to purchase the uniquely-delicious Italian ice-cream.
If to go in this country, then for a delicious gift to the relatives and friends the best of all to bring Croatian wine " Malvazia" and " Babich", cherry liqueur " Marskino", that reminds lemonade, olive oil, honey(my more favourite – claryjnyj, that at the same time is very useful and curative) and piquant sheep cheese that it is better to buy on islands to the taste, because exactly there the most level of salt in soil and sheep is given milk ideal for delicacy cheese.
The good hands of Croatia, as well as Ukrainians, are famous embroideries, though with other decorative patterns and colors. As a souvenir can be purchased the shirts and table-cloths, and also wares, embroidered suited to every fancy from wool, skin, napkin from a lace(an approximate price is 100 euros). On Your choice ceramics, national suits, valuables, are offered also, and yet are silk masculine ties. It is considered that exactly in Croatia invented such workaday detail of cloak-room for men as a tie.
Money and prices
Some notice that Croatia is an expensive enough country. A monetary item is Croatian kuna (HRK). But as for Ukrainians, especially for the habitants of the European capital of Kyiv, prices usual, in fact one kuna equals one hryvnia. All goods and services cost approximately so much, as well as for us. For example, to go down in Kyiv Hydropark from a hill in a pool it is necessary to expound 2-3 hrn., then on one of resorts of Umagu are 3 kuny. But a difference perceptible is in that profits for our people and Croats, though with alike history and problems, strongly differ and not in our benefit. For example: pensioners in a month get 300 euros and very on it sting, but they do not know that their Slavic brothers in a month have an about 100 euro and will be to be satisfied to those that are.
Prominent places (excursions)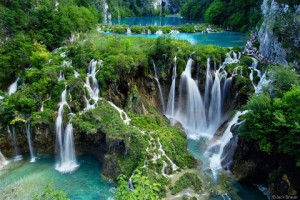 To go on an excursion is expensive pleasure, but even one it is needed to take the liberty of. I especially recommend a journey to the capital of Croatia – I will Rake up, on Plivickie of lake and if have an open visa and to Italy(this двухчасовое trip by a sea to Venice).
The capital of Croatia – Zagrebu, that was considered one of youth in Europe. It is a main educationally-cultural cell of Croatia, where the located ten of theatres, museums and artistic galleries, numerous libraries, cinemas and other establishments of culture.
Plitvickie of lake is a greater national park of Croatia under cover of UNESCO. It means that people in no way can interfere in the processes of nature: it is impossible to bath, feed animals, fishes, catch her, and even if a branch, tree, tumbled into water, he can not be touched, thus mother-nature remains wild and untouched.
The district of park occupies 19 thousand hectares. His major part is a cascade from 16 karst lakes that is constrained inter se more than by one hundred waterfalls. Water in lakes is transparent emergency colors: from light blue to navy blue. On the face of it the tourists it seems to that there very much trout, because they swim up coveys to the bank and as domestic hand animals expect some meal, and can especially curious and for a finger to catch. But all fish mostly is near banks, in shade, in a center and on the depth of her it is not practically.
Tourists
To Croatia many foreigners arrive: Germans, neighbours, are Hungarians, Serbians, but more credible than all to meet Italians, that simply adore resorts, service and cleanness of nature of this country, there. Especially plenty of temperamental is observed in August, when all habitants get vacation. That is why exactly at this time prices simply unreal. In the last month of summer all not to the jokes: on the roads of cork, on streets noise, din, scream, to that it is difficult to get used to quiet and balanced Croats. Ukrainians, Russians here meet rarer.
Hotels of Croatia are on the example of Sol Сoral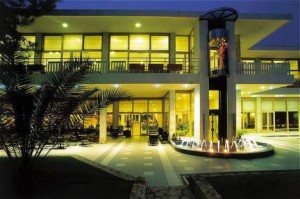 A hotel Sol Coral is in the coniferous forest, ashore sea. Nearest city – ancient Umag (three kilometres), locality of Katoro.
This hotel is this three-storeyed building with three elevators. Because he only was only opened(on July, 14, 2008), even to complain not on what, although noise from repair works – however violate rest to the tourists.
A hotel has everything for comfort and the best rest: conditioners, central heating, access to the Internet, telephones in numbers, satellite television, safes and much what other. Also carefully thought out going near everybody: there are numbers for non-smoking people and for people with the limited possibilities, enormous amount of bars suited to every fancy, wellness- center. Only minus – there is not a darling of "all inclusive" (all is included), because here a law operates "any whim for Your money". But traditionally, as in every hotel of the world, there is free daily and evening animation, id est carefully thought out entertainments, performances by the professional command of animators of Sol Meliá Activities. These young guys and girls exactly will not allow to you and sad Your little children, thinking of all new and new  merry games.
In relation to a feed, then in a hotel there are breakfast and supper is the Swedish table, and also show-cooking (possibility to see the process of preparation own eyes). Feed really kingly. If breakfast is rich in vegetables, fruit, yoghurts, omelets and fried eggs, toasts, then in the evening you rejoice: a few types of fish (shark, eel, halibut, trout, and also octopuses, mussels and others like that),  meat, garnish, any lettuces, simply vegetables and fruit, pizza, desserts, ice-cream. When see such unbelievable amount of tables with delicacies, then forget about a diet and even about a measure, but a desire to starve will arise up at home, becoming on scales. Joke! Nobody yet complained.
Greatest pride of hotel Sol Coral, in my opinion, it is an even not modern design, not refined service, and a beach that has a prestige reward of Federation of the ecological inlightening (FEE) – blue flag is well equipped. A beach is a wide platform with stones, and also enormous amount of lawns. The deck-chair can be put straight near ruins of ancient house, and if to believe locals, then here Romans lived many centuries ago. And usually on a beach you will be able to play in volley-ball, lease a boat or catamaran. you various entertainments will be offered to: to take a drive on water skis or fly on a parachute after a boat, go down from a water hill, and if however will want to remain on land, then able to lease a bicycle or rollers. If sport and rest at the seaside for you are incompatible things, then arrange to itself a walk on "Eko-train" – ecological train along an embankment to the center Umagu and get pleasure from architecture of old city.
Another priority for a hotel there is that, that albumens live on his territory. If Your number on a ground floor, then do not be surprised, if one of them will grant in guests. you exactly will not hold out and will help to her the apple or nut, and on memory will take a few wonderful pictures.
Olesia Synycia