Turkey, Egypt, Greece, UAE, Thailand and many other countries welcomes thousands of Ukrainian tourists. However, there are still people who are closer to the soul of native region. So where did it go in the summer? There is one great place on the South Coast of the Crimea, where once rested Voloshin, Aivazovsky, Tsvetaeva, Chukovskij, Korolev and many other famous guests – a place called Koktebel.
---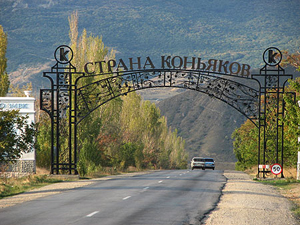 In the town
Since 1909 Koktebel acquired the status of a fashionable literary resort. The sea, the mountains and some tropical nature create a wonderful atmosphere for creativity. It was relatively quiet and peaceful place where you can enjoy plenty of sea and sun. And the twenty-first century brought to life Koktebel adjustments clubs, cafes, hotels, shops with souvenirs, shops with shawarma and milkshakes – trade at every turn.
Clearly, the resting place mostly aimed at youth. After all, besides comfortable hotels are also cheaper rental options: for example, to remove the house. Such services around town a lot. Prices start at 50 USD per day, then – depending on conditions. Intermediate: Room 2-3 beds and shared with the owners or other inhabitants shower with hot water, toilet and fitted kitchen, what you give about 70 USD. The problem here is perhaps the lack of air conditioning. The solution – an additional 80-100 USD.
On what can be saved in Koktebel, this vehicle. The town is small and difficult to navigate on foot, but if you still need a vehicle, then you ride with the wind at double outdoor chaise, for which accept thanks in the form of 15 USD.
Approximately the same amount away from your wallet if there is a desire to dance: 15-40 USD is the entrance to the nightclub. But do not count on dancing till you drop: about 4 o'clock in the morning you "ask." And then where your heart desires. It is advisable to her whims limited hookah or a cup of coffee, because at this time of work mainly cafes and hookah bars.
For meals: local dishes are manta rays and pasties. Something like they dumplings and cakes, but worth a try. Everything else – the usual for our stomach.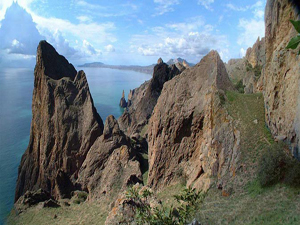 What to do?
On the coast, many diverse attractions, where you can well pass the time, waiting for a tour: Karadag, Holy Mountain, Golden Gate, the house Voloshin and others. Crimean land is rich in monuments.
The most famous of these is, of course, Karadag, or Devil's Mountain – an extinct volcano. It's like another world, full of mysteries and secrets. During a tour of scenic landscape of Koktebel Bay on Magic Finger Devil – 42-meter tower, the majestic Golden Gate, which make the sun for a moment believe that this rock is really 585. But the biggest thrill is a small trail that leads to a "dead city" – conservation area where there are many species of nesting birds and rare plants grow. Login forbidden there, so we can only imagine what a beauty lives there. All these emotions are about 60 USD. If you are not afraid of heights, snakes and physical fatigue on 8-hour journey, we forward the impressions!
They can not fail to impress and boat trips on the boat that will carry you along the Kara-Dag. The mountains are majestic volcano so close to you that want to touch his hand. Here you will find a real celadon … It is impossible to describe in words, it is necessary to see, but if you know how to swim, or even feel the 20-minute tours are assigned to swimming in the open sea. Unrealistic feelings priced at 50 USD. Be sure to try it!
More affordable, but equally popular beauty – dolphin show. Once opened Koktebel dolphin welcomes guests who do not regret for communication with the sea healers around 50 USD. The chip shows – small seal that has nothing knows, but very hard applauds his colleagues on stage.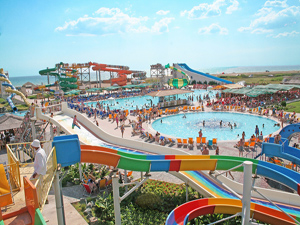 Another popular new in town – water park. Here, of course, is what to do: dozens of water rides will not leave anyone indifferent.
Bad earn locals to "Voloshynskomu Koktebel": house painter and poet Maximilian Voloshin, literary evenings "Voloshynski reading" reproductions of his paintings. Connoisseurs of art will satisfy your craving for beautiful symbolic 15-30 USD.
Do not forget also about tasting rooms known manufacturer of alcoholic beverages "Koktebel". Here you can buy everything at once and that you will enjoy for free tasting. Prices for wine and brandy bottles are not very different from the store, but the quality is undeniable.
Fans of stronger drinks find their happiness in the local market. Between tomatoes and onions you will find vodka and grape – Georgian chacha, after which the morning is really no hangover, but only fond memories of last night. Such pleasure is worth 40 hryvnia per liter.
Local pleasures
Another positive feature is the presence Koktbelya children's health camps in which kids come each year, always coming back a second time, third time … Someone from the sea, some friends, and some portion of the new impressions. Someone who, as young people here can not be bored.
And adults will find their entertainment. For example, cozy cafes with live music where mostly sitting cross-legged, do not leave them indifferent. These institutions are referred to as "teahouse" and are very popular. For extreme sport you can choose diving, horseback riding or aeroplaneryzm.
I can not "throw the hook" geologists. Among Karadag gems: agate, amethyst, hematite, rhinestone, desmin, diopsys, quartz, Mesolithic, onyx, opal, Prague, carnelian, trails, citrine, jasper and more. Get them directly to reserve fails, but buy in souvenir shops – no problems.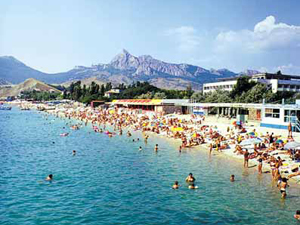 Be sure to admire the strange mountain chameleon that overnight changes color from purple to sand. It can be seen from anywhere Coast back facing the sea and look left. By the way, near the mountains is a beach for nudists. A lot of people here who want to experience the Black Sea every cell of your body …
And the sea is truly wonderful! Stone beach, which is an advantage to the sand that morning clean water remains the same in the evening. Enjoy it helps "bananas", "pill", scooters and other water activities, prices starting from 40 USD.
In memory of Koktebel offers many holiday gift: wood and stone, pottery, various jewelry sets spices. Purely local gift will Feodosiya cosmetics Mud.
Well, apparently this is all there is to tell about Koktebel movnostylistychnymy means. Everything else will be able to submit only your own senses. So pack up your bags and go to the "Сountry of brandy"!
Davydova Dar'ya