There is a legend, that when the God distributed the natural riches of the earth, they was not enough for a small country in the heart of Europe. To correct this injustice, the Lord gave her mountains, similar to the towers of castles, sparkling glaciers, roaring waterfalls, lakes, and countless of friendly fertile valleys. That's how Switzerland became the perfect embodiment of divine wisdom.
---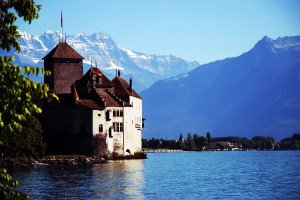 But that first comes to mind when we hear about this country? Of course we think about the Swiss banks, watches, chocolate, cheese… and the question arises: is it really the only thing we know about this beautiful and amazing country?
Switzerland, in fact, is in many ways unique. Despite the fact that by European standards it is tiny, it does not prevent it from being famous. Who wants to go there and relax? Yes, almost everyone. But the main problem, as always, lies in finance. After all, we've learned that Switzerland is associated with a lot of money, and everything there is expensive. But does it really means that to have a good rest, you need to constantly carry a lot of money? Not at all. The main thing is that there is a desire.
You should begin with the small – go get tickets. In Ukraine, there are lots of different airlines, which sell them at reasonable prices. And if you buy tickets in advance, or as they say, in low season, you can very well save the money. Or you can travel on a tour of Switzerland – then you also do not particularly spend on tickets.
Skis instead of wheels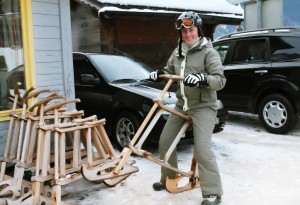 If you choose, where to rest in the cold season, it is undoubtedly Switzerland. There is hardly another country in the world, a life in which would have been so closely associated with mountain views and recreation. Nearly half of its territory occupied by the Alps. Many first ski resorts, ski schools were founded here, and most of the traditions and styles of riding have gone from these places. In addition, in the Alpine valleys in almost any time of year is dry and sunny weather.
The uniqueness of the Swiss climate is that for each area of the country is characterized by its landscape and weather conditions. It adjoins the Arctic to the tropics, so the country is interested in any season. In summer there is also a lot to see: blue lakes, fast flowing rivers, waterfalls, green alpine meadows, high mountains and eternal glaciers. All of this is breathtaking, especially lovers of photography and divine landscapes.
But back to winter recreation. For example, you can go down the hill on an inflatable disc, camera or car on a snow scooter that resembles a cross between a bicycle and a traditional scooter – its design has only two skis and steering wheel. Because the seat is not all the way to go have standing. There are more exotic entertainment – the descent from the mountains to velogemele. This is a kind of bicycle with skis instead of wheels. To support the balance can be worn on the feet small skis.
By the way, if you're lucky enough to find out about the Swiss, then be sure you are with them will not be bored. They are reticent on the street, but give yourself go on vacation. The Swiss know the measure, and not without a sense of tact. Young people resting in the same way as their peers in other countries – a noisy, riotous, fun. But, unlike those Italians, they know when to stop.
Return trip with the "Swiss precision"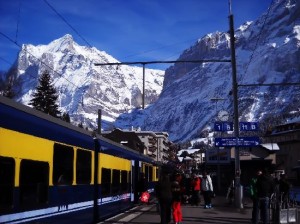 For lovers of architecture, Switzerland holds the fortress of the Renaissance, Baroque buildings, Romanesque and Gothic architecture is part of the ensemble of cities such as Basel, Geneva or Lausanne. And art lovers will please a lot of museums. In Switzerland, its more than 600, which means that each city or town can boast of at least four museums. By the way, according to the Swiss themselves, the most popular museum of the country – it's Transport Museum in Lucerne. In second place – Botanical Garden in Geneva, on the third – the medieval Chateau de Chillon on Lake Geneva.
You may be wondering – how it can be viewed, pass, travel around and is it possible at all? Believe me – it is in Switzerland are well taken care of. Sale of tickets in this country – the prerogative of the machines. Automatic knows exactly how, when and where to travel, to help plan your route and propose options for how to save money buying travel for multiple trips or for a specified period of time.
In Switzerland, a system of combined tariffs. The whole country is divided into zones, and the cost of the ticket depends on how many zones intersect the route. There are several types of tickets. This is a one-way ticket for 4 hours or days, the city ticket "there" or "return" on a trip or a day, a day's travel across Switzerland on any form of transportation, group and long-term (1-6 months or 1 3 years) travel. In addition, there is a single ticket to travel around Europe, as well as various discounts for tourists, students and pensioners. Within each tariff also provides discounts depending on the route and the individual passenger.
By the way, one more thing you notice. One area that justifies the term "Swiss precision" – is transportation. If the schedule says the bus will be at the bus stop at 14:42, then rest assured it will be so. Neither snow, nor the heavy rain did not make the bus late at least for a second.
Oh, those Swiss!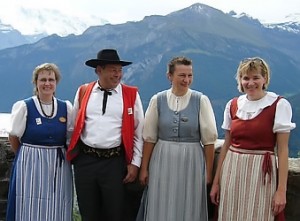 Interestingly, the Swiss are rightly regarded as impossibly polite people. Their politeness, courtesy, restraint is well known, but these qualities are not to be confused with good manners. A characteristic feature of the Swiss, indicating their affability and friendliness – a passion for the handshake.
Swiss have very closed private life. Outsiders may be invited to visit only after a very long time acquaintance. Business or soiree Swiss suit in restaurants or hotels. At such events, knowledge of etiquette and good manners should be, because the Swiss love it.U appreciate them, there are two forms of treatment: a polite (Mr., Ms.) and familiarity (by name). If, for getting acquainted with the person you call him "Sir" or "Mrs", then most likely you will have to refer to it as always.
On the one hand, the Swiss are very conservative by nature, on the other – a very curious and adaptable. Switzerland has four languages, but they communicate with visitors in English. He is also the language of business. This country has traditionally been a tourist, which is manifested in the care of its residents the comfort of visitors.
As for free time, the Swiss know how to have fun, because they are highly labor consciousness and therefore can appreciate the time available for leisure. Interestingly, the ten most favorite activities during leisure Swiss are reading, walks, theater, cinema, exhibitions, athletic training, and sections, gardening, crafts, restaurants, sporting events and discos, and at the bottom of the list is visiting various training courses and schools of music.
The state secrets to Gourmet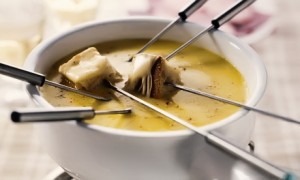 Switzerland loves to pamper its guests a variety of dishes, especially in every part of this unique country can be seen as ethnic dishes, and other countries – Italian, French, German. In French-speaking regions just need to try fondue – melted boiling in a white wine cheese, Gruyere or Emmental. It is served in the spirit lamp in a ceramic pot, which dipped bread on long forks. For the dish is served, as a rule, the local wine of the same brand that was used for cooking fondue. In the German regions of the dish will make you happy Lurich Leschnetzeltes – thin slices of veal in a sauce. They are usually served with specially prepared and baked potatoes.
In addition, Switzerland is famous for its chocolate, lake and river fish, raclette, jerky and all sorts of pies. Also, at any restaurant you can find a huge selection of cheeses. As for wine, you will find any known wine, especially in large restaurants where the wine list includes hundreds of titles. Also worth trying is a specially prepared strong coffee ristretto. Interestingly, the recipes for Swiss cheese and wine are a state secret.
If partying – then with the music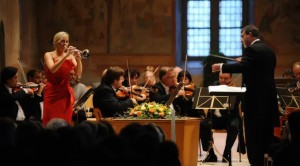 If you're a fun-filled holiday and a great music, then Switzerland will once again be for you the most suitable option. Indeed, each year are held hundreds of music festivals of all sorts of directions. Especially popular summer open-air concerts, which bring together both famous and little-known performers.
Concert season usually opens in late June in St. Gallen. In July festivals begin in Bern, Avanchers and Nyon. The famous jazz festivals are held in Montreux, Bern and Willisau, less well known – in many other places. Do not be left without attention, and fans of classical music. The international music festival in Lucerne, Gstaad (Menuhin Festival) and St. Moritz («Snow and Symphony») lasting for several weeks and among the most important events of the world of classical music calendar.
Between Heaven and Earth
Switzerland with its many peaks, bridges and dams – an ideal destination for thrill-seekers who prefer extreme sports tranquility. They will appreciate the Bangui and Base jumping.
Bangui-jumping – a jump from a bridge or platform with a special flexible rope upside down from a great height. The most famous place for such jumps is a water-lifting Vertsaska dam in the valley. It was with her in the movie "Golden Eye," the legendary James Bond made his 220-meter jump. More dangerous than jumping Bangui, Base jumping is considered. He is like a parachute jump with the only difference is that people do not jump from an airplane, but with rocks, bridges, tall buildings, etc.
I know you may think that we have such extreme entertainment. But you will agree, is always more pleasant to try something new in a foreign country. After all, this is where you connect with pleasure – and the rest, and learning a new one.
So do not hesitate and rest with pleasure. And do not forget your camera. Impressions about the country in simple words can not convey.
Aurika Bochkar