With approaching of vacations almost in every family is there a question «Where to have vacations?». Now there is such tendency in tourist business of Ukraine: compatriots elect oversea resorts rather, than our, well acquainted from communist childhood (Carpathians, Myrhorod, Truskavets, Crimea and others like that). They say, rest of made in of Ukraine does not answer balance of price and quality, clients in our country does not respect, but all amusing pieces here already a long ago became uninteresting.
---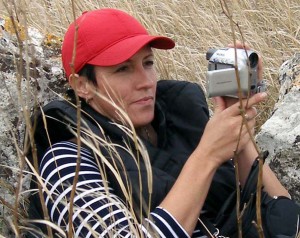 Yes, possibly, prices are high, level of service not from the best, but to look is on what! In fact Carpathians – not only tents and can food, Myrhorod and Truskavets, are not limited to mineral water, and Crimea – in no way not only «Artek» with songs under a guitar in the middle of the desert. On an example last will make attempt bring through stiff in death stereotypes natural interest and personal interest. Together with Olena Pikulova, the leader of the Crimean tourist company «Tavryka», we made top-7 of places of peninsula, which must be seen above all things.
Location: Crimean mountains, 5 km from s. Sokolyne
Age: approximately 2 millions
Depth: 320 meters
Length: 3,5 km
This canyon – most in Ukraine. He attracts tourists the grandeur and inscrutability. The heart of this mighty elders is the mountain crystal river which for a long acquaintance had time the obstinacy to wash down the so-called «baths of youth». Locals assert that, after legend, a man which will visit one of such bathhouses can turn the lost youth and beauty. Anyway, the temperature of annual water, which makes and in winter, and in summer stable 12 degrees is instrumental in proceeding in cheerfulness.
Comment of expert:
«For the successful meeting with the Large canyon a tourist takes up arms a sporting shoe and bottle of water. For things elect a backpack, to attain the hundred-per-cent fixing and work hands free from superfluous things. Does not forget swimming suits and shorts, in fact must submerge in miraculous mountain water!»
Location: town of Livadiya
Age: 101 year
Architect: Mykola Krasnov
Livadia Palace is the classics of Crimean tourism. The estate was built as a summer residence for family of emperor Mykola II. But interesting is some other. This palace combines in itself two diametrically opposite layers of history – imperialism and communism. Exactly here, in Livadiyskomu palace, the Yalta conference the leaders of three mighty states in which took part – Joseph Stalin, Franklin Roosevelt and Winston Churchill. Even this being carried away combination of epoches explains to visit this palace-museum.
Comment of expert:
«We are proud of that there is sight of international value on territory of our city. To this day Ukrainian power uses the founded Yalta conference by tradition, choosing Livadia Palace as an official residence».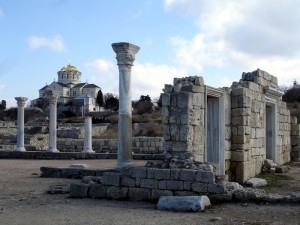 5. Chersonesus Taurica
Location: Sevastopol
Age: 2530 years
This ancient Greek colony is a main applicant of 2012 on the receipt of place in the list of world inheritance of UNESCO. And not for nothing. This policy differs most the level of concentration of the classic Greek objects. So densely, as buildings of way of life and culture in Chersonesus, they are not located even in Greece! Except for it, can name this place to one of decision for Ukrainian history. Exactly a prince Volodymyr baptized here, laying beginning to the transition of that time society on a high-quality new level – orthodox socium.
Comment of expert:
«The today's tourist trend was become by immersion in the atmosphere of old epoches by installations and theatrical decisions on the proper subject. Chersonesus is not an exception! In summer here, in an age-old amphitheatre, there are ancient theatricals – dramas and comedies».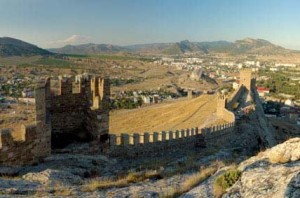 4. The Genoese fortress in Sudak
Location: Sudak
Age: about 1312 years
Area: 30 hectares
Rock which our object is located on, – it hardening millions of years back coral reef. A fortress is most for today sight of the Italian culture from those which exist outside Italy. Fourteen towers, palace- donjon, church, which in different times was both an orthodox temple or moslem mosque. All of it and far anymore it costs to see in the Sudak's fortress.
Comment of expert:
«The Genoese fortress enters in the complement of preserve «St. Sophia Cathedral» (that submits directly to Kyiv), which does possible the guard of this place and insetting of money in his restoration and support of the proper state».
Location: lower plateau of mountain range of Chatir-dag, Marmurove town
Age: 10 million years
Opening: 1987
Marble caves is karstic originally. Today there suggest to visit about ten halls and galleries. For them it is possible to see stalactites and stalagmites (karstic formings, «posts» from water and different minerals), stone chaos and underground lakes. Granting here costs in an order to feel all mysterious grandeur of nature. Or at least because the Marble is included in five of the most beautiful caves of planet!
Comment of expert:
«It would be desirable to mark that unicity of the Marble cave – in its primordialness. When an object was opened, he became a museum at once, that is why the walls of cave did not test the actions of vandals».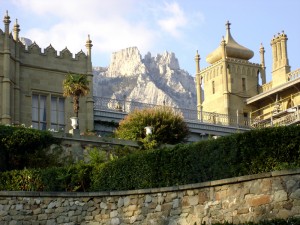 2. Vorontsovskiy palace and park
Location: Alupka
Age: 164 years
Area of park: 361 913 м2
A palace was built on the order of count Mykhajlo Vorontsov, one of the most influential personalities of Russian Empire. Building is the synthesis of western and east styles – English gothic architecture and romanticism of Mauritanian. More being carried away, strangely enough, there is Vorontsovskiy park building of which can be indeed named creation of creation arts. In a palace-museum plans which all details of future park landscape and ensembles are represented on are saved until now.
Comment of expert:
«A count Vorontsov is a main figure in history of development of Crimea, in fact under his guidance were built Yalta port, first roads. It is impossible to over-estimate his payment in development of economy and culture of peninsula».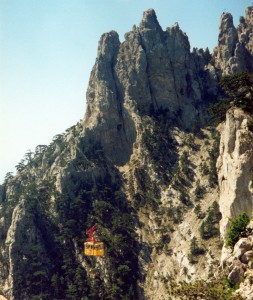 1. Mountain of Ay-Petri
Location: Yalta
Age: 15 million years
Height: 1234 m
Ay-Petri not by chance occupies the first place in our top, in fact it – namecard of all south to the bank Crimea. Before aesthetically beautiful satisfaction from contemplation of a «stone crown»  unique possibility to rise on a plateau by the longest in Europe rope road of all for 20 minutes is added.
Comment of expert:
«Most popular from mountain routes due to that he is facilitated by the presence of rope road. Besides from Ay-Petri it is possible to enjoy being carried away landscape.»
Crimea is boundless chest of secrets and legends, riddles and openings, that covered by a dust and stone, leaves, dews, salt of marine air. And after this short review of Crimean wonders I have a hope, that, before to reserve hotels in Turkey or Egypt, that all the same Ukrainian family will discuss possibility of rest in Crimea or in Myrhorod, Carpathians or Truskavets. In fact our, the Ukrainian resorts deserve that every tourist felt on itself the value of phrase «Came. Saw. Came to love!».
Anastasija Kosynsjka
Photo: Olena Pikulova