"To work or relax?" – Summer is almost Shakespearean question every student asks himself. But now these things can be combined with a program of student exchange, which are becoming increasingly popular in Ukraine.
---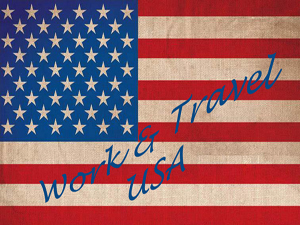 Student exchange programs enable young people to work and study in different countries. Each of them has its own characteristics, but we are interested in is seasonal programs, so let's look at the most popular ones – Work & Travel.
This program allows students to undertake Ukrainian from two to four months in the U.S., improve language skills, postazhuvatysya in American companies and see the country with his own eyes. Students are encouraged to work in restaurants, hotels, amusement parks, various festivals and national parks, summer camps and resorts throughout the country. Having expertise is required, and all who officially registers to participate in the program are provided with guaranteed employment.
Preparation
Participants in the program can be anyone who is not a student of final year of full-time Ukrainian universities, if age 18 to 24 years, and he speaks English at a conversational level.
Prices range from program 2800 to $ 3500 depending on the chosen agency. This amount includes embassy fee (for a visa), payment job search, registration of all documents and the price of progress in two directions.
The contract should state: the exact position, number of working hours per week (U.S. hourly wages), the ability to work hours beyond their working hours because work more than 40 hours per week is paid a half times more expensive, which is beneficial to students, but each policy company in this case is different. Availability of housing is also indicated in the contract: the company can take a fraction of the cost, but in practice, it is still a 10-15 percent more expensive than an independent leases.
The biggest obstacle for students somehow have an interview at the embassy. Although formally it takes 2-3 minutes, but again it depends on your visa. And do not be surprised if the officer asks, "Do you like music of Texas?" Because his task – to assess your language level and ability to find a way out of different situations.
What to bring?
So you've heard «Have a nice summer» Embassy officer of, and finally the long-awaited visa emblazoned in your passport. Time to think about drawing things. Take them with you lot. As one of the participants in this program: "After buying 3 pounds of new clothes old you can still throw."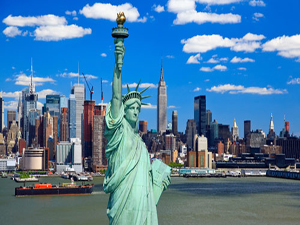 Take with you as much medication. First of all, colds and runny nose, and disinfectants. Take also patch: it is useful when you travel to other cities or Niagara, when you have to go long distances.
Be sure to make copies of all documents before departure and store them separately from the originals, and the originals will always carry with me. Take them with you on a plane, after passing control to the immigration officer you will not have access to your luggage.
Welcome on board!
After passing the appropriate customs officer checking procedures should give you a J-1 visa, which is required for a number of social, employment and so on.
In New York Airport JFK, which arrives 99% of students have the information desk, where it is necessary to take a map of New York and Metro. To get to the subway in New York, to take the Air Train, which takes you to one of the terminal branches. How to get the line up fee and costs $ 2. Do not buy a road map with it – better to use the machines. Be aware that trains arrive on the same platform, can go in different directions.
Apartment
If you choose a job without housing, and the city where you have to live, come night – go to a small motel or student center. In the motel convenient and safer, but the student center you can offer cheaper accommodation, and there are a lot of ads for rental houses or apartments. Also look for ads in free newspapers and near buildings «Rent» and «Seasonal Rent».
Best to rent an apartment with other students, because a lot nicer just to pay 150-200 dollars a month than 300-400 for the same conditions. Moreover, you will already know people that will go abroad, because agencies are trying to introduce students to the orientation and training of flying.
We settle?
Do not delay registration in SEVIS and submit documents to Social Security. Without Social Security Card or letter that you applied for getting it, you will not be given a salary in the main job and you will be minimal chances of finding another one.
The first thing to do, to understand the housing and documents – to call his manager (the number specified in the contract), and he in turn will assign you the date of the meeting or orientation.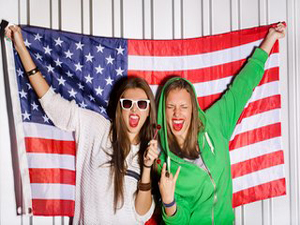 Most students try to find yourself another job, because at the core you had a chance to work more than 5 days per week, and the schedule is such that you're only one part of the day – the other remains free. Further work can begin looking immediately upon arrival. Pay attention to the signs "Hiring" and "Help wanted" in stores, restaurants, hotels and more. Speak with a manager, as soon as he decides to take you to work or not.
The issue of transport
If you live in front of the employer, then that's fine, but if the distance is large enough, then the best for health and purse mode of transportation – a bicycle. You can buy it in the student center for 20-30 dollars. Let rusty and loose, but not sorry to leave behind from Congress. If you want to ride on relatively good and a new bike, then locate nearby supermarket «Walmart». Bicycles are there from 50 to 600 dollars. Pick a convenient option for you to ride and care.
Of course, in every city there are buses. They are comfortable, but slow, and they need to wait 30-40 minutes. Although sometimes students leave their bikes at home and prefer a cool bus, because cycling trips of 4-5 miles at an average temperature +30-35 ° C and high humidity is very boring.
Nutrition
Follow the diet – do not move to the burgers. If you enjoy buckwheat, it is best to take it with you from home, because America can not be bought in regular supermarkets, and so it is considered a delicacy among students. One of the cheapest food supermarket in the U.S. – «Food Lion». Look out for discounts. On average, the food you're going to spend $ 40 a week, not denying yourself anything.
If you want to save money – Make yourself working in a cafe or restaurant. With your salary will deduct a certain amount, but you can eat whenever and whatever.
Communication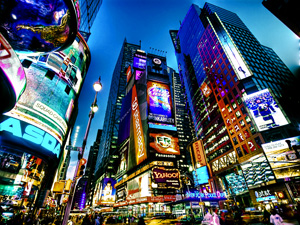 Do not forget to call parents after the arrival in the United States. To do this, you can always take advantage of cheap communication card IP-telephony. For five bucks you get a chance to talk with native 50-60 minutes. The most popular among students cards ACCESS International. You can buy them at the airport, in any store provider or student center.
Each town has its own library, which is the Internet. You sign up, and at a time are allowed to sit on the internet for free about an hour. Almost everywhere there are Wi-Fi, so if you will have a laptop, you can "catch" the Internet at home or at any hotel or office.

Travel!
And, finally, when you have worked diligently working days, it's time to travel.
Take a driving license. If you are 21, you can rent a car without much difficulty, and the mode of transport to travel as convenient and cheap. Choose to stop student hostels. Reserve a place in any of them you can visit www.hostels.com.
In general, try not to violate any laws, ranging from drinking alcohol on the streets and ending with breakfast on the bus, because the punishment may be the most violent – until deportation from the country.
After reading all the recommendations and advice, your turn to choose between work and leisure. And can still combine? Enjoy yourself, because you are worth it!
Berlach Yuliia