Psychologists and scientists have long been proven that the best way to relieve stress is sports, especially extreme. Perhaps that is why more and more addicted Ukrainian rope jumping. What is it, the rope jumping? In short – jump with a rope from a certain height: most of the rocks, tall buildings, bridges, towers etc.
---
It is often confused with badji jumping, so we stop to explain the differences between these types of extreme jumps more detail. Dictionary of words of foreign origin explains the term rope jumping as "extreme activity direction which is to jump and subsequent freefall (flying down) with high object." Unlike badji jumping (jump down head to toe rubber rope tied), jumping rope using a system of climbing equipment. This are carabiners, ropes and more. Member jumping with two ropes attached to the belt, and only later jump swinging like a pendulum from side to side. Moreover, by fixing gear and climbing ropes, going on to alleviate sudden "stops in the air" (when stretched cord) that prevents injury of the spine and makes the jump more or less comfortable. Thus, a person does not feel too heavy load.
Who was the first ropejumper and how he came up with such idea?
It is known that invented this sport the climber Dan Osman. Once he fell off a cliff and flew down. Saved extremals just insurance. At a certain altitude Dan hung in the air and another about two minutes rocked from side to side. It was then that his mad mind had the idea to jump off cliffs for climbing a rope in order to overcome your fear, or just for fun kind, later even developed into a sport.
According to other sources the same, the first to feel the "taste" of adrenaline in a strange way, were natives of the island Péntakos. By his feet are tied vines and fell down from thirty meter height. It was a kind of initiation rite in men.
In Ukraine, the sport is becoming more popular. Jumpers travel all over the world in the Carpathian and Crimean Mountains. Last year on the Crimean peninsula even held competitions on rope jumping.
However, it is always possible to jump off a cliff. And this is how it turned out, it does not matter. Designated jumps really easy to find. "There is no nearby mountains – jump with nine storey buildings", – joking ropejumpers. Most jumping from a height in such a way and in fact there are no cliffs, and on the TV tower, skyscrapers, bridges. For example, popular Kiev ropejumpers have a footbridge where test themselves on the courage and conduct flight could anyone. The price of such satisfaction usually depends on the height and begins from 100 UAH.
Less than five seconds of free flight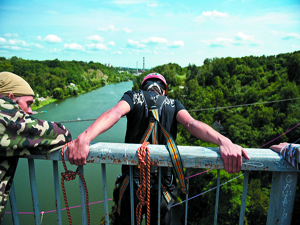 Interestingly enough, the world is only five toughest and most suitable places for this extreme sport, namely rock rickety tower in the United States, rock Kyeranh in Norway, Great Wall Sails in Canada, the mountain range in Italy and rock Shaan-Kaya in Alupka. Free-fall time of the last period is about… 5 seconds. But you have enough impressions for a long time!
In order to participate in this extraordinary sessions sport specific skills and knowledge are not required. Before the "flight" you conduct outreach instructors, you will sign a certificate that familiar with safety and let's go flying "down"! Restrictions are almost non-existent. Just one thing – you must be of legal age and weigh less than 140 pounds, as the equipment is designed for a certain weight. And, of course, desirable to engage in rope jumping pregnant women and people suffering from heart disease.
On the legal aspects and the status of the sport, in many countries, including Ukraine, it is not defined and we can say, everyone is jumping at his own risk.
Safety
Speaking of people for whom this is not just fun, but kind of lifestyle and serious sport, I would say that they, like anyone else, know that you need to treat these jumps very carefully and responsibly. In extreme activities always have unintended consequences, and frequent injuries. But the risk to get them into this sport is really miserable: de jure – possible fatal injury, de facto – a minor bruises and scratches. Directly involved in the same preparation to jump around nine persons, of the same technical professionals provide five. Before jumping organizers carefully examine the area, making numerous calculations (exactly how to pull the tether), moreover, must draw up insurance.
The main thing – to risk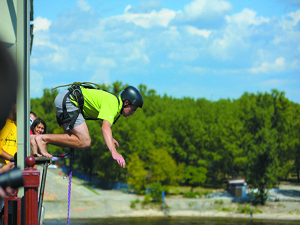 The people who first dared to jump, they say that the most difficult is to overcome fear. Those who are engaged in quite a while jumping rope say that before his first "drop" them mentally said goodbye to life. Not yet jumped and the emotions have overwhelmed you! The hardest thing to stand on the other side of the bridge, to see the height that you have to overcome, and to step down.
Some doctors strongly advise people who are often in a state of depression, make this sport a hobby. But do not immediately conquer "ethereal top". If you still dare – jump from small heights.
Remember, fear is the greatest enemy of true emotion. One has only to finally venture and … jump, endless (actually 4 seconds) fly, stop, motion of the pendulum, the adrenaline, the state of apathy and bliss. It is said that once experienced, sleeping like a log. I agree, a bad comparison, better as a baby.
Expert commentary
Viacheslav Voroniuk, organizer of rope jumping and badji jumping:
There are some taboos in rope jumping. It's pretty simple rules about safety: the most important thing is do not hold on to outfit your hands, especially do not touch carbine that fixed fairly easily during the jump can hit, and it is not necessary to hold on to the rope. That's all.
Rope jumping is the sport where the main character is a courage.  To fight yourself is the hardest thing, but it's worth a try! You will enjoy and stay one jump has to be hard!
Tetiana Havryliuk