The first thing that came to mind after a trip to Thailand, "All of me is quite exotic. I will not go there anymore. " The question "why?" Consistent, the answer was no. It was only later I realized that I was under the influence of the famous cultural shock.
---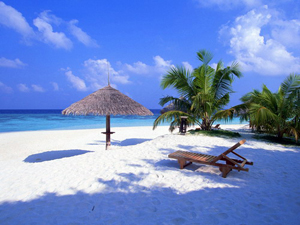 Exotic fruits, millions of orchids, golden beaches, spicy fried food, corrupt love and a lot of garbage – the eccentric associative array associated with equally strange country. Thailand is a good supermarket: everyone can find something in it to his liking. Single men come here to enjoy plenty of love, women and children – eat delicious tropical fruits and ride on elephants, young people – to plunge into the nightlife, rich in variety shows.
Yana Kovalchuk, manager of international tourism, said: "I have a lot of clients who popoyizdyvshy across the globe, say that again just want to go to Thailand. Something so fascinating is in this country … By indisputable advantages is attributed season, which begins in October there and ends in March. It was cold when in Ukraine, you can go to a summer oasis, which is attracting tourists. Another plus – a relatively modest price for an exotic vacation. If the islands with similar climates for sometimes ten times higher then the rest in Thailand can afford a large number of Ukrainian. The only negative – a long flight. If direct from Kyiv is 9:00, then the transfers may take 16-20 ".
They are constantly eating!
The first thing that catches the eye on the streets – locals always something to chew. And for serving a variety of food nuggets fried in oils directly on the roadside. Taets came out of the house first goes to mobile shops and bought a bag of roasted pieces of meat that eating right on the road. And eat – buy one … These shops are at every turn, they can be fitted on scooters, wheelchairs, scooters, in furhonchykah and easy on the hands (a kind of local grandmothers belyash markets).
But Thai fast food does not hold water in terms of health standards. The oil in which the food is fried, pour directly under the legs, arms salesman washes in the same batch of water throughout the day (no soap, of course), so the water at the end of a package of changes to black. Lack of hygiene street cooks compensate incredible amount of herbs and spices in their dishes. "What can bacteria – once said our guide – and there's so much pepper that all microbes are burned alive!"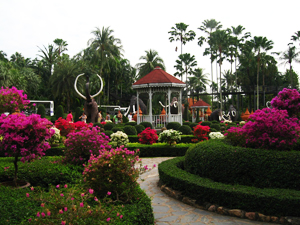 It is said that Kyiv – city of flowers?
Once at the airport, immediately after leaving the plane, we put the neck beads unprecedented beauty of fresh flowers. And so every tourist. I must say that it was very nice and unusual. Ukrainian aircraft with our long inquired if not exactly have to pay for it, since we would have to pay for a welcome break the bank. Subsequently, we were able to verify that, for example, in Thailand orchids grow like dandelions in Ukraine, as Thais and use the wealth of flora to welcome tourists.
Many clusters of various kinds and colors of this wonderful country can be seen from all sides. Tear flowers not only in parks and lawns, and where the plants nobody cares, such as at the beach or the side, no one can hinder you make a small bouquet. Most tourists were going home with flowers. They say that after many hours of flight can be reanimated in the bathroom, and a few weeks apartment will be filled with tropical spices.
Zoo on the beach
Beaches in resort towns in Thailand just fabulous. "How in advertising" Bounty "- cried once a little girl who was vacationing on the beach with his parents. Indeed, milenkyy white sand and blue sea will satisfy even the most bitter opponents of passive recreation.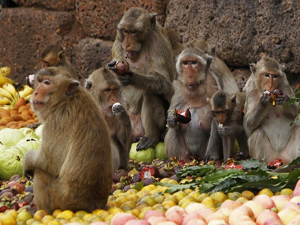 But here there were no local exotic. On the advice of the guide, we decided to visit the popular "Monkey Beach" where lots of little monkeys shmyhayut simply by chapter tourists, begging for food. What is surprising is that the trees are growing around the bananas, mangos, but animals are not at all interested. Where zahoplyvishe for them to eat from human hands or steal something from travel bags. Monkeys gather around them a lot of garbage and food waste, so the ten minute chat with them want to leave away.
Floating houses
Local strangeness – the whole village on the water. Here the shops and houses and bazaars – all located on kilkametrovyh thereof, hidden under the water, and the only mode of transport – boats. Children of these settlements rarely go (float) to the school, and the local inhabitants live mostly not very wealthy. It is surprising that, according to local, then no one will ever sink. Children play on the narrow plank directly over the water – run, jump, vovtuzyatsya – and nary a fear for their own lives. Mandatory residents of these homes have pets, mostly dogs.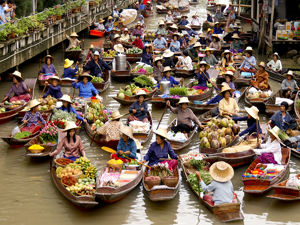 Tourist highlight of this region is the floating market. For counters are serving long boats, and sellers have to be both a rower. Sell here mostly fruits, vegetables and souvenirs. Another "good", which the Thais enough and that they give to everyone without exception – is kindness. It seems that the happy and smiling – a favorite pastime of local people.
Country of relaxation
Hallmark of Thailand is its sexual looseness. The oldest profession is considered one of the most profitable. At the same time the Europeans come here in search of relatively cheap love. After all the money that they would have to pay for one single night of a European girl of easy virtue, here you can find a girlfriend on a vacation …
Rumor has it that the poor province try to send at least one girl in a tourist town on such work, and then she will be able to help around the settlement money. When in such destitute families of boys born, the parents immediately begin to collect the money as soon as possible to make them a sex change operation …
One of the most popular entertainment shows there are transvestites. In order to serve there, Thai guys make dozens of transactions on the body and face up to the cutting edges. Few of the stars of the show live to the age of forty. And even though it's getting into the show is extraordinary happiness.
Taisiia Turchyn