Paradise Recreation… Holiday season is slowly gaining momentum. Increasingly Ukrainian prefer off-season holiday. "One of the main reasons for this trend is, of course , intended to avoid too many people on the beaches and streets of the resort , because the pleasure they can get and at home", – says employee travel company «Turne» Anna.
Another "new" in the choice of Ukrainian tourists were exotic trip. Quite popular are island vacation. Separate the Asian direction. The culture , combined with unprecedented technological breakthrough attract Ukrainian as honey bees.
---
On the other side of the world.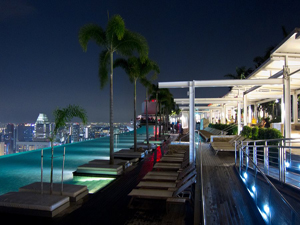 So many of us have never tried to escape from problems or bad mood everyday uniformity ? And often desirable point of escape turns aimlessly.
Those who are still lucky enough to carve out time to find a brief refuge , will have to smash his head in search of the "perfect " place . As well as the lack of choice , its excess can lead to unnecessary costs and without the questionable balance nerves. Given the number of travel agencies that are ready to kiss your feet , only to agree to their proposal , and the other should not be expected. So typical customer is relax and have fun.
The Republic of Singapore is considered one of the places of those "perfect ". Here, the Pacific Ocean, and exotic nature and hmarochosni jungle merged into one. Add to that the friendly people and do not forget pryhorshen luxury , it's still the heart of the entire business world . Obviously amity increases in direct proportion to the economic welfare of the country. Singapore , by the way , took 4th place in the world by purchasing power parity – population. Therefore could not be smiling ear to here is difficult. It appears that the state slogan "Everything for the people".
Should know.
Those who are terrified for their lives and things can relax and breathe in deeply here . It is a place literally , stuffed with equipment for observation, allowing you to any place and at any time to feel safe . In Ukrainian it may seem strange that the streets are not plying a gaggle of police officers , when approaching them hiding beer, button or zipper clean hands from paint, which has just written on the fence delicious 3- letter word , and the expression on his face pretending to be law-abiding citizen. Locals know that their actions are constantly watching and at least wrongfulness would cost a pretty penny.
Fines in Singapore – a topic without knowledge of which Ukrainian tourist absolutely fall into a state of shock immediately after the presentation of the amount paid. Violate the law is really expensive. One innocent piece of paper by the trash and you're proschayeshsya with a thousand Singapore dollars (exchange rate to the U.S. is 0.77 cents). Ate outside and forget about another . He drank the water in the underground or on horseback rode his bike transition and again got the same picture. Not to mention the fact that smoking in the presence of more than 5 people , too, crime, and importation into the country of chewing gum will save you a considerable amount, and do not forget that the only way to "chew" here is to get a prescription from your doctor.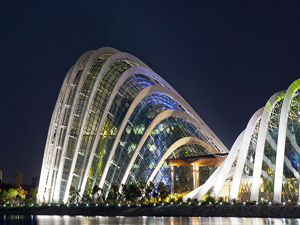 Singapore has four official languages: Mandarin , Malay, Tamil and English. English is spoken almost everywhere , this language integrates various ethnic groups. But it is worth remembering that the older generation of residents do not speak English at all , so any questions in your response you will get only smile.
Singapore – a cosmopolitan city , where you can taste dishes of many cuisines. Bars, cafes and restaurants scattered everywhere, offering lots of different Asian delicacies , including real works of culinary art fresh and succulent seafood that cost pennies. More than 500 first-class restaurants are willing to fulfill any culinary whim visitor. Taste serves Indian and Chinese cuisine , cooling off an icy juice from fresh fruit and of course myself pobavte fine dining in the open air on the banks of the Singapore River. This country is a paradise for gourmets.
But not only for foodies but for shopaholics. Singapore – recognized trade capital of Southeast Asia. Shopping is one of the favorite occupations of both local residents and tourists. And for good reason , because to go shopping in Singapore it is fun. The level of service in shops at the highest level and range of products is incredible , not to mention the constant sales and architecture of shopping centers.
Let`s go.
Country of contrasts and contradictions , beauty and even greater beauty, technical know –how endless choice and ardent environmentalists , it 's definitely worthwhile . And if you still dare to change your reality for a few weeks, do not forget that no matter how well we were not in a party at home would be better.
Anastasiia Kharytonova