It's no secret that in the summer most people go on a journey to unwind a little bit of local fuss. Ride where someone : who in other countries who are just at sea, but the fact is the fact that people want to have a good time and most of them appeals to the sea! What could be superior to our seas, the Black Sea and Azovske Sea? For me, probably nothing, so every year I inevitably goes on vacation. Choosing from the two seas I prefer still the Black Sea, because it is a familiar, as most trips I went there.
This year's holiday will be remembered perhaps for life, for the first time I went to sea with his best friends, so we waited for extraordinary adventures. His place of rest, we have chosen a settlement in the Kherson region called Zaliznyi Port. It was very interesting, because none of us have not been there.
---
Preview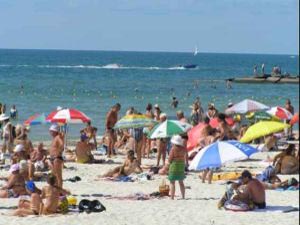 Once we have received the necessary coordinates through his friends and went on quite a nice family that we promised to provide housing as soon as we arrive. To do so would merely make the first cash contribution, namely 25 hr. for each (we had four). So, at the beginning of the trip we had booked accommodation and it was a big plus, because you can not worry about where we live. By the way, a little about the actual habitation : it was a sort of cottage, which had six rooms, as there was room facilities, where we could play table tennis or billiards, there was also a small pool, but it was more for kids than adults boys, shower, toilet and other benefits were there. The very same room was the usual : four walls, four beds and a wardrobe. What still needs to be completely happy? Apparently the TV, but it was not, but it does not matter. We are at sea and it is – the main thing.
Thus, providing shelter ourselves, we decided the next day to buy a train ticket. Chose the train because the bus ride though smaller (twelve o'clock), but very uncomfortable. On the train it is possible to sleep and spend a good time. When buying tickets, we suffered a little trouble through which our journey was almost ended early. And all this because our friend Jaroslav bought tickets half the price than we are. How does it happen? It 's easy! Student ticket! Here's the thing… counsel and apparently so everyone knows, but which we have forgotten. Why pay more if you are an ordinary student, which will reduce your costs when buying the ticket in half. On the day of departure, everything went very quickly and easily. After gathering all the necessary supplies and products, we hit the road. Of course the choice of the most essential things, it is the prerogative of each of the guests, so I will not pay attention to it.
Correct savings – your best friend in travel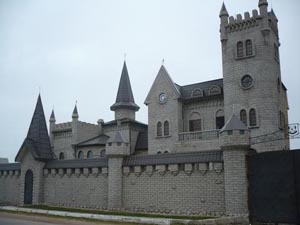 2 of August, we were almost on the spot. Kherson… Here I am for the first time to warn people not to hurry to get into any bus, as for everyone, as I noticed very different. We sat down on his stupidity above and a better ride than 40 hr., while the normal ticket at the box office Kherson Zaliznyi Port is only 25 hr. Save my friends! Along the way, nothing unusual I saw the window, so you can all the way to sleep, which I did when we got home. Coming to a place of our destination, I was immediately struck by the castle, which meets all travelers. To my surprise, in the castle you can also rent a house, but we were accommodated in a less comfortable place. Almost forgot, it is home cost us 300 hr. for 10 days. Enough good price in my opinion. Of course, Iron Port was still plenty of free residential places, because there is not one local resident earns money from everywhere just shows that the inscription " Rent Housing" and the like. Health camps – all there is!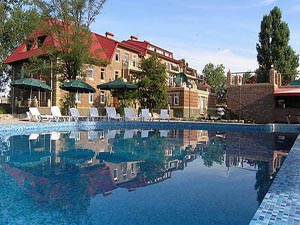 But I'm most impressed with apartments that were right next to the sea. It was white houses in the yard were luxurious pools and balconies were comfortable with their fantastic open views of the Black Sea. What is not a dream for me? Next time I will seek it to this house, however, and it costs three times more. On local prices, they are quite acceptable. Hold at the level of the capital. Nothing special… Simply it was with food. A variety of restaurants and cafes, the ability to eat three times a day in health centers and camps, and given the reasonable food prices, the best option I think cooking ourselves that we wonder at our neighbors did.
«+» or «-» will win?
What I did not like most of Zaliznyi Port, it's narrow streets, which had to go 10 minutes to get to the sea. Not the most oppressed streets as cars constantly syhnalyly you that you gave them, and so too narrow path. This is a big disadvantage, because the mood is spoiled almost guaranteed. One of the downsides is also too small beach, where nowhere to go and could barely find a place to rest. Regard to the same sea, it is not comforted me, because during our stay it was very cold. That 's the reason I did not even know was possible to have a considerable storm, yet 10 days water could still little and poteplishaty. As a result, almost all the campers were lying on the beach and sunbathing peacefully. Boat rides will mention only regrets. My advice to all my friends, family and travelers: never ride on a type plate, it will surely be a big disappointment and a mistake, because I was with my friend there just is not povidbyvaly own feet, briefly summarizing – no fun. I was most impressed with the local nightclubs. There's people enjoy a good time, because there is never sad. Cool entertainment program ensures fantastic experiences that will stay with you for a long time. Local embankment enchants with its beauty and "beckons its entertainment": it's pretty simple stuff, without which there is no rest of us, and it is "unusual" karaoke, "fantastic" rides that are in almost every major city, the usual "fast food" where you can just drink beer and be contented themselves, which, in our honor, we decided not to do a shooting gallery, a chance to win all sorts of prizes – all quite familiar and blatantly hateful. However, this is a tradition, as without it, so we shoot, sing, because in fact do almost anything except lie on the beach, swim and occasionally go to the club.
To go or not to go, that is the question
In sum before, I would hardly have time traveled in Iron Port. But there was also another side to our holiday, the most important. Sturdy and great friendship – here's what we can again tighten it in place. Belarusians, Russians and eventually adorable Ukrainian girl – that's the best setting impressions of the trip. For the first time in my life my neighbors for apartments were very special and interesting people who later became my friends. They are the most diverse cities! Bobruisk and Ivanovo – this is the real celebrity!
I want to conclude by comparing what is written in Ukrainian sites of Iron Port from their experiences. So attention.
Iron Port seaside village is situated in a cozy seats Black Sea coast. To the west of it originates Black Sea State Reserve to the east – a resort area about 100 km. long. Rest in Zaliznyi Port enjoyable and rewarding thanks to the warm sea, beautiful beaches, mud salt lakes located nearby. The abundance of fruit and fish make this place unique leisure and health promotion.
Well start with that warm sea, I could not wait, the "beautiful beach" I said, and I almost did not fish observed in the local market. The only thing I regret, it's that did not attend mud salt lakes, this is like really could change the impression of the trip.
Zaliznyi Port geographically located in a unique place. This is an open warm sea – water does not stagnate for a long time. This sand and shell beaches. This abundance of fruit and fish. All of the above makes this place attractive for recreation and health promotion. Rice system, located near the village, long acting, which guarantees the absence of seawater residues of pesticides and fertilizers. Depth allows the warm sea in the short term. Here the sea is never the same, it is always unpredictable. If so the range 3-5 days coast were algae or jellyfish, but today no one and seen the bottom, even at great depths. In addition, there is only a combination of dry climate of the southern steppes Taurus and moist, rich in iodine ions, sea. Like mushrooms, grow neat private resort offering every year increasingly wide range of conditions for holiday by the sea. Transformed beyond recognition tiny seaside village, becoming a resort town. Wild beaches gradually civilizing and here already maintained embankments pulls visiting tourists bright beach umbrellas, music and delicious smells of cafes, bars and restaurants, night lights amusement strip of bars and discos. There are no mountains and caves in the Crimea, but is also the Black Sea, a huge park area, healthy air, miles of wide sandy beaches and clean sea water.
Comment: Again the same situation with the sea. "The water is not stagnant for a long time", but 10 days – it's quite a long stay!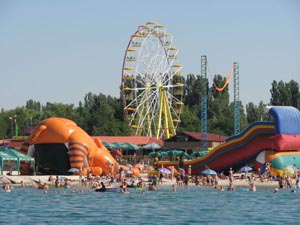 Go to Zaliznyi Port with the company of best friends – It's fun, but being there gives only the required minimum satisfaction fees may zachipytysya and go back again. My biggest piece of advice : if you want to save costs, the Iron Port is a pretty good option, but if you want a really tough holiday, let your choice will be anything, but not Zaliznyi Port. So Enjoy your leisure! Goodbye, Zaliznyi Port!
Artem Dikhtiarenko