Barcelona – a place which contains a variety of sights and attractions. Tourists are attracted to this relatively low prices and ample opportunities for leisure. For little money you can relax in a European, and the city is doing everything to your satisfaction.
---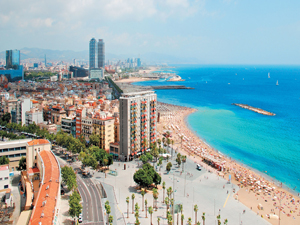 Inna Dobrovolska (tourist company "Artex 94″) says: "Barcelona here is part of most tours in Spain and is one of the most popular travel destinations. Generally, Barcelona is among the five most visited cities in the world, so this concern is not surprising. I must say that very often people who have been in Barcelona back there and want to spend more time in the city. People go there mainly attract interest. And when they go the next time, they are more interested in the atmosphere of the city, museums, or even sports. "
How to reach?
If the theater begins with a hanger, the journey starts from the airport / railway station. Although in this case should be to opt for the airport. Airport Sea of Ukraine makes sense except if you have your own yacht. The journey is by train – a prospect many direct and confusion. And it is an extreme tour bus at 3000 miles. So, it is best to fly to the capital of Catalonia. Moreover, it is inexpensive by European standards and very comfortable because of the Kyiv has regular direct flights.
And the city has to offer tourists all amenities. Infrastructure Test Olympics held in 1992 and the constant influx of football fans. That's just Crimean methods of "first come, and seek shelter" is not valid. Everything must be ordered in advance.
Barcelona (townspeople also call it "Leopard") surprised at the airport. The giant building is half empty. After tightness Boryspil everything seems calm and majestic. And, of course, language. In all terminals are duplicated words in English and Spanish, but in the city – only Catalan. After a purely tourist delight of something new (they also have a letter "th") and attempts to apply their knowledge of Spanish (fail) and French (will only know if perfect French) the question arises: how they get along? It's very simple. Despite the stereotype of the Catalans, who pretend not to know Spanish (Lviv looks like, right?), We find the following failed. Foreigner is happy to help, only to have two Spanish words bind. Since the principle of "the more languages you know, the more you earn" Nobody has been canceled in services can do in English.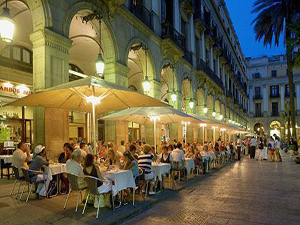 Feel yourself in Europe
Living in Barcelona itself, as it turns out, is quite expensive. Much cheaper to settle in a suburb, for example, El Prat or Ospitaleti. It is easy to find a cheap hotel for tourists. Beds, wardrobe, safe, TV, refrigerator, bathroom – and all. But more than the average tourist is not necessary.
If someone scares off the road into the city, then please hurry: it is quick and easy. The secret of trams. No, not those rarities that you can see in our cities and in clean and comfortable cars that travel at speeds of our line up. Subway in Barcelona too. It seems similar to ours – the same turnstiles, platforms, trains. And if you had to open the car door by the handle on the subway? Catalans do it every day! Station every 500-600 meters, which is very convenient. Buses also there, but they did not have to go. Ride "hare" is not recommended: fellow travelers say round up free riders – a common thing in European cities.
At noon the city, with the exception of the central part, simply empty. You can walk two or three blocks without encountering a single person. Siesta – one of the few purely Spanish customs that welcomes Catalans. This is a good time for a walk if there is no heat. Summer is extremely hot, but spring temperature is moderate. But what really irritate, then it's local parrots. There are many, they are very vociferous and is literally everywhere. If you are settled at your hotel – you are guaranteed a headache.
But even though their flavor town does not forget it – Western Europe. For example, throughout the city installed cameras, everywhere have maps and charts even tickets for many common modes of transport. But the payment devices are capricious. Take or cards, or coins. So paper money has changed, and it is not easy, because our usual stalls here. Europe.
However, Barcelona vies with Paris and Rome not only the status of the most visited cities, but also the status naykryminalnishoho. Because of monuments, and for your valuable belongings should carefully monitor. While this is not Rio de Janeiro, if not catching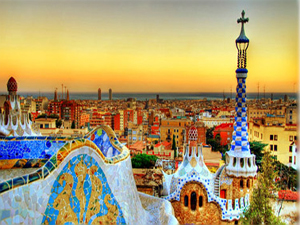 woof and walking neighborhoods at night – no problems. But a typical fishing holiday as cheating with money are not we even had a little shopping. However vigilant we must be still.
From the fountains to stadiums
But the analogy of Rio nowhere to go. City just sandwiched between two mountains near the sea. Both mountains have their own history. North called Tibidabo, which means in Latin "I give you." This – a quote from Scripture. There scrambling to see the Sagrada heart and enjoy the scenery. The opposite mountain called Montjuic, which means "Jewish Mountain". The name she was given the ancient inhabitants of the country. Later the castle was built on a hill, and at the time of the French conquest and during the dictatorship of the fortress guns were aimed at the city. As soon as Spain became a democracy, Catalans lost the fortress.
In addition, four million in the middle of the city, the sea stretches a huge park. For such an accident like tourists and Barcelona. This park is called "Park Guell" and its creator is the architect Antonio Gaudi. This park is also home rozpiarenyy Gaudi, but inside there is nothing particularly interesting. Unfortunately, most master recordings not survived. But the park is much more interesting. Here Gaudi embodies all of their fantasies. There is also an original paved with cobblestones, and benches carved and inlaid columns and stucco, and many more just.
Also prominent buildings in Barcelona are stadiums. On the hill of Montjuic is a Olympic Complex. But the most famous significantly different stadium – "Camp Nou". In caring for the football club "Barcelona" and to football in general there give tours. There is also a football museum. The place is very popular and very often there is even the first, which is visited by tourists in Barcelona.
Want to throw a coin into the fountain? And then you will not refuse Barcelona. In the evening at the Plaza de Espana is an original action. Special spotlights illuminate the water in the fountain, turn on the music – and danced the entire area. For this disco should remain at the center for a while.
City of Gaudi
Barcelona, besides, – a city which linked his destiny famous architect Antonio Gaudi, whose efforts created many architectural monuments. In addition to the aforementioned park, the artist erected buildings such as Casa Mila and Casa Kalvet. This is only made to Heritage!
But the true symbol of Barcelona is the Sagrada Familia Cathedral. However, experts claim that the church is not in accordance with the church hierarchy, but the name has stuck. Gaudi digging it back in the twentieth century, but only completed, in 2025. The fact that Gaudi Cathedral forbidden to build any funds other than donations. Catalans with the respect to the master are carrying out this order so far. This building is the quintessence of all the great ideas and designs Catalans. However, it is impossible to convey it in words – a must see.
With a little more modern buildings include exhibition pavilions at Plaza de Espana, built in the 20s in the styles of different countries, and modern Agbar Tower. For Muslims, it has nothing to do, it's just an abbreviation water utility Barcelona. Interestingly, most barselontsi critical view of the tower, but to tourists like it.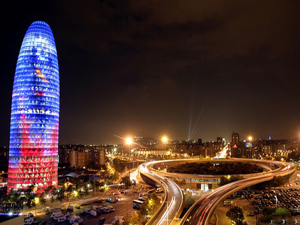 See, Barcelona!
The hardest thing in the journey to Barcelona – its end. After the end of each holiday – a reference to the fact that you had not seen it. The first trip here – a kind of intelligence. Therefore, it is necessary to go to the "mandatory" tour, look around and determine that visit next time. In general, a list of required route points is very difficult, because Barcelona offers a totally different impression. Some people prefer soccer match at "Camp Nou", someone – to spend a day in the park Guell, someone – Museum and water park, while others just want to enjoy the atmosphere of the city. And everyone can realize their desire: that Barcelona is one of the tourist capitals of the world.
Yurii Prymachuk