Amsterdam has long been perceived as a synonym for freedom. People from all over the world come to him to visit an easy drug hang out in nightclubs, try "legal sex ". The absence of most of the restrictions specific to other capital cities in Europe converts the Netherlands for a continuous embodiment of dreams.
---
In Amsterdam it is not necessary to order the guide itself. The entire historic center covers an area of less than a square kilometer. In this piece are the most popular museums in Amsterdam: Rijksmuseum, Van Gogh Museum, Nederlands Scheepvaartmuseum, Anne Frank House, Stedeliyk Museum, Madame Tussauds, Rembrandt House Museum (entrance to all museums is 10 euros).
But walking the city cheekbones charge worse than visit museums. Wandered among the many canals and streets of the city, you can find new places and routes that are still somehow made it into the tourist guides.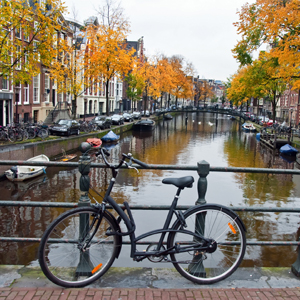 And if you put the objective to merge with the crowd on the street, or on the contrary a person feel like royalty from the Netherlands, I advise you to rent a bike in Amsterdam because the only one who does not own the vehicle – it's tourists. In addition, cyclists in the city have significantly more rights than pedestrians, because while walking better keep out of bicycle paths. Price of hire – 12 euros a day, will have to leave the bail amount of 50 euros. So just watch for their transportation, bicycles are stolen every step.
Come to Amsterdam and sleep at night – is nonsense. The capital of the Netherlands – a city bustling night partying until 4-5 in the morning. In nightclubs charge is usually not high (7 to 12 euros), but the drinks cost about one and a half times more expensive than conventional bars. Like everywhere, here at the entrance put into practice face control, in jeans and sneakers are not put. Another version of how to spend the night in Amsterdam – a boat ride on the canals of the city illuminated.
People are not terrifying things, and the idea of them
"Yes, I experimented with marijuana a time or two. But I did not like it and I do not delayed "- a statement once made the 42nd President of the United States Bill Clinton.
Since 1976, the Netherlands in order to reduce the use of hard drugs were legalized easy. This event has opened the world's modern center drug tourism – Amsterdam. Business Kofi-shop – regulated "opium law" and is under the control of the drug police of the Netherlands. The main rule of coffee: do not sell the potions for persons under 18 and does not sell hard drugs. About 500 Coffee-shop town ready to give you a ticket to the illusory world.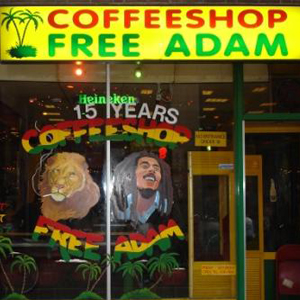 Consult attend a particular institution does not make sense, measures and choose Explore. In appearance Coffee-shops are not very different from ordinary cafe. You can drink hot tea, taste the delicious cakes and most importantly – to order something for which tourists come from all over the world to Amsterdam – drug overseas potions. This "happiness" will cost about 5 euros per cigarette.
Feedback on smoked herbs are difficult to predict everything here purely individual. Alternatively you can try out your options even in Ukraine, smoking a "Prima" without filter or some kind of "Kozachok." For the first time are advised to take a cigarette for 2-3 people, although you probably will be not enough. You will think that any effect this toy you had not, perhaps that's just a bit brighter dreams. So get back to drugs to smoke in the room, so you kill two birds with one stone: reduce the risk of collapse to one of the many canals of the city and avoid the occasion of reproach myself for wasted opportunity to be junked.
Culture smoking marijuana legalization over the years has grown enormously. A clear indication of this is the Museum of marijuana. About 75 000 people a year visit this unusual cultural center.
Ms. Amsterdam
Being in Amsterdam and not visiting the area "red light" is the same as to be in Paris and not see the Eiffel Tower.
Prostitution in the Netherlands fought back to XIII century, and in the middle of XVII century the matter left. Prostitution is legalized in the country. Girls pay their taxes and are entitled to a pension. As a result, today every thousand inhabitants of Amsterdam has one brothel.
The network of streets with several hundred small one-bedroom apartments attracts tourists from all over the world, and all because tenant these rooms, half-naked girls who promised to put the money all your fantasies. Waiting on customers, girl sitting in the high windows of houses, including myself windows, and beckoning potential "buyers". Standard unit cost of sexual services is 50 euros for 20 minutes. In the windows of girls presented to any taste: slim and plump, low and high, any color, young and not so.
In this area, except for prostitutes to see a wide variety of Coffee-shop, sex shops, sex theaters, live sex shows. One of the most popular are: Theatre «Casa Roso» (« pink elephants "), theater «de Bananenbar» (« Banana Bar ") and «Moulin Rouge». Last nothing to do with the Parisian cabaret performance here is much cheaper, view event will cost 25 euros ( Paris 89). And I'll bet you that this live acrobatic sex play (Non stop live show) you will not see in any other European country.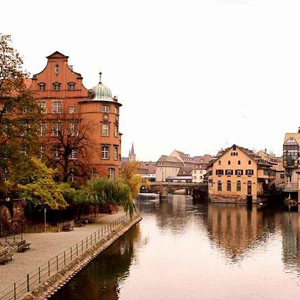 If we indulge in all serious, it is impossible not to visit the Museum of Sex. On five floors of the XVII century classical building located collection of erotic pictures, paintings, photographs, objects and even rides.
Three… i edge of bread !..
Tasty to eat in Amsterdam can at every turn. The city has many eating houses, kitchens are for any taste. Hard to find only real Dutch cuisine.
In fact, the traditional dishes of the Netherlands is quite simple, since history began in the kitchen of old, when the indigenous population lived mainly in rural areas, and their financial status does not give opportunity to cook gourmet meals. However, the Netherlands gave the world a peacock and a dish like boiled potatoes with herring. For many years it was the main food Netherlanders and now they jokingly called Amsterdam " city on herring bones."
Another brilliant invention Netherlanders – cheese. To drive home its not worth it, but there should definitely try. As the cheese used in cooking many dishes: sandwiches, soups, casseroles, salads, desserts, so you're bound to find what you taste.
Another surprise from the Dutch cuisine – pancakes. It turns out they are purely traditional dish in the Netherlands. You can taste the variety of cafes, restaurants and specialty benches on the streets.
Tips experienced
Make a Schengen visa in the Netherlands is quite simple. Order of execution through a travel company will cost about 70 euros.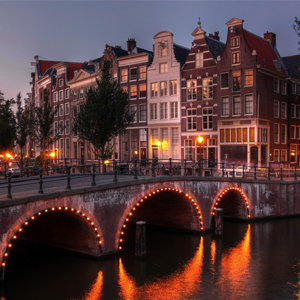 Hotel for two in the center of Amsterdam would cost about 220 euros. Rent a two-bedroom apartment in a standard building in the same part of town will cost much cheaper, and just 60-70 euros per day.
Amsterdam city is special in all aspects. Even the satisfaction of natural needs in the city has some peculiarities. You can easily go to any hotel, restaurant and ask where is the toilet. But this is an option for women. Men almost every street corner there are urinals.
As souvenirs can be purchased in Amsterdam photos, paintings, collages with views of the city, Dutch wooden shoes, a variety of porcelain, plus lots of souvenirs, including a leading theme free love, sex and drugs.
Avoid night walks in the South Zeedijk and Damrak, they are considered not very.
Iryna Kharkhan