Did you know that in Prague there are traffic lights for pedestrians? 40% of visitors couples get married right there? The world's largest castle – Prague Castle? And Maryna Tsvietaieva responded about Prague, as the only city where she would like to return?
The Czech capital is sometimes called «the city of a hundred spiers». And all because there is a large number of churches, palaces, chapels. Countdown to Prague's history began in the 10th century.
The capital of the Czech Republic – City heterogeneous. It combines a dozen towns are nowadays considered a different area of Prague. This Hradcany, Old Town, Jewish Town, Lesser Town, New Town. Their merger took place in 1784. Currently, the city's population is growing at the expense of immigrants (foreigners is 14%). In 2013 this figure reached 1.3 million mark and is in an area of 500 km² in the center of the country on 9 hills.
---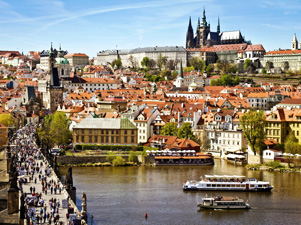 Prague quickly and rapidly evolving. More and more tourists gathers insights into Czech beauty. After all, a wonderful city, and prices do not bite. This is very important for those who like to travel. It appears the changing city, as carries many styles. Town and romantic, and quickly, see it and modern and ancient. But under any circumstances the capital gladly welcomes guests. So let's get acquainted with it.
Like many tourist spots in the world, the center of Prague – walking to annoying drivers could interfere enjoy fully all seen. Tourists in Prague very much, so can not always easily to see native sitizens, to know the mentality of the Czechs.
Prague Astronomical Clock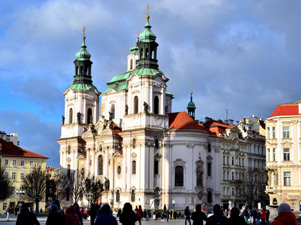 In the Old Town Square stands proudly Church of St. Maria before Tyn, Old Town Hall, Church of St. Nicholas, and many other attractions. The first is the Catholic church, which was built in 14-16 century. It is a Gothic style. It has two towers. The interior of the church there and filling in the Baroque style. Tyn church contains many altars, one of the most famous – the work of Charles Shkreta 1649, which shows the image of the St. Maria.
Old Town Hall – a complex architecture, which consists of several buildings. The most famous and most interesting object is its astronomical clock. Nearly six hundred years clever chimes that delight all who see them. But while they are not so easy to determine. The top dial – Roman figures show Central European Time, and Arabic – oldczechs. Each piece is marked on the day its color sector nighttime – black, day – blue and dusk and dawn – light brown.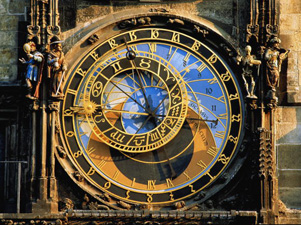 Before the start of each new hour is going to a lot of people. After all, with eight in the morning until the evening of the twentieth hour clock playing a show. When the bell sounds come alive figurine skeleton, which holds the hourglass and bell. Beside him – Turk with mandolin in his hands (the Ottoman Empire in ancient times was a symbol of the dangers of the Czech Republic), miser with a bag of money and arrogant man that likes his reflection in the mirror. A two windows appear alternately figures of the 12 apostles and bow. Then kukurikaye cock all ends.
Around the clock many legends. One of them is related to the founder of the Prague Astronomical Clock – Master Hanushem. City officials were ecstatic to watch and decided to cowardly act of the inventor – dazzle him. And all because of the fact that nothing like this has been established in other cities around the world.
Now she is the Old Town Hall Museum. If you prefer, you can climb the many steps it, and you will rise city views.
Charles Bridge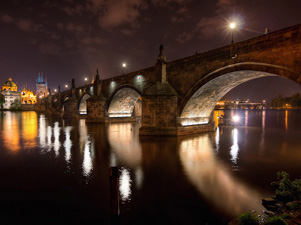 Charles Bridge connects the banks of the river Vltava in Prague. It was built from 1357 to 1380 years instead of the first stone bridge in Europe Judith. Throughout its history, the Charles Bridge several times poshkodzhuvavsya flood. He was part of the Royal Route. At all ages, this architectural monument is the center of city life.
No legend has not been here. One says that the building was used eggs, milk and wine were believed to help bridge stability for centuries. Another legend is more interesting. It says that the city decided to build a Czech King and Roman Emperor Charles IV. The very same date was chosen by chance: 07/09/1357 at 5:31. Sun and Saturn are favorably located, and the sequence of odd numbers – 135797531 – considered the bridge will provide durability and centuries-old glory.
Charles Bridge is decorated with numerous statues and towers. Of the thirty most famous statues of St. John Nepomutskyi. If you touch it – you get good luck. Portrayed it here by chance. From this bridge was dumped husband. And all because he wanted to tell the secret confession queen.
Prague Castle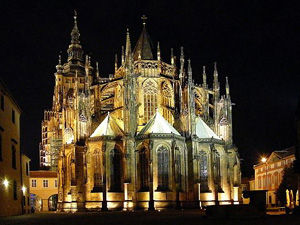 Prague Castle – the main historical relics and symbols of state power in the Czech Republic. The first castle here arose in the 9th century. Further Prague Castle constantly evolved and soon became the largest castle complex in the world. The most famous part is its St. Vitus Cathedral. Gothic castle breathtaking beauty! What's inside, outside on the building incredible. Every once in eye catches something new and unique. It is also called «black pearl of Prague». There are ancient times coronation of Czech rulers. Spires Cathedral can be seen from any place of the capital. It was built about 6 centuries. The interior of the house within an extremely beautiful. Through vintage windows is a lot of sunlight. Carved coffin of Czech rulers at rest here, Add the severity and mysticism. Must pay attention to the mosaic of the Last Judgement over the Golden Gate and the main tower from which you can see the entire city of Prague.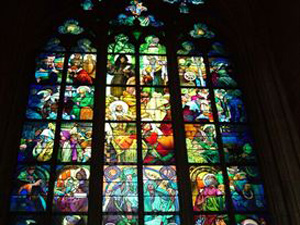 If you have already made their way to Prague Castle, the walk on the Golden street that looks more like a corridor. It appeared in the 16th century. It is located between the wall of the fortress and castle the abyss. Why golden? As legend says that alchemists lived in it. They, as we know, had to create a philosopher's stone that turned everything to gold.
And solemn changing of the guard at Prague Castle runs every hour. From this Czechs made festive event, to be going to a lot of tourists.
Walk this historic area of Prague like seeing a textbook on architecture. After a short time you can visit the Summer Palace of the Queen Anne style of the Renaissance, Romanesque Basilica of St. George, the Royal Palace, the Gothic, Baroque spacious yard.
Travelling the river Vltava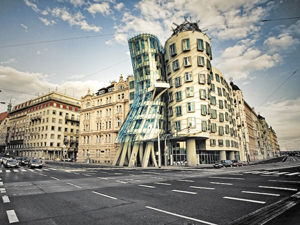 Be sure to look at the «City of a hundred spiers» of deck boat that so often swim Vltava. This opens new perspectives on capital. You look at it as if from the outside, not from within. You face many bridges, old and new architecture, such as the Dancing House. And often by boat serves tasty Czech cuisine, which can be delicious and plenty to eat.
Did you know that Cruise can not swim? All because of the large number of drowning. This prohibition dates back to ancient times. Some say that this is the fault of the mermaids, while others say that the reason many whirlwinds. But of course, these rules do not stop daredevil.
On the Cruise can see many seagulls and swans are friendly and happy to taste your goodies offered.
A stay here and not fall in love with this city is impossible. Describe all the wonderful places as well as to circumvent them during one trip will not work. Whenever Czech capital opens its guests new places and legends and is an unforgettable experience.
Comment Manager Travel Agency «Bon Visit» Maryna Krysanova:
«If you decide to visit Prague, you never regret your choice. While in the Czech capital, forget which century are, and all through the house with red tiles, medieval churches, narrow streets of cobblestone roads and atmosphere of a fairy tale.
Not necessarily around the city for some established plan «to enjoy Prague in Prague should get lost». You can from any place in Prague to begin your journey and do not regret, because at every turn you will expect all new and new architectural monuments and unique picture of the reality of this beautiful capital city».
And Prague – a city where you constantly have a feetache easily recruited kilo or two and spend tons of money on a lot of inexpensive items. But it is coming back again and again. To repeat their mistakes pleasant.
Olesia Savenko