It has long been noticed him some oddities – met just smeared with clay, in a package that was often wet, something fluttered greenbacks and forehead somehow idols flashlight, which he hastily took off, seeing my genuine surprise… I Met him and at manholes, in which he vhlyadavsya with interest. And once he finally decided to dispel my surprise: invited me home and gave… read blog.
---
Notes Traveler or how it all began
Day 1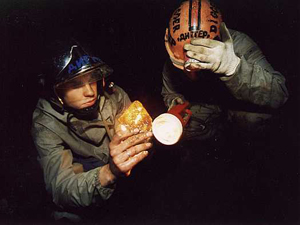 Today I finally found one of dihherskyh forums and volunteered to me, a beginner, take someone with you on trips. My newfound guide knows where he found «Clove» network, «Nikolko», «Brilliant», «Violina», «Hrinriver», «Askoldivka» Academic collector, «King speleo» and many more. With me not shared coordinates – say for my own safety, as well as begin to confuse myself underground labyrinths, the Minotaur rather than find out…
By the way, «Digger» in English means «one who digs». Of course, the ants are not working and not dig tunnels. But search any ancient monuments such as gold coins or sleeves of the World may well be. Is it just from «nothing to do» walk under the city, revealing more and more mysteries Kiev underground mineral resources.
However, through the sewers they climb, as some believe – «Diggers», though unusual travelers, but ordinary people whom do not like the stench. They conquer sewers, drainage systems, tunnel – a place where rain water flows down, or driven underground rivers where not to rozmyvalo cliff on which the city is located.
Day 2
Today I visited a few sports stores in the city, popytav sellers if they have dihherske equipment. In their eyes rounded in surprise, and clearly could read that I was crazy.
Day 3
Cheers! I explained that for equipment to buy and most importantly – where. Thus, the fishing market and visited a store selling personal protective equipment (as suggested – focusing on masks) and collected all the artifacts required for the first «descent».
On my new clothes forty USD spent on PVC suit (this odezhki waterproof); shoe covers (bought for twenty) – great waterproof puttee you pull over shoes (I have a rather big feet, so got into shoe covers only sneakers, but when he tried to repeat the same in Ankle boots – almost stuck, but it is likely as anyone lucky); two – diode flashlight (from 25 hryvnias thing) – one primary, the second – a spare. And since I do not want to get out of underground tunnels to the touch, it also bought batteries.
In the original backpack and threw a cigarette lighter – yet alternate light source, and open beer bottles handy as well as underground arrange picnic? And the dedication to actually Digger is complete without pouring beer newbie…
Day 5. Evening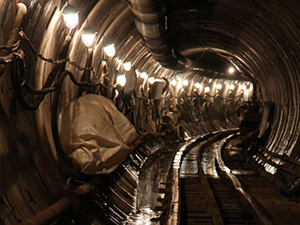 Unusually I was a guest today for bats and rats. I like the last fool decided to see more flying mice and light flashlight on them… The noise that caused the rustling of wings still echo in addition, and cry «Sit down» Probably will remember for a long time. Several flying tvaryuchok also I crashed, but I'm getting ahead of myself…
Generally, the first step in the rapid water flow memorable thing so dumb that blot, but the street is not as as winter freezing. Besides, is not so easy to walk even a few yards upstream, which is struggling to knock down, and more slippery, and a bunch of places for a header – pipes, ledges, iron, ladder… sometimes dirty water fountains suddenly shoot out of the wall or like the shower drain from the ceiling. Hail back and beautiful places – a very, very low passages. To overcome them we must make ourselves so that at times it seems – is «to make you compact» own body can be done only by yogis. I regret that you have Alice in Wonderland, where eating a piece of fungus that can grow, shrink it… The growing is certainly not worth eating…
First – it is not clear why a flashlight? But turn only once on all sides to me pulled a thick, viscous dark. All sorts benchmark lost – before the eyes blacker than black, and the loud echo hit more confusing, just felt in paschetsi a monster. But by enabling the flashlight all at once jumped to their rightful place.
Underfoot – run water. And sometimes tried to eat shoe covers red clay, which is not so easy go, as if in a swamp delayed, well just that the bottom of a layer of viscous solid lump, so could not drown. However, if for some come underground lake or just do not notice depression (and how you do not know where to look, it is a tragedy at all…), it still can be fun to swim or even take diving underground… The main risk here – the sink, but Ironically, not basins and underground lakes. Everything is more difficult – the most dangerous thing here – the collector wave that knocks down and is where the likes. As soon as the weather outside starts to rain it changed and these underground caves in seconds turn into underwater caves.
However, such a nuisance is not thought, when I looked at the underground waterfall and through the hum of water, trying to somehow hear that tries to tell me my guide. Is it when we passed the rapids or lifted up clutching at the slippery walls of clay.
Finally, hit the «star gallery», where in the «input» and signed. Lifting his head on the ceiling and probihshys light flashlight, I just froze in surprise, from the ceiling blinked at me billions of stars: brilliant, bright, clear. Joy even forgot about the hood and these stars suddenly poured me by the collar cold, wet – the usual drop. Although surprise and changed my wet cool, but water pearl shimmer stars stay long in the memory…
Walls that surrounded us – more than a hundred years, they are just as carefully laid brick floor (not that our sketched somehow concrete panel apartment buildings…). Forms of deep corridors variety: arched, square, ovoid. In addition, the tunnel in the form of pipes, which need to go slightly pryhnuvshys, and when to crawl. From everywhere we looked at the stalactites and stalagmites, as in real caves. A subterranean lake! Strange, industrial and weird, but in his very beautiful scenery.
But the most fun was get out of the middle of the square, then calmly put an iron cover in place, with a look as if every day from the manholes go away. The important point was the exclamation, «What look? We – Diggers» (by yourself some shocked). Then wash proudly snow or water from a puddle and for dessert – collections digger-clothes (oh how easy it), which was an unforgettable show, which, obviously, will long remain in the memory of those who at that time ran alongside.
As explained to me friend – Diggers could be anyone who wants to discover new depths hitherto inaccessible, with a head dive into the flow of adrenaline and experience the adventure with a bunch of friends.
Tips – beginners:
Kyrylo Taranov, 23 years experience Digger – 4 years: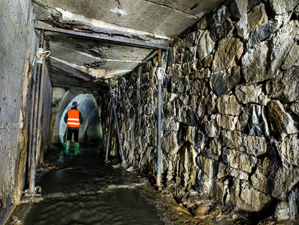 Deadly-dangerous time underground – during the short rainy season, and especially long rainy weather. In so time to go down to the collectors – is unacceptable, because under these conditions in the drainage situation is constantly changing and is virtually impossible to predict, much less control. This is a favorite time of collection waves and a sharp rise in the water level.
However, even when the weather is dry and sunny frosty or vice versa (winter is not the best time for outings – underground water level constant and the temperature is +13-15 degrees), remember to carefully store all met on the road exits to the surface – to emergency situation quickly get where you run away. Some of the same considerations should explore unfamiliar sharp upstream – in case emergency situation will be easier to return to the nearest exit before the purpose it is to the surface! In addition, be sure to examine the area, which is over the object – it will also help if you have to run fast, and provide additional information about possible dangerous places.
Kateryna Osadcha, 26 years experience Digger – 3 years:
Strongly advise you to get drunk when traveling by underground rivers… Attention scattered all – there fall: there r some rebar vdarytes without God forbid asleep somewhere. A flashlight as bad, as go away. And when the water level starts to rise, and you do not notice it. Word is not formatted arrange exotic outdoor party beneath the earth can not. Probably will end badly. By the way, smoke and flame to use (there are originals solving with a torch into the ground to climb) is very dangerous. Water can be contaminated by some flammable substances, and because they are lighter than water, they form a film on its surface, which is very well lit…
Do not get down in the sewers rivers alone. Suddenly that – but someone has to pull you? If you need to split up the campaign, you should occasionally hold the roll. For mobile phones do not work underground.
Andrii Shkrobotko, 21 years, Digger experience – 3 years:
The first hike is advisable to go with a more experienced person who would, in practice, explained and demonstrated how to behave in the ground. If not, at least consult it. However, it is better to find a certain conductor.
Before going to necessarily tell your friends, maybe family wherever you go. In short, anyone who stays on the surface and is able to pull you in case of an accident. Leave addresses and indicate the approximate time by which you expect to carry out the campaign. It would also provide a phone number to the emergency by which to call in case of long absences.
Finally – be sensible! Under no circumstances should piddaytesya panic, try to keep sober thoughts – in any dangerous situation it is important to make the right decisions and fast! Stormwater and River reservoirs – complex hydraulic structures, their research – a very difficult and dangerous. Here the main danger – not someone who can deceive, outwit, from which one can escape, but water element from which no escape, which can not be fooled!
Tamara Tretiak