Poland fascinates with its nobility, elegance and patriotism of its inhabitants. Like every country, it has something to show off to tourists. And some castles are more than twenty. Everyone can choose a vacation that wants: sea, mountains, lakes, ancient cities, forests and so on. If you have the opportunity to visit Poland, be sure to look fabulous Krakow.
---
Reports from the scene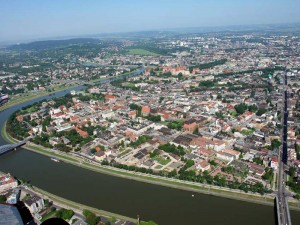 Finally the long awaited Krakow. Just seems that a copy of lions, but improved: good roads, no garbage at all, plenty of bike lanes and little cars. So much begins andEurope.
The history of the first capital of Poland begins the ninth century. Recall Krakowas a large shopping center. He saw the ups and downs, joys and misfortunes endured much before it became today's look. The city is not destroyed during the war, so it retains its originality. UNESCO recognized its world heritage of mankind in the 70 years of the twentieth century.
In general, you can get around Krakow and in a day, but in this case you may not be able to penetrate it, you feel a part of something mystical and majestic. After Krakow combines many eras that are worth to discover this beautiful city.
First, take a walk streets of the Old Town – Krakow's historic district, which is located around the Market Squareand adjacent to the Wawel Castle. This part of the first capital of Poland foot, although you can often see cyclists, which, incidentally, around the city a lot. There are all conditions for environmental map. Lots of bicycle paths, tolerant drivers numerous parking spaces for "Two" rolling velobikes.
Go along the narrow sidewalk. Breathe in deeply, although urban but fresh air. Get a free map of the city in numerous information centers. Talk with the Poles, who often have to understand, as we do. As for the Russian language, they are reluctant to begin her talk, although many confesses in an interview – it was taught in school.
Program at least
Market Square – the soul of the first capital of Poland. His appearance has maintained ever since the big trade with European countries. Some homes in 500-600 years. Previously, they lived many Polish magnates and gentry. Although these houses were rebuilt several times, but still you can see elements of Gothic.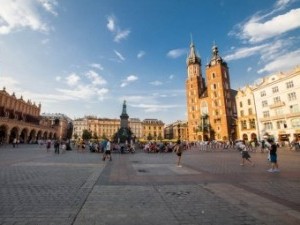 In the thirteenth century it created the Cloth Hall. Early in its history, it was used for trade dress, and on a higher floor, there were receptions and balls. The building combines Renaissance and neogothic style. Now the central building area expanded – on the first floor you can buy souvenirs from crystal and amber products and Wawel Dragon, which are symbols of the city in the souvenir T-shirts and toys. On the second floor is the National Museum of Krakow. It is believed that this is the best in the Polish national collection of paintings of the XIX century. In addition, the gallery you can see ancient sculptures and everyday objects. It should be noted that every room meets another era: the Enlightenment, Romanticism, artists academic school, and the last combining Realism, Symbolism and Impressionism.
Another glory Square – St. Mary's Church. It has two asymmetrical Gothic tower. They related the legend of the two brothers. It says that they built the tower. In this one came out quickly and the building looked stronger. With envy another killed his brother and rushed from the heights.
Every hour windows built heritage appears musician who plays heynal alternately in each of the windows. But when you hear a melody for the fourth time, she abruptly stops. The explanation of this also serves as a legend. According to legend, trumpeter in the tower, seeing nearby cities Tatars began to blow an alarm. Evil Tatars for this brave man was killed by an arrow. But Krakow was saved as a musician early warning of danger, and residents had to shut the gate.
On one of the shores of the Vistula River Wawel is located – castle complex. It includes the Royal Castle and the Cathedral of St. Stanislaw and Vaclav. Here you can find a combination of a large number of styles and it's Baroque, and Renaissance and Gothic and Romanesque era. Because of constant war and devastation throughout history, architectural complex always needed restoration and improvement, so it turned out that it is an echo of different ages.
In St. Stanislaw and Vaclav (also known as the Cathedral) Polish kings are buried, where many of them had previously been crowned. Also statesmen, there resting in peace, artists, nobles, and other prominent personalities. At the entrance hanging on chains bone, according to various versions, mammoth or woolly rhinoceros – "for good luck". Interestingly, when they just hitched there, the thought that they do dragon. I can not do without legends. It is from these bones connect the end of the world when they erased a natural way, it will be the Last Judgement. From the observation deck of the Council a great view of the city. And you can see the bell ringing Sihizmund – the largest in Poland, after touching his tongue takes desire. Also interesting to visit is the Museum of attributes of different bishops.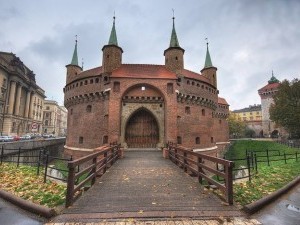 Royal Castle was one of the residences of Polish rulers. The main decoration of the castle – tapestries, which can be seen in almost every room. Can be considered the most original hall for receptions. Its ceiling is divided into many small squares. Some of them contained sculptures of heads of different layers of people. In addition, the castle presents numerous paintings, luxurious furniture, wall art wallpaper, custom king. They reflect life in a particular era, moguls or nature. Photograph, unfortunately, in the middle of the building is prohibited. Next to the castle is a cave in which, according to legend, there lived a dragon. Krakow people decided to take him to replace the iron that is constantly breathes fire.
Also, be sure to stroll beautiful park, which is located in the Wawel!
Did you know that Jagiellonian University- one of the oldest in the world (1364)? He has a lot of buildings. Collegium Maius is the main thing. Education here is not: is a museum, and sometimes are meeting teachers. This higher education institution learns about 45 thousand students. Throughout history and in the present, there were educated many Ukrainian. 44 % of students coming here from abroad. In theJagiellonianUniversityeven has a vineyard area of ​​4 hectares. Interestingly, in all ofPolandis the only institution of higher education is not purely medical direction, which is the medical school.
InKrakow has many great places to visit. Be sure to come to this city and spend it at least five days.
In a note
Throughout the city are information centers which are designated by the letter "I". Here you can get free maps of Krakow, hire a guide and find out all the information that interests you.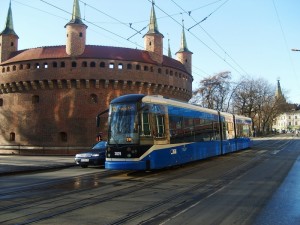 Always remember to ride the tram. 20 minutes are about seven hryvnas. But do not resent the inflated price. Locals often use different subscriptions, resulting in an average 8 hryvnas a day they can ride on public transport as much as necessary. I would like to recall that night as work vehicles. And in such a tram ride is a pleasure. Sam punches ticket on the electronic device, which before that had bought a special machine at the bus stop. Seats neat and clean. Summer is air-conditioned and heated in winter salon enough. Throughout the cabin are devices which indicated a halt. But the hare is not go. Controllers at every turn, and the penalties are high enough. Even before the next time for such antics may wonder whether to grant you a visa.
Saw shop "Tanie książka" – not MKO. In Poland, the book is quite expensive, but the exception is this one shop. For little money, even for Ukraine, you can buy any books from Polish history with colorful pictures on each page to the books of philosophy or psychology. First, it can be a great souvenir, and secondly, the Polish language is not so difficult, a lot of words you can understand, and may want to explore something that "cudowny język" ("Polish").
Distance from Lviv toKrakow- is344 miles, about 5 hours on wheels, except for the control of the Customs. And do not forget that other currency inPoland. 100 PLN costs about 385 hryvnas.
But it will not pass on any words of spirit and beauty of this city. Therefore, you no doubt have seen it with my own eyes and feel the soul. A website of "Flamingo groups" you can order or book your flights - airticketua.com.
Comment Manager Travel Agency "Bon Vizit" Krysanov Marina
Nearly fourteen million tourists from all over the world visit every year Poland. Without a doubt, Krakow is the leader of travel. This royal city, which has not ceased to fascinate not only visitors, but also its people. Legends, history and modernity live here together. The city on the Vistula is known for its cultural and artistic attractions. And the city itself – a solid attraction.
Krakowis not so expensive compared to other many European cities, although it does not yield. So if you will have the opportunity, be sure to visit this wonderful unforgettable first capital of Poland.
Olesia Savenko