One of the oldest nations kept their traditions until today. The relationship between generations in this country felt immediately. This can be seen not only through respectful attitude to elders. Modern Greeks, just like their ancestors, dance, singing and simple living. A degree of respect and love for their homeland and history can not be moved. Past century, and this people is another.
---
Tasty food, inflammatory dances, unique music, blue sea and big mountains. Country and modern Greeks many centuries it remained the same cradle of culture. But now, the benefits of life in glorious Hellas can anyone. Enough to buy a ticket, and have two hours you are there. What to take with you? Nothing, because Greece has it all.
The first, second and compote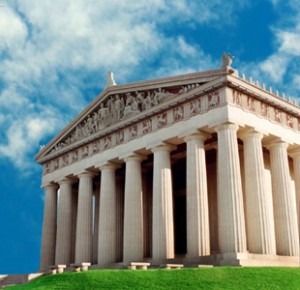 National Greek cuisine is diverse and tasty. But do not be surprised when get to the usual breakfast cereal or yogurt with toast and scrambled eggs. Hospitable Greeks do for you. According to their understanding so have breakfast anywhere. Themselves, they are limited only in the morning coffee and cigarette smoke if (a majority of smokers). For the Greeks the term "breakfast" exists, but it itself is not. So you treat the European standards. Wait for national color need to break, but the real "holiday" is waiting for you at dinner.
Vsesvitnovidomym native of Hellas is a Greek salad. While at home he is simply – "rustic." But the main Christmas meal post-Salad "Olivier", here called the "Ruses" ("rosiki lettuce"). The pioneer in this country should try dzadzyki – sauce with cucumber, garlic and yogurt, Suvlaki – skewers for lamb and yiros – something like turetsoho Donara and Caucasian Shaurma.
Variety of cheeses, which produce and consume in Greece, not to transfer, but the favorite is feta. This salty soft cheese made from sheep and goat milk. Numerous references to him can be found in the "Odyssey": according to legend, was the first manufacturer fety Cyclops Polyphemus.
A separate item – sweet. For those who like sweets Greece – a paradise. After all, "zaharoplastio" (pastry shops, a variety of sweets) work even when it closed. My friend complained that two days looking for a pharmacy open window. But the ice cream, Baklava, kadayifi (cake with sweet syrup), Halva, delight, nuhu and pies with puff pastry with various fillings (tiropita) can be bought and at two o'clock in the morning. And, of course, honey. The main ingredient of all sweet and helpful and very delicious thing.
Many dishes are prepared with eggplant, zucchini and beans. A dolma (grape leaves stuffed with beef and rice) and musakas (casserole of eggplant and lamb with sauce and cheese) will satisfy no one.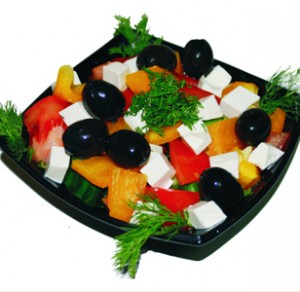 Drink it all be Greek coffee. It is very bitter and not everyone's taste. Youth and lightweight option is frappe – a coffee with ice that summer drink all. The category of "adult beverages" include Ouzo (anise vodka) retsynu – Greek wine with added pine resin, with wine, beer, of which only two or three species tsipuro (it is called the cultural variety of brandy, the people it is similar to Ukrainian moonshine) and alcohol business card Greece – brandy "Metaksa."
Some Greek girl dressed out and start their morning with Cups olive oil.
Olives and olive oil for the Greeks not only food, a symbol of their country, a significant element of culture. Previously rich olive plantations gave a dowry for their daughters. The larger plantation, the richer and better girl dowry.
But if you zabazhayetsya real exotic, you'll find it easily. Only in Greece you can try to delight, gum and other products with the addition of mastic, usually pastry. A taste of sugar pine will certainly remain in your memory forever.
Dance until the young … and then, also Dance
On Wait a Minute – the national dance of the Greeks must have heard all. But not everyone knows that most Greeks learn national dances from early childhood. For them it is very important. The Greeks know, like and respect their culture. So dance and kalamatyanos hasapikos can all, from children to older people. No wedding happens without Sirtaki. The Greeks generally prefer domestic tanks, not popular European "movement of her hips." It is hard to find someone who knows at least one "Wait a Minute."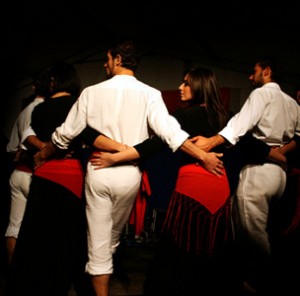 Young people do not just respect, but really loves the national dance and music. Along with modern clubs and discos are Greek bouzouki. These institutions, which played on national instruments national music and dance national dances. This action continues until the morning. The name "stork" "comes from the Greek musical instrument, which remained there a long time outside the law.
For the older generation, then do not be biased. Greek grandmother very skillfully dance all PA and shapes. A move is not so easy. To remember all the "crosses" and transitions need more than a year and a lot of energy. This is the part it seems that all topchutsya in place, but the complexity of Greek dancing is that you can not be wrong not to move. After all, if you miss, it destroyed all round. You piece of the great chain. Lanka great nation. Greek dances – the key to understanding the psychology of modern Greeks and their culture, traditions, sense of life and of the Greek nature. In terms sirtaki you feel frantic energy that makes it possible to dance all night, and that the Greeks do.
When you see respectable grandmother 80 years who dance at midnight and going home, just because its called grandchildren and children, understand that dance is never too late, especially Greek dancing.
History begins with the foundations
In addition to his dance, the Greeks are very honored history, of course, his first. All ancient cities and villages – open-air museum. Even if on check there are only foundations, all that will isolate and museum. A "small" pieces – vases, glassware, jewelry – will transfer to the building, which is also a museum, or rather part of a large complex.
To visit the ruins of the ancient capitals of Amphipolis and Filippi, no less interesting than a visit at the Museum "Royal tombs" where rests the father of Alexander Macedonian. The northern part of Greece called Macedonia in general. In addition to Alexander and his father, after whom the capital and called Filippi, these places famous and known to all Christians. After all, Thessaloniki (Salonika), Amphipolis and Filippi mentioned in the epistles of the apostle Peter. So anyone can see these stones, which saw Alexander Macedonian king Filypa and the Apostle Peter.
If you are not interested in ruins and pots, we find for the museum itself is not very difficult. Besides the ancient cities, is as old palaces, fortresses, squares, markets, churches and temples, mosques and synagogues. Everything is.Museum of History, Film, Jewish Holocaust, Byzantine Culture, Greek musical instruments.
Most facilities are absolutely not similar to those to which we are accustomed. Dust, cobwebs, plaster, which is strewed on his head, instead of tablets with inscriptions – yellowed piece of paper, Sticky glue and inscription typed on a typewriter? This and some not in Greece! Museum refurbished, equipped with modern facilities (air conditioning, large plasma panels).There's nothing old, but most exhibits.
Another feature of the opening and can be met with a miracle-workers. Guardian of the museum can smoke in the same building, and what is worse than vendor kiosk, which serves customers, and smokes in his "house." And a girl who smokes in a shopping center, the same as the keeper of the museum. They are all equal citizens of their new Hellas.
On New Year's to Christmas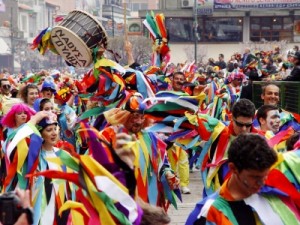 In Greece, in addition to familiar Christmas, Easter and New Year, is their "special" holiday. For example on October 28 celebrated "Ohi" (which translates as "no"). On this day in 1940 the Greeks gave the Italian resistance to the Nazis.
But by August 15 should be prepared in advance. Large stocks of food will not be redundant. After that day will not work any shop or any other institution. The entire country will celebrate the Assumption of the Blessed Virgin.
Ironically, however, although Greece and not in the republics of the USSR, May 1 is celebrated Labor Day and flowers. On this day, make wreaths from various "lilies and roses," which adorn the doors and balconies of buildings.
March 25 – a double celebration: the religious and national. On this day celebrating Greek Independence Day or Day of the national revival of Greece and the Annunciation.
The most significant holidays, days off are declared in the country is New Year Teofaniya (baptism), Independence Day, Labor Day, Assumption and Christmas.
At first glance, the Greeks and not much rest, but it only seems so. Modern Greeks do not need an excuse to arrange a vacation. Sunday closed all here – supermarket, pharmacy, public institutions. A daily break lasts about three – four hours. Extra holidays are not required when all of life as a holiday.
Here is our modern Hellas, node present and past, a country that has always been in the thick of things, open-air museum … Visit its never too late.
Worker travel ahentsva "Manzano" Elena Labadze advises: "Journey to Greece to better plan the end of August beginning of September. Number of tourists in the country will decrease and prices too. But the level of service will be better. You will see the true Greece without the crazy tourists. And do not be afraid of the continent. Islands – This is great, but to understand and feel the country should see its mainland. The Greeks are very open and friendly. Their smiles are absolutely sincere. Win the hearts of this nation easily. Enough to know "yasas" (good day) and "evharisto" (thank you) and face the old man you will see the true child's smile".
Olga Sytnik