It is unimportant, what you will be, when first will arrive to England, – young or old, in a good temper or no, lonely or married. This large country has cities both for a calmness and for entertainments. One of surprizing «quiet» places is Brighton.
---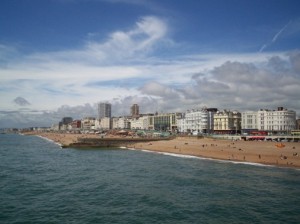 Seems, if other world was on Earth, he would be in Great Britain. Why? Because the Britishs like to show that they another. They do not consider necessary to change something it, authentic. And right-side motion instead of left-side, pound sterling instead of euro are flowerets. A monarchy though and partial shows other nature of the Britishs – a knight's, aristocratic, proving through centuries. For example, nobody of the Britishs grumbles about that pays taxes on maintenance of queen and her families. «It is our duty, – a teacher talks English Sebasian, – and we are proud of, that we have a queen. And the Buckingham palace. It is tradition, we always must serve to her». Another tradition is the British humour. Only in this country an old grandmother can begin to speak with you about the secrets of inclement weather, though sees first. Guys here straight on streets meet with girls, about what for us forgot at once with appearance of free access to the internet. Such wonders happen, but place to them not in large city. Therefore we will not tell about London. Better about that, where smells an ocean, fish and calmness – city Brighton.
From William I the Conqueror to George IV, from the farmstead of Britel to Brighton
The first official mention about existence of city appeared in «Book of doomsday», that was created on the order of William I the Conqueror, norman king of England. It was to such soba census of population in 1085-1086. The name of settlement of Bristelmestune begins in history of Britain to appear. Etymology of this name is simple: she means «farmstead of Britel». Transformation in modern «Brighton» took place аж at the beginning the XIX century.
In June, 1514 this settlement tested large enough trouble: in the war-time between England and France him was burned out. The whole was remained only by part of church of Saint Nikolay and a few municipal building that got the name of «line»(The Lanes). But britoners it was succeeded to be rehabilitated. After a loss in war French king Carl Second flung up heels exactly on their earth. And until now in honour this event annually conduct the races of yachts under the name «Royal escape» (The Royal Escape).
Afterwards the almost fairy-tale sudden reincarnation of fishing settlement took place on the best resort of England. During 1730th a doctor Richard of Rassel Lewis prescribed treatment salt water in Brighton to the patients, advised to drink and accept baths from her. From such amount of people and finances that «swam» up to the city, he transformed, as Cinderella in a princess, from start on well-groomed and refined. Therefore not surprising, that city 21-years-old George IV, king of England, fell in love with. He conducted in Brighton plenty of time and built the Royal pavilion – seashore residence there. Exactly in her a hospital took place in the Second World war-time.
Places that needs to be seen in Brighton
Royal Pavillion
Certainly, it is necessary to visit the Royal pavilion that is the best-known place in Brighton. It one of the best palaces of Europe, that in 1995 got the rank of «Architectural sight of year». Indian style in architecture, specific interior of building, that breathes East so, form the indelible impressions from contemplation. Besides a seashore residence bathes in a luxury. For example, in the Musical hall, ceiling is decorated by 26 thousand and chandelier marine shells with nine candelabra in form lotus. Cost to the ticket in a royal residence – seven pound(84 hrn.).
Clock Tower
One of main streets of Brighton – Queens Road, that begins from the railway station and stretched out up to an ocean. There is the second sight of city on this way – Clock Tower. This tower was built in 1888 in honour the gold anniversary of queen Victoria. On majestic watches the portraits of queen, prince Albert, their son are represented – future king Edward VII – and his wive. Except it, under Clock Tower local musicians-rockers that play for all persons interested to listen gather often.
Churches and other religious building
When are in city, it is difficult not to notice the special beauty of churches and surprised to their amount. The oldest building in Brighton is a church of saint Helen, the date of construction of that XI is considered century. That this ancient building until now is in a line-up interesting. The enormous amount of the ancient wall painting was saved in her.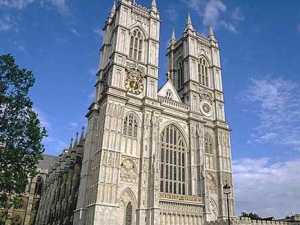 Second on age, but not after beauty, there is a church of saint Peter. This building with stunning towers and remarkable interior is sight of gothic of Renaissance age. She was built somewhere in 1824–1828 by a sir by Charles Barry, that became the author of design of British parliament afterwards.
One of the most beautiful synagogues in Europe also located in Brighton. Thomas Laneson built her as early as 1874. And until now her Romanic facade and galleries on marble columns with the pictures of the Old testament compel to catch breath.
Brighton Pier
Nine years ago the British city near an ocean was known and due to the two piers – Western and Brighton. Unfortunately, in a duel with a fire in 2003 the first lost. Therefore his survivor bits and pieces can be seen in an ocean and until now. Already a few years the ratified project of his renewal, but a date began and end of reconstruction remains unknown. But Brighton Pier is known as a most park of entertainments on the south coast of Great Britain.
Seasick Doughnut
A large sculpture that has the name «The Large green wheel» officially stands in the middle of the Brighton beach. In people he is styled by «Doughnut, suffering a seasickness». This amusing thing was presented to the city by the mayor of Naples. Since споры of supporters and opponents of doughnuts does not calm down near her.
Brighton of Marine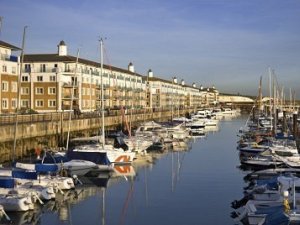 If поднадоест you granted pardon by interests of center of city, it is needed to go in the district of Marine. Such trip can be arranged on a twotier bus (48 hrn. for tickets there and back), or on a bicycle the lease of that will cost 5 pound for three hours (60 hrn.). Brighton of Marine – one of elite boroughs, built at-sea on hydrotechnical building. The sparkle of this place is an enormous pier for yachts that can be contemplated by hours.
British potato boom and its alternatives
The British kitchen is the special history. There are people that she is frankly hated. I am et al, that in love in her simplicity. For example, breakfasts in McDonalds in Brighton give with the bobs and fried eggs canned in a tomato sauce. Even fast food a network tries to support the image of traditional «complete» English breakfast, that, except the already adopted ingredients, contains sausages, tomatoes, mushrooms, pieces of bacon and toasts with oil. If for your breakfast of such amount of meal a bit too much, can be limited to the toasts with meat, oil or jam. Without them not a single your breakfast will do in England. And also the Britishs adore a potato. Therefore the baked pudding from her or puree can be met how hardly not in every menu.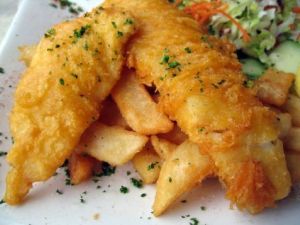 Fish & Chips is inalienable part of the English kitchen. This food, that consists of the fish fried in a friture, and large hunks of potato, фри. Traditionally for preparation the fish and chips is used cod, haddock, flounder or other white fish. Certainly, this basic ingredient must be fresh and hardly just caught. Fisherman past of Brighton also imposed the special imprint on the culture of consumption of fish foods. Fish and chips is here eaten at every step: outside, buying him in of the same name fast foods, that, as mushrooms, sparse in city, or in pubs, washing down the dark English ale, or in expensive restaurants, or at home. This food is considered an original power engineering specialist: englishmen like to eat fish with a potato on Friday or Saturday before stormy nights, to get the sufficient amount of energy for active rest in clubs, on night walks and others like that. Portia the fish and chips in local fast food will treat to you in 5–6 pound (60-70 hrn.).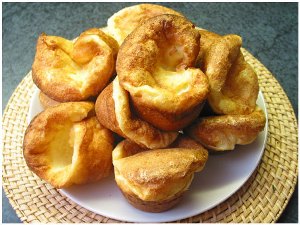 Another traditional food of the British kitchen is Yorkshire pudding. His secret again consists in simplicity of preparation. Once, preparing Sunday dinner, cooks noticed that from fat that dropped from a roast beef on a pallet, it is possible to prepare pudding. The recipe of «Dropping pudding» that became Yorkshire then was so born. Give him with a roast beef and dressing.
Except a traditional kitchen, in Brighton it is possible to try the enormous amount of other popular. The cheapest dinner a meal is considered in the Chinese cafe: here for 5 pound (60 hrn.) it is possible to get an appetizer and basic food of enormous sizes, and to them yet and drink. Mildly-dear dinner will become in the Italian restaurant. If is special it is not desirable, possible simply to mount in the coffee shop of Starbucks or Costa on coffee with a sandwich.
Do not forget to accomplish
«We advise people that go to Britain first often, to elect Brighton exactly, – an expert, workwoman of tourist company Pilot Tetiana, reports, – because prices on a residence and studies there cheaper, than in London. And in general, to get used and put a bold laugh on it is far easy in little city, than in large».
Further are a few certain practical advices for those, who gathers to visit a city :
Anymore go for a walk on foot. you will save 16 pound in a week(128 hrn., cost of a week's ticket on a bus) and will get the special feeling of European. It will help to improve not only a physical form but also feel you;
As chance offers travel to the nearby little cities. It will treat inexpensively, and in them often there is more interested it is needed to admire what in central cities;
Do not be afraid to meet with people on streets. Native brightoners like to ask, as your businesses and mood. Be more friendly: it will help not only to train language skills but also feel part of British society;
Necessarily though one time have dinner near an ocean, granted pardon by sunset of a sun;
Go down in the Brighton clubs. In summer here many people not only from Brighton but also from other countries. They arrive to pull up the level English. Therefore a company on dances can be formed interesting.
Have a rest and submerge in the whirlpool of English life. It costs that!
Anastasiia Asieieva