Journey to the distant mountains Carpathians: what we should be afraid of? In summer, the majority of young people try to get interested and, at times, dangerous pastime. Reckless search of extreme and adventure on your head can result in multiple injuries. What you need to do to protect yourself and get the maximum enjoyment from your trip to the mountains?
---
Of course, the summer – a great time to take a break from city life, aside from being too caring parents. Young people tend to be useful to the summer holidays, then to new experiences and the forces of biting granite science. However, not everyone is looking for something extraordinary. Someone quietly helps parents, reading books, taking care of younger brothers and sisters. But there are those that love to play hide and seek with fate. The author Irina Mokrytska shares with you a personal experience to prove that campaign – not a child's whim, but a real extreme!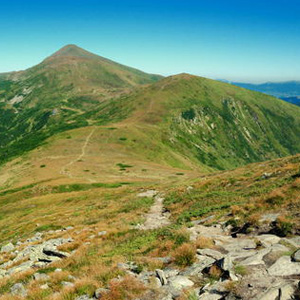 Play with the fate
I remember that summer of 2011 was hot, the body would like adrenaline, some sharp and spicy sensations. On his head, I decided to do something that's never in his life had not yet done, more to go where never was. And why not? After all, the window beautiful weather, solar time, green meadows, so you do not want to sit at home and wait for some kind of fairy tale happens. Therefore it is necessary to diversify the life itself. Although, as the Maxim Kidruk, writer extremal: "Do not rush to change anything in life. Think about the consequences. "Then for me there were no consequences, I lived with the idea that I was born in Western Ukraine, but never conquered the top of the Carpathian Mountains…
Long did not hesitate, I persuaded friends to go towards a dream. We quickly piled bags and went to the Carpathian Mountains, in the mysterious world of legends and euphonious songs, fiery dances and friendly people. The place of our stay was a small village Rekity that Mezhyhirska district, Transcarpathian region. The first day of the journey pleased and sun, and a cool mood, and new experiences. Our life's positive approach was not the limit.
Unfortunately, the next day the situation has changed in the mountains: the weather began to us "joke" to the storm. We do not know the terrain and have no plan of action. However, there is no strength and no inspiration, it is only the first conquer this land. "Who does not risk, does not sit in jail" – shouted a friend who could not sit still, even when the street was a real mountain storm… Fun fun, but no one knew that the trip can turn into a tragedy for us, that Shakespeare never dreamed of. First, we got lost in the mountains and could not find the right way home, and secondly, the Carpathians – a kingdom of all "living creatures" that warmly welcomes people with their bites.
It seemed to us that nothing is impossible, but it turned out that it is walking beside us. All kinds of briefings and installation of parents we have listened, and almost immediately released from the head, because it is uninteresting and monotonous. That's right, people say: "Learn from your mistakes." Yes, I had no experience in tourism, so it all lightly and was not afraid of risk, which describes the adult and experienced people, until confronted with it very, very close.
What was wrong with us?
Almost all of our group was soaked to the skin, resulting in many got hypothermia, but on our misfortune did not end: my friend sprained his leg, and his brother injured his hand. I was able to provide first aid to a minimum: a friend has recorded up through tree branches and elastic bandage, gave drink painkillers to reduce the action of a traumatic shock for my brother I made a cold compress (towel soaked in cold water). Well, that although first-aid kit was in readiness.
The next day, "our fairy tale" is not over… When the bright sun has decided to give us a few hours of rest and warmth, we have become prey to mosquitoes and bees. When climbing to the top of the mountains "Three Sisters", suffered burns and another hand injury (cut) our team leader. Long did not hesitate, we helped the victims: the stings – site of the lesion was washed with water, made ​​a cold compress, and then applied the medical cream for inflammation, for the prevention of allergy pills drunk, places burns oiled panthenol or use a cold compress for cuts – stop the bleeding, place of defeat was washed with water, dealt with antibiotic cream for fast healing of wounds and bandaged.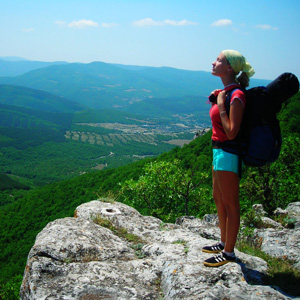 That's an extreme risk! All my life I can remember. Of course, we were struggling to reassure each other. However, the spirit was not enough, the emotions took its toll. We did not survive four days capricious weather and rugged nature of the Carpathians. Not so much physically as mentally exhausted headed home…
«And learn the foreign…»
To be honest, a trip to the Carpathians was instructive lesson for me, I gained experience, I realized the error, now I know and understand all of the dangers that await tourists in the Carpathian Mountains! Life in the mountains – is the experience and knowledge. So write: to feel in the campaign, like a fish in water in any weather and at any time, you need to be able to perfectly do quite a few things, namely:
move over any type of terrain: dense forest, hillside, rock slides, climbing wading streams and rivers;
navigate using a map and compass and without them;
light a fire in any weather;
know not only how to pitch a tent and build and weather protection with a knife and the means that is at hand;
find a suitable use for the water and cook food;
find a place to rest and spend the night;
first aid.
Doctors urge all tourists to behave in the mountains carefully, because your safety depends on your actions. Here are some useful tips from the trauma surgeon, Oksana G. Kukulka:
"The number of cases where a person is injured on the nature, especially in the summer, increases. Of course, no one owes travel ban can not. As a doctor, I can only warn and help with something. So when you are going camping, do not take a lot of clothes (you do not go on the fun), but in turn, it will not be enough. Be sure to take a change of clothes in case of rain or cold snap, as well as clothes for sleeping, bathing, sunbathing. Undoubtedly, the need to bring rain gear. In the campaign the important role played by your shoes. Try to pick the most comfortable shoes for the successful conquest of peaks.
The mountains are always "portrayed" mosquitoes and midges (small insects, which are much stronger than the bite of a mosquito bite), so in the medicine cabinet you have to have some means of protection against insects and preparations for treatment of bites: alcohol, iodine, balsam "asterisk", cream against insects. Usually in the mountains injure limbs, so you need to have with an elastic bandage, the conventional bandage and cotton patch, pin. Against burns and hypothermia should be used panthenol. If it is possible, in cases of bites and burns should make a cold compress. Do not neglect medicine against colds (especially when hiking long-term), because the weather is hot too unpredictable, so prevention can take with you septifril, aspirin, mefenomin acid. It is important to have with medications that you take with food poisoning to subsequently avoid negative for their own health.
In any case, you should be able to provide first aid, without this in the Carpathians or foot. Do not forget about the supply of food and water, it is best to take a lot, than to starve. Remember, adventure tours in the mountains – it's not a toy, sometimes not only students but even adults may put themselves at risk and have multiple injuries. Beware of serious injury and be healthy because you are still young, the future is yours."
Based on numerous boards and expert opinions can make a small list of things that need to take a hike in the summer:
tent and a sleeping bag;
first aid kit;
change of clothes, rain gear, comfortable shoes;
water and food;
glasses, a mask that covers his face,
matches and a flashlight.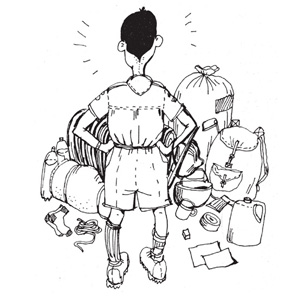 Hiking in the mountains should always be deliberate and prudent thing to do. Without a doubt, every step should be able to paint so as to avoid injury or misunderstandings with nature. In the Carpathians (and generally in all the campaigns in the mountains) experience – it is one of the components of your success and memorable stay. These tips can help prevent injuries, but do not get carried away with all sorts of "golden rules of great" climbers ", remember one thing:" The golden rule is that there are no golden rules do not exist. "Sometimes it is necessary to act on your own, aided by a sober mind.
Take care of yourself and you will be good in the world
I believe that the spirit of the Carpathian will long remain in my body. Despite the fact that we have remained hostage to the circumstances, the award for physical fatigue (though not very much) were: unusual Carpathian landscapes and an uncontrollable desire to go back to the mountains for a good mood, peace of mind, pleasant dialogue with nature…
The danger must not only know but also to understand, and sometimes survive on their own skin once again to make sure she is walking quietly next to us. Extreme pretty easy to find in a well-developed imagination, but it is necessary not to lose with a "dose" received, because then want to share it with someone: doctors or the rescuers… especially when to the nearest town for more than ten kilometers. So take care of yourself and do not be discouraged if you do not manage to do it all at once. We – the young! Ahead of all life, and health – one.
Iryna Mokrytska