This Jordanian city in the desert was once saved from the heat one thousand caravans. But new trade route left the oasis without tribute. It followed the locals to go back fifteen centuries. The ancient city, still feeds its people by potomlenyh sun. Thousands of tourists come here to see for yourself Petra – legendary capital Nabatiyskoho Kingdom.
---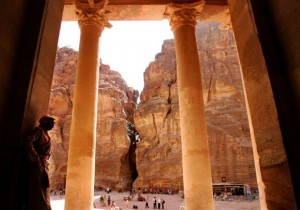 What is especially known Jordan? For the faithful – the legendary mountain of Moses and a pillar of salt (ie those which turned Lot's wife, who, despite God's decree, looked back, leaving Sodom) for geologists – an unusual canyon Juice and its many-colored rocks, for tourists – the Dead Sea and the dead city that ozhylo second and a half millennia after it left the last residents.
Then they decided that Petra will never and has no amiss – tumbledown earthquake, wind-blown desert hot dry winds, lonely and forgotten among the new trade routes. But today she again feeds Bedouin: Modern caravans – Guided bus – bring more than a million tourists every year. Friendly Jordanians must say each visitor his «Welcome to Jordan!» And learn a little Russian. Other than these little things all here, just as two thousand years ago.
Petra historical – lost and discovered
Today, Petra is a UNESCO World Heritage Site, and in 2007 it was included in the list of seven modern wonders of the world. Although the age of Petra could be among the "classic seven". Most of the buildings of the city – peers pyramid of Cheops.
Petra feature is that its facades carved right into the rocks. The first cave – a work of the hands of Edom, who lived here in the XVIII-II cent. BC. BC Then it was a blooming oasis on the banks of the river flowing Wadi Musa. In the second century. BC. BC Petra was the capital Nabatiyskoho kingdom.City located at the crossroads of two major trade routes: the Great Silk Taeda and that connecting the Red Sea to Damascus and the Gulf of Gaza.Caravans, overwhelmed precious fabrics and spices, paid great tribute nabatiytsyam for the right to enjoy the cool canyon juice and nutrient water.
Wealth Petra led nabatiyskoyi flourishing civilization. This is evidenced by the unique architecture of the city. Finer patterns of stone adorn the facade sorokametrovyy treasury. The ancient architects have created something unique: columns do not hold, and porticos simply grow out of rock … Of course, the Treasury is a legend connected with hidden treasures. Every nation has its "gold Polubotok." In the Jordanian option – many treasures buried in front treasury. Judging by the number of traces from shots to the treasury, it is checked again.
Attention deserve aesthetes and skillfully carved into the rock and decorated with delicate patterns facades of tombs nabatiyskoyi nobility. Likewise, just knocked out stone pipes of old water supply. Worth and the specific image, if the followers of Rodin said, taking a piece of stone and "cut off all unnecessary," he nabatiytsi did it just the natural performances of the mountains.
There Petri and separate structure, built of stone. It belongs to the so-called Roman period. The fact that in the third century. become increasingly important maritime trade routes, ships began to replace caravans. Then Petra agreed to the impoverished Roman protectorate (before the Romans tried several times to win Petra, but in vain: mountain landscape, the desert, a narrow canyon that opens into the city – all this contributed nabatiytsyam).Romans locals owe colonnade and church mosaics from the Roman gods. His majesty amazing amphitheater for 4000 people. He is almost completely preserved and if waiting that is about to start a new show here. There Petri and beautiful Roman road: our Andrew's descent is not the level of millennial pavement.
From the fourth century. people began to leave Petra. City earthquake damaged, besides the only waterway – Wadi Musa – into a capillary water.
The longest in the city remained the legendary monks of the monastery. Locals call it "Al-deyir", which translated it means "monastery". Formerly he served as the offering nabatiytsiv and later became a Christian church. These are the crosses carved into the walls. The monastery is a staircase, prorubleni in rocks. Their number could not be established precisely for climbing the mountain takes about an hour. At this time, forget about counting.
Nearly a century monks remained the only inhabitants of Petra. The fact that these places often mentioned in the Bible: it wu canyon Juice Moses carved the water from the rock. Because the river was called – Wadi Musa, or Moses river.
But asketychnosti monks came to the limit. Petra for many centuries remained alone…
By the nineteenth century. of its existence the world is not known. Legends remain in the folklore of the locals, who jealously guarded the secret of a lost city. The first European that stepped to the ancient city – Swiss explorer Johann Burkhart. To look for Petra, he resorted to tricks: studied Arabic, found a local guide, which the sheik Ibrahim introduced, and asked the man take him to the place where it happened to find old coins. After a long search through the narrow lumen of the canyon Juice researcher saw an ancient temple … From that time began excavations in Petra. So far, Petra, so to speak, on his knees – about a third – remains underground. But by cleverly Swiss, now open it for myself and everyone can.
Petra tour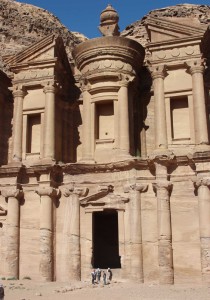 The first thing that should attract Ukrainian tourists in Jordan – of course its ancient history. But pragmatically speaking – visa-free regime. You can plan a trip just from today to tomorrow.
From Kyiv to Amman every week flying "Ukrainian Mediterranean Airlines" and twice a week – Royal Jordanian Airlines' Royal Dzhordenian "(incidentally, one of the best in the world).
At the airport you get a tourist visa for 10 dinars (about 10 euros). But take only local currency. Therefore, next to passport control is a currency exchange. If you do not want to become hostages of course at the airport, you can exchange money in advance.
Buying a visa and passing passport control, you can search bus to Petra, take a taxi or rent a car. With this no problems. Because Jordan – former British colony, English is spoken by all. Four hours through parched desert – and you Petra.
This is where the fun begins. As we know, the east – a fragile thing. Every tourist should be prepared to have to show that trick. And in almost all areas. Trying to fool here almost every step.
Hotels. "5 minutes from Petra" – depends on the vehicle
Just at the entrance to Petra are the following hotels: «Edom Hotel» (3 *, 60 euros for a standard double room), «Petra Guest House» (4 *, 85 euros), «Petra Moon Hotel» (4 * 90 euro ), «Mövenpick Resort Petra» (5 *, 180 euros).
Their advantage in the fact that near the tourist center, a variety of cafes and restaurants, souvenir shops and more. Near the entrance to historic Petra (in the center of town near the bustling historic area) is also a three star hotel with a witty title «Cleopetra», which offers rooms for 35 euros.
Other homes are located mainly along the road. Fear not to be: lot here quite a bit, so generally quiet. The disadvantage in another way: once without auto relatively close to Petra, in which simmering, you will have lunch and buy souvenirs at the hotel. On the other hand, the traditional European kitchen safer for our stomachs. Although Jordan dishes in Wadi-Musi obviously cheaper and kolorytnishi.
Flights to Petra – which to buy?
Here you select a hotel, located, rest of the way (be sure to rest for the tour you will require a lot of energy!) – Then you go to Petra. They say it is better to clash in the window: cashier at the entrance to Petra at six-seven in the morning. Actually it depends on the season. If it's summer, and at noon, expect to +45, it is better at six. If you are traveling in spring – no where to rush. A good sleep.
In the box office draw your attention to two different prices: 50 euros for anyone who stops in Jordan, and 90 euros for those who come from abroad. Thus the government of Jordan is struggling with one-day visit of Israeli tourists. Tempt may benefit offer: a ticket for 2 days – 55 euros for 3 – 60. In fact, in order to see Petra, just missing one day. It is unlikely that you will return there again, even if staying in Wadi-Muse for a few days.
The fact that she dragged Petra is 42 km ². The distance between the monuments of architecture are also significant. Therefore, passing this way, you hardly have the strength and desire to repeat it the next day. Is that the athletes and the rich that can afford to foot the entire way to overcome the top. Or geologists and archaeologists: they are indeed look-not search a.
Transportation: "Oslik! Budyesh?"
All that live local residents – income from tourism. At each step here offer weary travelers ride a horse, camel or donkey. I fell into the eye, as Jordanians take care of domestic animals. Realizing that animals – breadwinners of their families, they rarely own saddles donkeys or horses. Animals carry tourists, whistle and the owners are quietly nearby. Kilometres and miles the same route every day.
Depending on distance, is a fun 5 to 20 dinars (1 dinar – about 10 USD). But do not forget that Jordan can also be traded. Beat the price of anything is double ceremony.
I have to admit that she Petra went on foot. And you do not advise.
First, you can take a horse to the canyon. While you are full strength, then, of course, can overcome this path and walk. Moreover, the horse still goes at a speed of his master, who goes next. In the canyon will be interesting: you can see someone like rocks, and pay attention to the colored layers of rocks. At Treasury offer camels, but here quite interesting to walk on foot, climb into a cave, look facades of tombs.
But at the Roman colonnade should take a donkey to the monastery for 15 euros. So, who is raised to al Deyiru may seem ridiculous phrase typical owners of these hardy animals, they say, walk – 2 hours, on a donkey – 30 minutes. "Well, well, like 2 o'clock on foot, but when you host, you go next?- You shall ask myself laughing, and mentally add: – Then I diydu 30 minutes! "
They really … really more than an hour with you shkandybatymete steep stairs under the scorching sun. And jealous dyvytymetesya on thick and lazy tourists sympathetic, intelligent, trained donkeys.
In fact, tell you a secret, from the monastery as a historical monument, I was expecting something more Architecturally it is very similar to treasury, only bigger and more restrained in decoration. Near the monastery you will see stairs to a small rock. You will climb a little to see "the best view of Petra." In fact, over – a little souvenir shop. A landscape, frankly, is the same as near the monastery. Max, you can climb those stairs for a few yards to see the monastery a little distance.
Souvenirs. "Fake" sand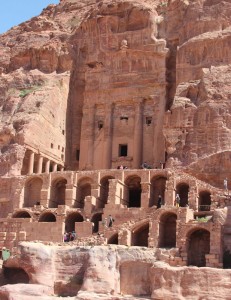 And when you're tired, but proud of him, finished tour of Petra, you should think about family and friends. Everywhere are traditional magnets and arafatky (flash white and red fabric and white and black colors, which cover the head Bedouins). So often offer "ancient coins" for 20-30 dinars, although their authenticity is in doubt. Especially careful you have to be of silver. For example, I was almost bought a silver bracelet (after a lengthy bidding, of course) for 25 dinars. A few yards I was offered it up for 70.
Inexpensive and perhaps most colorful souvenir – a bucket of colored sand. And Jordan masters manage to teach with sand patterns. Often depicting camels and colorful mountains.
There are such glasses from 1 to 15 dinars. It depends on the size of the image and quality of sand. To get natural colored sand, we must crush the natural rock. But resourceful locals began to paint ordinary sand.
As I explained the master, which just personally Cups filled natural sand to distinguish real from fake precious souvenir simply: we must shake the bottle. Dyed sand blends, and distort the picture. But the quality product you can confidently transport – come home, like new. And my glass of really went to Ukraine intact. As a cheap souvenir for 2 dinars I have not bought, I do not compare with anything. Trained to be wary of Jordanians and expect them tricks, I just chose the most beautiful bottles. Yet such is found in the fact the wizard, which opened to me the secrets of "fake" sand.
Jordan is waiting for you
Tourists returning from Jordan with good experiences, new knowledge, hundreds of incredible photographs, souvenirs, red noses (if you forgot the sunscreen because the sun scorching even there in March when the air temperature does not rise above 20) and promises will certainly return again.
"Jordan was interested in Ukrainian tourists only five years ago, probably when Petra made the list of new wonders of the world. Maybe after the movie "Indiana Jones and the Last Crusade," a place of which Steven Spielberg chose Petra – says manager tourism company "Wind Rose" Olga Oleshko. – When we first organized tours to Jordan, we are risking. Clients troubled neighborhood with "hot spots" (Israel, Palestine) and undeveloped tourist infrastructure in the country. But today in Jordan are building many new hotels, improve service … Tourists are usually afraid of prices, they say, will have to pay their last shirt for water in the desert. In fact, the water in the Petri dish, say frankly, very expensive – 1 euro per liter. But for our visitors is the normal price. Our clients come back very happy. Especially rounds at the Dead Sea: the sea is the same as in Israel, hotel service – all the same, but prices are much lower. During the crisis, Ukrainian began to worry more than the cost of tour … Whatever requirements you do not put to travel, Jordan – a great option. "
Indeed, better not say. The only thing I want to add – four words Bedouin girl John, who came to meet me in Petra. Asking my name, she said that and you will hear repeatedly during his travels: «Welcome to Jordan!»
Mariia Molodyk