Medieval houses, roadway under feet, tram-car ways, monuments, bas-reliefs, memorial tables, old Polish inscriptions on walls, defensive wall, Lviv coffee. Does all this attribute of ancient city a long ago beckon you from snapshots? Or, maybe, does disturb in dreams? Then come along with us in a trip!
---
Feet. Stop. First nevertheless purchase a ticket. And on train station in search his leave even in two weeks to the pre-arranged trip. Because demand on tickets in Lviv in exceeds supply several times. Train, as they say, not rubber, all amateur not to place not able.
Housing question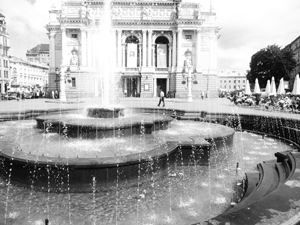 First step to pleasant rest – in advance(certainly, yet to arrival) to find an inexpensive, comfortable accommodation, it is desirable not far away from the center of city. This set of requirements, as a rule, never finds conversion in life, especially that touches a point «price». However, appeared, in Lviv – city supersaturated by visitors and kind people, is a not problem. A lease of hostels is 80-90 hryvnyas for twenty-four hours is the most optimal variant for an unpretentious tourist. Did get used to the benefits? A choice is large enough : from one-room apartments on the fence surrounding village of city(from 200 hryvnyas for twenty-four hours) to the 3-4-room in a center(from 500 hryvnyas).
The first appointment is with a city
When all formalities behind and train soon will leave off to buzz, our hearts from such near meeting with a dream barely does not jump out from breasts. Under the sounds of shrill woman voice that is heard from a loud speaker, undertake the first sure steps to meet the city, breathe in his air (that at 5 o'clock of morning even on train station seems fresh incredibly) and tune in to the lyric line-up. Because where to create, however in city of Lion?..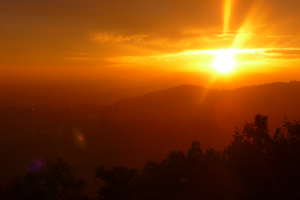 In our heads of hundred questions. What to do in unknown city at five o'clock of morning? Certainly, climb on his top! In Lviv it is High Lock. Presently so name one of hills of city with a survey ground, a spiral foot-way (she is illuminated in the dark pore of twenty-four hours, that very appropriately at such early o'clock) conduces to that. However once the real lock built yet under the direction of the Galychina-Volyn prince of Lion on the Lock mountain overpeered here. Lithoidal building appeared in the end XIV of century and at once got status of residence of royal head. A lock was used also as prison(it is written in clever books, that here were captive in 1410 under Griunvald the German knights). In 400 greater part of High Lock was taken apart… And that fragment of wall, that was saved, — it south wall to the court between main external and internal Brahma of lock.
Here after powerful morning exercises(in fact the already mentioned «spiral foot-way» is a test not from easy and wonderful cardiostimulator) we on High Lock, weak, meet a sunrise. However this spectacle deserved three such tests…
What is all begun with?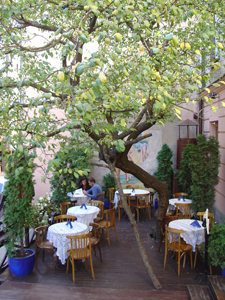 Coast. Lviv came back to life, became populous… Trams began to rumble, habitants began to bustle. Began to smell coffee… By the way, if will lose way in Lviv, our the advice you: go to the smell of coffee. With such reference-point you will be always able to open for itself another from the numerous unsurpassed coffee shops of city of Lion, to enjoy taste of coffee and and to know a necessary road for always friendly waiters. So we do and submerge in the world, where fragrant drink is the special fetish. «All is begun with coffee: morning, businesses, love». it is a vital slogan of habitants of this city. Ability to prepare and consume this drink, as appeared, is a whole art that requires a corresponding environment. Ljubov to « coffee ceremony» for Lviv yet from XVIII of century, since the first coffee shop was opened in city. Much water escaped since then, however the city of Lion to this pores holds the brand of the coffee capital of Ukraine. Interestingly, that traditional Lviv coffee must be cooked necessarily in turka! (She is dzhezva, only with more rough walls). Thus gas does not fit: needed warmed-up sand, because only then dzhezva and coffee is heated evenly, but not only bottom of vessel. Such method of preparation of fragrant drink – on the right labour intensive and protracted, but, believe, the result of that costs.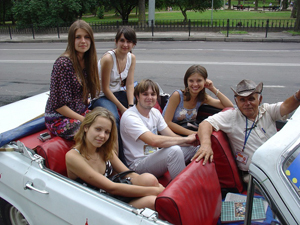 Aroma of coffee us in the self heart of city of Lion – on Area Market. Beg pardon for readers for banality, a metaphor is most well-aimed however. In fact here and main artery, and characteristic knock that is created by trams. We as if ended up in a museum under open-skies, where every house is sight of architecture, obvolute own legend. Here and most interesting «Knaipas»(Wikipedia talks: «Knaipa (from nymas. Kneipe) is an inn, pub is gastronomic establishment, where strong waters» give first of all, – however Lviv inlay the special maintenance in this word), and ancient architecture, and епатажні living sculptures, and young hundreds of photographers run after that, and… very colourful local personages welcome the guests of city. For example, near the Opera theater us already зачекався mister Yaroslav with the white cabriolet. As we knew later, here he every weekend, offering being carried away excursions a city on a machine. In that they really being carried away, made sure. Mister Yaroslav – right through life conducted in this city, and native Lviv is able to save the legends…
Lviv is the capital of deliciously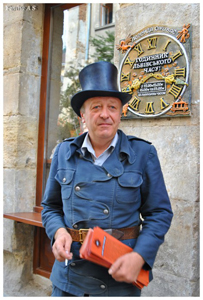 On watches 14:05: time and to eat up. And in Lviv, know, there will be «hendelyk» suited to every fancy. Among the row of креативних restaurants with original conceptions(here to you and «Kryivka», and « Mazokh-cafe », and Galychina Jew Knaipa «Under Gold Rosa», and «Left bank», and most «Expensive restaurant of Galychina», and «Old tram» – do the names strike already, does not it?) elect «House of legends» : very already invite to grant to them chimney «sweep» that stands at an entrance and tells every amusing pieces about the small fatherland. Call carefully, because building seems unsteady. On a ground floor strange applique: the same bullet of Lviv exudes between well-known to humanity planets. On one of walls all history of the Lviv clock, lists of watch-makers after years, astronomic explanation of essence of Lviv time (what on 36 хв ahead of Європи and on 24 хв behind Kyiv), and also vehicle, is incuse for twisting of second. Catch itself on an idea, that such could be up only an artist-crank, falling in love in a fairy-tale city.
Then there was room-keeper of Lviv time. On the first floor is an apartment that guards legend about the Lviv roadway with the standard of local бруку. A next room saves history about the bound river of Poltva and strikes it translation through a web cam. As early as establishment there is a corner of the Lviv lions. «Legend consists in that all lions of city at night come back to life and guard welfare of habitants», – gladly a waiter-hop-o'-my-thumb explains to us. As knew later, «House of legends» also is a social project. «We create a comfort and comfort in-process people, that in our society, unfortunately, is perceived not always adequately and correctly. It is little people», – it is indicated on their web-site.
Next station of amateur to regale oneself, certainly, «Lviv workshop of chocolate». Here every sweet good is work of art with the special taste. And it not because he is made from the best cacaos-bobs or Lviv masters own emergency technologies. Simply these pastry cooks managed to inlay in every done candy, every stick of the real chocolate little, but the always most sweet piece of native Lviv! And it a city, as we made sure already, is able to create wonders..
From a grenade launcher in the Moscow consulate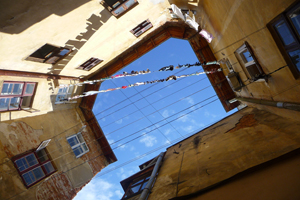 Next day. In stranger city, where until now not a soul acquainted, really pigeons coo only, feel to my surprise comfortably. The hostess of the temporal dwelling hospitably offers the help in an acquaintance with Lviv. However, as known, to get to know a city, it is necessary in him to get lost. Not intending such, lost way in the little Lviv courts. The confused eyes gave out, before had time and company to expose:
– Girl, you did си lose probably? – with a smile native Lviv asks, on everything perhaps.
– Yes. you will not prompt, as to ….
– You search the not Moscow consulate sometimes, because here asked one, as there the best to get. Then єму answered that from a grenade launcher. – a grandfather jokes.
– No, – smile. – to me on Armenian, 35.
– Why not?.. Will prompt. Here of wire-puller yet a bit straight, there near jew hendelyk will displace to the left. And by courts-courts. Ask people yet…
«Nevertheless got Courts-courts« in a necessary place – at concert in a coffee art-cafe «Apartment 35». Here and final chord of Lviv rest. Peculiar ethnic reasons him. Together with other visitors of establishment sink in the sounds of jazz and etno…
Platform. Shrill voice with expressive, as though already reports a native, local accent about arrival of train № 360 «Lviv – Kyiv». It our. Sit down for him unshaded sorrow, in fact sure: necessarily will return here. And yet the particle of this Europe in a miniature drive with itself as paper bales with sweetnesses from the «Lviv workshop of chocolate», souvenirs from «Home of legends», banks of sweet-scented coffee, t-shirt with inscription «Lviv is open for the world» and unforgettable emotions.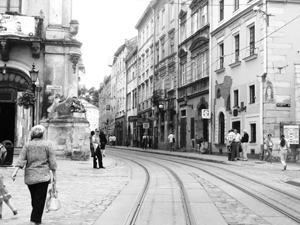 And the city of Lion hospitably smiles to the sunbeam, hiding after a carelessness experience of centuries talked, go back to me…
Comment of expert
Hanna Sydorenko, director and co-founder of tourist internet-portal of "Karpaty.info":
«In comparing to other corners of Ukraine is simply tourist Mecca. Tourists can be seen from everywhere, in a weekend Ukrainian sounds somewhere on 30%, other – Russian, Polish, English, German, Italian et al, thus first three – somewhere in even proportions. Certainly, tourists less than in Prague or Paris, but it on the best, because infrastructure of city yet not so розвивнена, can not survive the greater influx of guests.
The so-called cultural tourism is better in all presented: go mainly to look at sights and participate in numerous festivals (every weekend something takes place, sometimes even a few cultural events simultaneously).
For Ukrainians gastronomic tourism prospers yet and in Lviv many establishments, where it is possible deliciously meal for relatively small money, in parallel interestingly spending time, – there is an enormous amount of thematic establishments. Well and coffee: as without her! »

Liliia Fedorovych