Somewhere where the clouds are born, where the magic of the mountains hovering in their respective domains, where the untrodden paths of the mysterious ghosts roam, lies a lake with the eloquent title Nesamovyte. The untouched nature, charming atmosphere and a whole load of impressions – the constant attributes trip to one of the highest lakes in the Ukrainian Carpathians.
---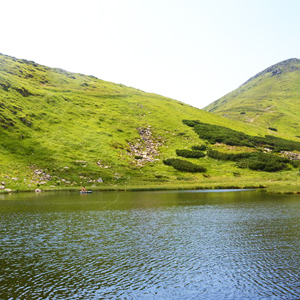 Do not throw stones
Nesamovyte – the second highest mountain lake in Ukraine after Brebeneskul, it is located at an altitude of 1 750 m above sea level, glacial origin. The lake lies on the slopes of Mount Turkul (range Chornogory) and refers to the Ivano-Frankivsk region. Surface area – about 3 000 m2, it depends on the season. A depth in some places reaches 1.5 m.  As for the neighborhood – it's an extraordinary piece of alpine beauty of nature: a variety of herbs, deep valleys, wild meadows, rapid gorges, crystal clear streams, carpets of blueberries.
In addition to the visible, the "live" beauty, the lake is shrouded in many mystical beliefs and stories. It has amazing energy and life of its far from civilization lives. And his name got on purpose. Wild, crazy, impulsive character is Nesamovyte. For hutsuls this place – the sacred, as it is "done" weather of Chornogory, born here hail. This explains one of the legends. She says that flock here soul of murderers and suiciders. If you throw a stone into the water – to disturb the sinful souls – there is a rider on a white horse and starts jumping around. Where the horse foot strike, there will drop a piece of ice. And the soul, leaping out of the water depths, collect ice, put it in a big bag and black clouds creeping around Chornogory. Where they unleash bag, there hail falls. Another story says that single people, having washed in the lake, to the end of the year will find a mate. Its mystery Nesamovyte attracts travelers. If you are willing to learn the beauty of Ukrainian nature – leaves no stone house and go on a journey to the legendary Pearl of the Carpathians.
The road to the mountains
It all starts at the railway station in Ivano-Frankivsk. Here you have two options: train, driving through the station Yaremche, Vorohta, Bukovel, or taxis to Yasin, Yablunitsya, Verkhovyna. What point you choose – depending on personal preferences, our same goal – the tract "Zaroslyak" (located approximately 12 km from the center of Vorohty). There originate routes to Goverla and the lake. By the way, the highest peak in Ukraine is very popular among tourists in the summer every day several tour groups from nearby cities to conquer Goverla. But there is a particular danger, because under his feet thrust travelers perish rare herbs, in addition, would-be tourists leave behind a bunch of garbage. On the lake in this respect the situation is somewhat different. Excursion agencies Yaremche and Vorohty though offering a frantic campaign, but did not advertise it too. Perhaps this is why in those places still remained a virgin, pure nature.
The starting point of the trip – a sports camp "Zaroslyak", the path length of one side is 7 km, vertical lift – 500 m The route is marked yellow and white. It is necessary to closely monitor the marks, in fact very easy to get lost in the narrow Carpathian trails. After the start, you pass a bridge across the Prut river and climb up. After about half an hour pass the Highland Biological hospital (reports of the Institute of Ecology of the Carpathians National Academy of Sciences of Ukraine, 1 429 m above sea level) and the National Weather Service avalanche station "Pozhyzhevska" (1 450 m). And then come to an end any signs of civilization. You find yourself in a real kingdom of mountain pines, streams, valleys and swamps.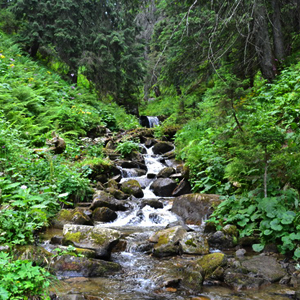 The path leads out to the foot of the Small Goat, there needs to move to a small lake under Dantsish. It should turn sharply to the left, there swampy trail leads out to his goal. Here is a majestic lake Nesamovyte.
It is here that feels unique magical atmosphere, words are lost in the movements of the wind, and his thoughts soar above the clouds. This is the best place to look for harmony and inspiration. And when it's time to go home, you should choose one of several options for the route of return. The benefits of each depend on the weather, time, and their own forces.
A painless journey
In search of an unforgettable experience not to forget about their own safety. Chornogora variable and insidious. Even in the summer you can expect heavy rains, hail, crazy wind, snow. Since you have to be a person who has experience in campaigns and be able to quickly find the unexpected happen.
Although the route and marked (marks occur every 300-400 m), you should make the most of his study, so as not to lose friends in the Carpathian forests. For a hike in the mountains you need to have with you only what you need.
One of the important components of a successful trip – comfortable shoes and a backpack. Usually packed backpack way: put down soft and easy things closer to the back – the heaviest (it can be a meal, dishes, appliances, etc.), top – easy things. Always be on top of warm clothing and rain gear, because the weather is very changeable. Necessarily have to be a flashlight. In addition, all the things that can get wet, should be packed in plastic bags. You can also have bags for rubbish – many will not take place, but the nature of the clean will help keep.
No less important, and the question of power. Conquerors new heights after a long kilometers up spending a lot of energy and vitality. It is best to help you recover them chocolate, nuts, raisins, dried apricots. Well-toned spring water with lemon slices. With him necessarily to take at least one and a half liters of water. On transitions is not recommended to drink because it is an additional burden on the heart. Do not use water, too, is impossible, because the body is dehydrated, the blood becomes thick and her heart to pump harder.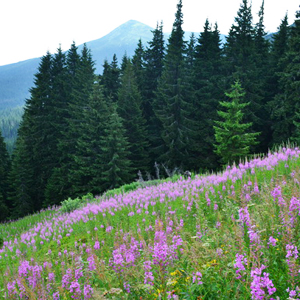 There is nothing to go on a trip without a first aid kit. Keep in mind that you are immune to injury and ill health in general. So you have to be a regular patch and bactericidal, various kinds of bandages: normal, sterile, flexible, activated charcoal, as well as special products if you suffer for chronic disease.
Go to steady pace, particularly on the rise (in small steps, slowly, rest only on halts, not stopping at the transition). This will reduce the workload on the heart – it will work as normal. Slopes technically difficult climbs. It is strictly forbidden to jump on steep descents. Foot to put a little aside in order that a certain depreciation.
There are a number of emergency situations in which in any case can not panic. If you get lost, turned the wrong way and realized it later – do not be lazy to go back, even if it takes a lot of time. Better exact path underfoot than a ghostly way in unknown terrain. When you finally lost and can not find the old way, remember the cardinal rule – you have to go down, look for sources, creeks, streams, and go along – they are sure to lead to a settlement.
If the storm began, the downpour should not go, it's better to wait. When you went up into the mountains and saw the storm clouds gather, it is better to go down as low as possible. You can not become a tall tree and stay in the open countryside. If you caught the storm on a ridge, fold their stuff (especially metal) into a pile, cover with an oilcloth, stand back and take cover themselves. Do not drive yourself to the point where you can drop from exhaustion. Of course, a person can go through another ten kilometers so, when it seemed that the forces have left permanently. But it's better at the first sign of fatigue (man stumbles, not react) to arrange a one-two-hour stay. You should always have power in reserve for emergencies. Many tragic cases are connected with the fact that the tourists did not expect their opportunities and were so exhausted that they could not go down in a safe place.
These simple tips will help good and safe time and learn the secrets of violent Nesamovyte lake.
Anna Denysenko