Lviv unhesitatingly be called the most picturesque cities in Ukraine, its cultural capital. Galicians for centuries cherished like family children, Ukrainian language, traditions, customs… contributed to this not decrees, laws, or any other displays of local politics, and feature mentality. If not every Lions ' Ioannina because of certain circumstances with higher education, there is moral education derived from the mother's milk, Women from Halychyna.
---
No exception and my friend Pavlo, whom I corresponded 5 years, despite the existing and available then the possibility of mobile communication. Now the Internet opens up new spaces for dialogue, and we quite enjoy them, but sometimes still want to cancel several sheets by hand and attributed to the mailbox… in brief e-mail to Paul elaborated on his invitation to the announced beforehand city ( wanted to see me and my girl Katya ) and I gladly accepted.
We chose the "slow" train number 659K " Kyiv -Lviv", making numerous stops at the stations of small towns and villages and is located on the road between the capital and the Lion City for almost 15 hours. Pavlo, however, we did not understand. We just like to travel by train and look out the window. Even when there trees themselves, or even just darkness and the moon. Furthermore, our neighbors in the coupe drove a few hours, it seems in the same area. The car was almost empty. Romance!
Day One.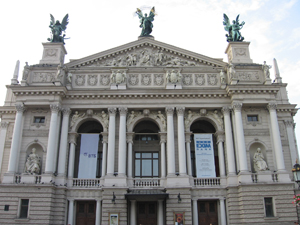 Sleepy Pavlo met us at 6:43 on the platform of L' station. 10 minutes had to go to the bus, which was going to the hostel number 1 Lviv National Ivan Franko University, where we had to settle illegally. Prices for accommodation in hotels not too biting from 110 to 160 hr. per person in a double room and 300 hr. for a single suite ( hotel " Vlasta ", "Lviv ", " independence ", " Jockey "). And at the " Syhiv " which is by the standards of the city away from the center than playing the aforementioned institutions can rent a room for 25 hr. per night. But Pavlo wanted to introduce us, the home of Kiev, with the harsh realities of life in an abandoned hostel. We would not mind, but do not imagine that it would be so much afraid. A scared not state units, where students live, as the ratio of the latter to his, albeit temporary, home. Any normal housewife would be knocked down by the appearance of only electric, which has not help either " Domestos " or " Gala" or " Mr. Muscle" or " toilet duck " or " Kalhon " or " Blendamed " bleaching of crystals. Tile or was turned off or basking on a maximum of two four working burners on which every 2 days dried socks. Cockroaches have not yet realized that getting out on the burner – it is dangerous to their lives, but because of habit occasionally pidsmazhuvalysya. We did not hinder them. Paul explained by the fact that in summer there is almost no one and no one on duty. But then whose socks?
Having to get water, which is supplied in Lviv on schedule (three hours in the morning and three in the evening), we have successfully washed in a basin (shower on summer vacation does not work). Details of not write, but those who do not know how to tell one thing worse than one can imagine. But all this stuff. We were waiting Lions. We go by bus to the center. Paul, as the road from the station, calls every street (apparently preparing to be a guide ), and we just look out the window, because for us the names mean nothing (I think for him, too, but the exact role of tour guide friend liked ). We go out on a small area of customs, which is somewhat like a bed without flowers between Lviv narrow roads and make photo for really nice scenery. Left – Temple of Poor Clares (female Franciscan Order) directly – walls Bernardine of Glynianska tower. A square, perhaps that is made narrow so that no one in his time not bypassed checkpoint and not passed without paying customs duties.
There are two arsenals in urban and royal. The first was built in the fifteenth century, the second – in XVII. In the city is a museum of arms and placed in the room of the Royal State Archives of Lviv region, putting in front of the monument to Ivan Fedorov. It is clear that we just visited the city arsenal and royal admired from the outside. Passed by MYOB church and walked Dominican cathedral stood face to the main entrance. This construction eighteenth century very often serves as a hallmark of the city because of pictures there have been many. The inscription above the entrance is translated as: "the only God, be honor and glory" (tourists are often curious and ordinary lions Jana also not everyone knows ). A little further – Powder Tower, which is striking in its power. Also worth a look. Here's the route of our first day. A lot of what he saw, what he heard. Before returning home we stopped at a supermarket "Arsen " where stocked with food and means of improving their living conditions ( poison for cockroaches, for example). Dinner, and then went to sleep earlier than head touched the pillow.
Day Two.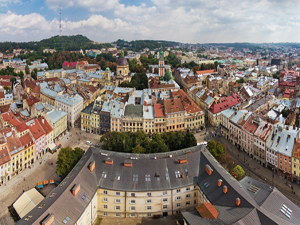 Comfortable, but very slow ( this is because the pavement ) Lviv tram brought us right Mickiewicz Square, where we saw and photographed monument of the poet and the Book House. From there we went to the Cathedral, in front of which was the Lviv Historical Museum. Visiting the exhibition halls, we drank coffee in the Italian courtyard – a secluded corner of the museum. From there just to go to Lviv analog Kiev's Independence Square – " 100 metres." That's what the locals call of Liberty Avenue between the Opera House and the monument to Shevchenko, which we took. Traditionally, young people, that's where we met the evening, went from there to the hostel.
Day three.
Here is the overcrowding and congestion, which made them afraid, Pavlo. We, the people of Kiev, is no stranger. That will come to the capital and remembered that she, a real overcrowding. And in Ukraine is not so scary and today. The streets are narrow, cobbled streets – not asphalt, so quickly drive will not work. And it was good. Looking ahead, we will say that a 5 day stay in town we did not see any emergency situation on the road. This is no accident. This is also referred to and fro in the first indent feature mentality. If a person crossing the road in an unpredictable place, it certainly miss. However, there are not many conversions as desired. Underground few. Paul do them no attention and scratches across the street where he pleases. And, thank God, all is well with him.
We have successfully reached the street P., walked to where another pride of the city in general and Pavlo in particular – Lviv National Ivan Franko University. The building is impressive in size ( if not all departments are based in one case), and a visual strength it can be compared to the building of the Cabinet. Inside – more refined than the outside. Just Palace. If there were in the town hall, I know where then placed administration. Opposite University – Franko Park and a monument to the poet looks at the alma mater and reminds me as an example to students who wish to study periodically disappears. Was there A drop of tar: Park in front of him and no one thought to put a single bench. Therefore, people sitting on a concrete wall. In August, it is perfectly acceptable, but in the fall or winter, I would not sit there. Visit " Lviv " beer decided not traditionally in the park, and aristocratic in some pub. And then mentioned the " Kryyivka." This restaurant is placed in the rebel style in memory of the UPA. Before entering a smooth pan with a gun requires a password (" Glory to Ukraine !") And says: " Heroes of glory." Then asked whether the Russians among the guests. Making sure that there is no pass inside. Kate currently impressed and even a little outraged, I reacted with understanding, but also consider such policies poor, and Paul advised to take it as a regular joke. And it really is. Let the Russians, when suddenly somebody of them want to go there. In " Kryyivka " special attention should be paid to the menu, including the names of dishes. The list should be read from beginning to end. Funny and well fed, we walked around the city a little more, but I do not I remember exactly where we went and saw…
Day Four.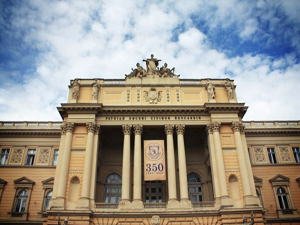 We decided to just relax. I eagerly awaited the football match between team "Lviv". For the first time in Ukraine are the strongest championship until two teams from the city. If "Karpaty " have a proud history and a grand name, the " Lviv" – a very young team, and its progress can not be happy.
So we went from the hostel for an hour before the game starts. They arrived at the " Ukraine " is also quite fast and safe. Outside the stadium turned into closet ( toilet civilized I do not see, because they simply do not exist). No matter how frustrating it is to write about, but the words of the song can not throw. Well, the new stadium, whose construction started in Lviv the day on which this situation certainly will not.
Problems with the tickets was not, although cash stadium " Ukraine " began to sell only on match day. The very same game was not interesting even to me, a lover of football and journalist specializing in the sport. Kate stood half hour get bored much tolerant than Pasha. Before going to bed we walked to a little cave Honey. Pavlo said that it is here very close. We walked for thirty minutes in total darkness by the private sector and deserted field. Quipped a friend. The very cave so see both failed because it was too dark. And within even the Pasha not invited. Overall, this day was better than the previous one.
The fifth day.
Ran ! In the morning we arrived at Market Square, where in fact the most admired area, overlooking City Hall, and those views that opened from the top of the tower. Climb to the top of the town hall need to walk, and at the end of the spiral staircase hangs a plaque with the inscription "To the rest rooms 100 more steps." But we had not climbed in vain. All of Lviv in your hand!
After the ascent to the town hall we went to Sykhiv, sleeping area of the city where very few points of attractions and architectural monuments. We are interested in the water park. A solid commercial structure ! Kate was able to compare it with the water park and gave Odessa Sykhiv undeniable advantage. Shock fact: slides reached the level of the 7th or 8th floor of the building height. For those who do not like to swim, were provided cafes and a gym.
With the water park, we quickly went to the Park of Culture, which rode the rides and ate cotton candy. Saw the city of Ferris wheel and holding that landscape before my eyes, rushed to the hostel to pack your bags. Of course, I wanted to see more, but we still have time ! Be sure to return to the city, even if you have to live again in the summer hostel! No better hotel…
Andrii Halaka