Do you want to travel and have not yet decided on the mode of transportation? Are in no better financial position, but the urge to travel is not reduced? Do you have a friend next door, who night and day, "whined," you have traveled to the site? Then you fit hitchhiking.
---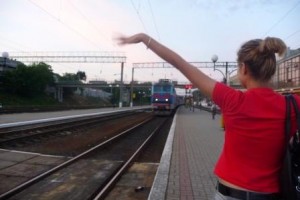 This phenomenon becomes every year more and more popular in Ukraine, but of Europe and say nothing. Hitchhiking will both save you money and meet interesting people. Than one hundred passengers used this way of wandering in the summer. Of course, you can visit interesting cities, and at other times of the year, but everyone is who decides what are the conditions for it to be comfortable.
If you are after much thought do decide to travel with an unknown driver on the territory of Ukraine (to start), or your best friend persuaded, after leading a bunch of pointless arguments in favor of the idea of "riding on the ball", it does not hurt to collect the necessary information. After all, experienced avtostopery warn of potential problems along the way. Who will meet at the wheel of a car, you do not know in advance ever. But as they say, nothing ventured, nothing gained.
How did you, or someone stuck in my head the idea to save on transportation
The specific terms of reference do not have the phenomenon of hitchhiking. In English it's called Hitch-Chaikin, where the hitch means "hook", and hiking – guided tour at long distances. Stopper travels through the world, "catching" during the movement of lyuboyu opportunity. Jokingly, the stopper of the zero level, ie for cartage, rank as Mikhail Lomonosov. No significant evidence of this fact has not survived, but according to legend, the Russian scientist once occurred to me to visit Moscow from the countryside Mishansk. From his native village to the modern capital of about 1000 km. Such a distance and on foot …? The output could be a possibility, some drawn by draft animals. Of course, the speed of this transport did not differ (of course, is why today he is not popular), and the car was not yet invented. What remained outstanding naturalist?
Modern hitchhiking originated in the U.S. in the 20s of last century. As soon as the car "went into the broad masses," there are many who want to travel without paying a penny. Movement grew by beatniks (hippies predecessors) who did not want to fool his head no money problems, and always wanted to travel. They are also called "beat generation" (not to be confused with the "lost"). Hippies for low-income and high-powered in the wanderings and adventures, not only explored the territory of the entire Western Hemisphere. hitchhiking with the United States quickly moved to the European continent, where during the Second World even went a saying: "Do not pick up fellow-traveler, driving up the Fuhrer. "How strange, but worked. However, not everywhere. For example, the Swiss and the Austrians are not particularly zhaluyut such people.
60′s were marked general interest Eastern culture. Avtostopery lost no time, and actively change their location. For example, some citizens of Britain, who stormed India was about 10,000.
And what do you travel?
If there are different modes of transport, it is logical that hitchhiking has its own classification.
– Hitchhiking genus zero – on biotransporte (camels, horses, carts) or without motor vehicles (bicycles);
– The first (most common) – on cars, trucks, buses and other ground vehicles nerelsovyh;
– The second kind – on the railways;
– The third kind (HydroStop) – on ships, boats, ferries, boats and other water vehicles;
– The fourth generation (aviastop) – airplanes, helicopters, airships, and others.
– Until the fifth kind is fantastic for them to understand the use of space transportation.
The word "hitch" is usually used to refer to the first kind.
What attracts Hitch-haykintsov in these travels?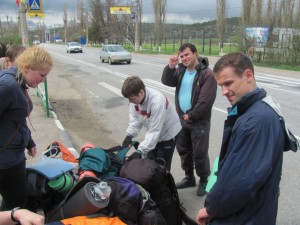 If we are materialists, and pragmatists, you must first pay attention to payment for travel. As a rule, it is symbolic, or do not have to pay anything. Of course, there are also demanding compensation for their service. A further advantage – the speed of movement through the machine and relative comfort. Although some stoppers warn: do not plan to sleep in the car. After all, if hooked to a stranger in the evening, then chances are that you have to have a conversation. Your function – not to let the driver go to sleep. Gabby source close – and, consequently, fewer accidents on the road due to driver fatigue. The main thing is not to overdo it and do not prozhuzhat all ears. A third advantage (this is for nematerialistov) – The ability to communicate with new and amazing people, pull up your skills in communication, to visit close to the road, which is so romantic future beckons adventure.
Faith in the passenger
To get more pleasure from Hitch-hiking, it is worth considering a few useful tips from experienced travelers have. So, how to behave, to not have too long to wait for transport stops and make a good impression?
1. Take a shower
Please note, the driver, who stopped all the same, has a nose. To take or not take? What will be the solution if you have a very long time, and washed from you are not very pleasant smell, it is easy to predict.
2. Ditch ciggies
With clamped in his teeth, or cigarette in hand, you'll be a long slow car. Of course, some drivers do smoke, but if you're lucky and someone stopped – do not ask whether you allow smoking on the road.
3. Bet on the old machines
Less than a new car, the more likely that you will pick up. It is hardly necessary to vote in brand-new model Mercedes or Volvo … In this case, probably slow down the stolen car, the driver that you want an alibi.
4. Trailers – is everything
In the approximation of the truck is worth more enthusiastic – they have plenty of room for passengers and truckers often take his company avtostoperov. Just do not stand on the sidelines as a post – mashite both hands.
5. Install eye contact
Try to look into the eyes of the driver, who slowed down – difficult to refuse, and enter more in the trust. And, of course, smile – a friendly companion definitely has a better chance. Stopping the car, be smart, do not push and do not slouch – you do not have to look a man who has no money even to travel or roll at a roadside cafe.
6. Do not be lazy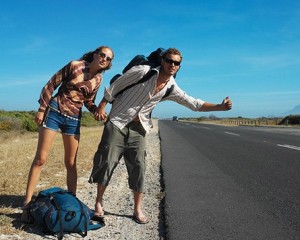 Try to find a place where you will be clearly visible from the road and is conveniently near the brake. Walk in the direction you want – drivers will appreciate the dedication. Or at least, go back and forth, do not stand still.
7. Use the gas station as a starting
In order not to stand and not vote on the sidelines, literally, "in an open field," try to negotiate with the drivers when they stop at gas stations. Remember the rules for establishing eye contact, and old cars. Do not waste your time on persuasion, if you get rejected. In most cases, a positive result, they do not give. It is clear, well-fed kinder than a hungry, so do not meddle with their requests before or during meals.
8. Do not take to heart failure
Some companies prohibit drivers to take passengers because, in the event of an accident, they will have to pay damages to you. So, one has only to hope for loyalty drivers.
9. Taboo topics
When you sit in the car to someone, you kind of go into someone else's house because it behave in a courteous and friendly. Highway – a kind of forum where we can discuss a lot of those, but smart people are trying to stay away from politics, religion and gender. At least in the beginning of the conversation. A sign of a skilled avtostopera is the ability to tell time and time to be silent.
10. Offer to pay for the service
Drivers, like all of us, are often needed money, so do not hesitate to offer. At the very least – for gasoline. If the driver refuses, treat him a cup of coffee at the next stop. Keep in mind, and the normal human desire to help or to do a good job.
11. "Good intentions paved the road to hell …"
Their help in wiping the windshield or side zerkalets not offer until you told to do so. The drivers themselves know how to look their vehicle and how to operate the motor, so please refrain from unnecessary comments on this topic.
12. Stock up on water and a tent
Do not know where you will land and where you have to spend the night if you can get at least the water, so take care in advance.
13. Night – no chance
After dark, no one will venture to lift you.
14. Read the labels …
In some countries, hitchhiking journey is prohibited, so check in advance the places where you plan to visit.
15. "Be on the bright side"
Hitchhiking – is a series of successes and failures. To tune in to a wave of optimistic and fortune, do not curse the machine that did not stop there. The more smiles you present to the drivers, the more likely one of them will pay attention to you. Always give thanks for the help, even someone who just stayed in your swing. Such rules.
(Instructions from the Russian traveler)
Artem Zakharchenko, visited almost all the regional centers of Ukraine:
– What risks should be borne in mind hitchhiking?
– At the risk of missing all the fun of the trip, thinking about the little things: a consumer discomfort, fear of criminals on the roads and so forth. If you go – it must be just you and the track. Well, a lot of interesting people that may be encountered. I do not understand those who take their weapons with them in such travel. If the weapon – Go on then something else, you still will not work with her to feel that world peace, which gives hitchhiking. Weapons attract aggression from others, for you, when you have it, you behave differently.
– Necessary items such journeys …
– I do not like to take a lot of things. If you know exactly what I can fit into a familiar or spend the night in the train – do not take no tents, no sleeping bag with mat. If you plan to spend the night outdoors, I try to use the tent in the summer instead of just a tablecloth. Well, no karemat here is not enough. Important elements of the outfit – haeratnik / flowered scarf, leather jacket, perhaps – "Fienka" that once you identify as a hitch-hiker, and excluded from "seals." For one of the most unpleasant situations – when the driver after the trip is still asking, "Where? And the money? ". Although all the rules of the money he has to ask at the outset, if you do not ask – you're not to blame. But he may not know about it.
– Do I need special training?
– Yes what there special training? Just need to map, it is also desirable to have a schedule of trains in that region, where you will be traveling – on the Internet is. Talk with friends, whether anyone vpiski in those parts. Food and water grab, but a little bit. If you're not very sociable person – think through a few topics of conversation, because people often take for you to talk to, and you first have to start a conversation. That is, if it is not supported – then do not insist.
– Tell us about one of the unusual and interesting situations that occurred while hitchhiking from your experience.
– A year ago he took his eldest son to the track for the first time. Familiar Heep said that they with children from two years go, but my husband just let go. Well, I would say that traveling with children – a pleasure. Very quickly, stop the machine, and every woman, if not driving, then next to the driver: sorry baby, drives up. Where normally have half a day to get there, we were 3.5 hours. But of course he is not yet perceived it as I do. It is a pragmatic look at the stop: just as a convenient way to travel.
Avtostopery have no borders. In any case, within the limits of the planet Earth. Therefore, the choice is yours – or risk quietly shaking in a stuffy car without the slightest hint of a free, endless road in front of his eyes.
Viktoriya Topala