Manyava is a magic temple of nature. She invites all hospitably, who likes to wander mountain paths, to visit historical sights and granted pardon by creations of nature.
---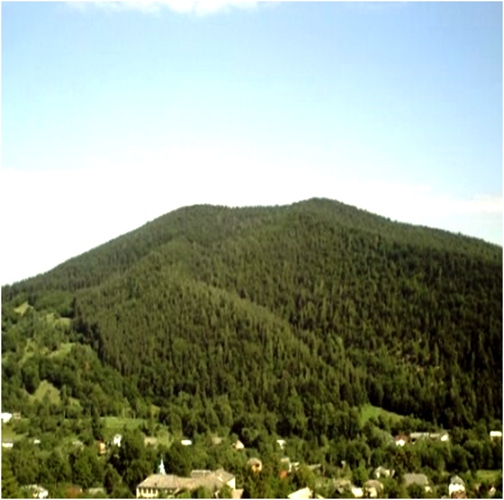 A village is located between the backbones (Small secluded monastery, Buben, Cekit, Kucher, Malunowushchi, Mlunska) of Carpathians, more precisely in the Ivano-Frankivsk area of Borodchan district. Since olden times famous such historical sights: Manyava small secluded Monastery, Beatific stone, Church of Vozdvuzenya of Honest Cross, Church of the most Holy Mother of God, Manyava's waterfall, natural boundary «Komarnyky», «Museum of brown bear». Presently it as a tourist center is on the initial stage of the development. With every year here all anymore arrive not only from the areas of Ukraine but also from the entire countries of the CIS. However nevertheless embarrasses that not every Ukrainian knows about this village that is inalienable part of inheritance of Ukrainian history and culture.
Unfortunately, information about founding of village of Manyava not saved, only verbal translations, that is passed from a generation to the generation. A historian Bohdan Bilusak considers that it was is founded in V-VII of century and first this was a farm «Firing-pins». People transmigrated here through incredibly beautiful nature and wild beast's in-field, which was then a basic food product. As a historian asserts, the name «firing-pins» originates from the name of the remote Celtic tribes of fights that occupied territory of Boykiwshchuna. The most widespread type of activity for them was agriculture. Most people carried the last name of Boychuk, that and presently is widespread enough.
In the Second world war-time, on territory of village there was detachment of УПА under the command of war-lord of Spark, that formed school, where taught the children of military business, that then they could protect the edge. Today, in the center of village is a monument, where disposed remains twelve partisan of detachment «Spark».
Manyava's small-secluded Monastery is Ukrainian Mount Athos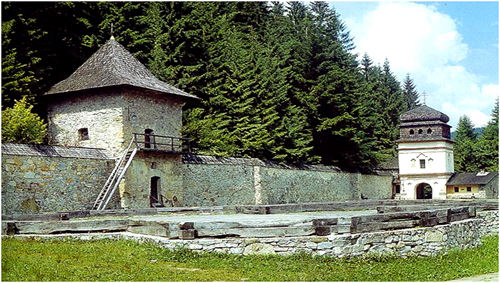 Manyava's small-secluded monastery – one of most popular historical and cultural monument of village. He was founded by Yov (Ivan) Knyahunuckuy in 1606 that was one of servants of church, by a writer and icon-painter. Wandering on the forests of Carpathians, Yov found oneself nearby Manyava and decided to build to the soba kuren, as locality very pleased him and had some unusual force. He lived long time, spending time in prayers. Once Ivan Vyshenskuy and Zahariy Kopustenskuy granted to him, that too were ascetics. After their meeting beginning was fixed to the new friary of east monkhood, which autonomy was given by Constantinople patriarch.
Monks stuck to severe charter. They cannot go out outside a monastery without permission of father superior, it was forbidden to speak with women that by then had no authority to enter on territory of monastery. In addition, there was control after the use of meal: meat, milk, oil, was forbidden. Ate twice on twenty-four hours, but there were days, when they did not consume quite nothing. Monks occupied agriculture, had large enough territory, where trucked and fruit. A monastery also performed the defensive duty during Turkish-Tatar encroachments – the habitants of village hid after his walls. Long enough small secluded Monasteries got a help from Bohdan Khmelnytsk, which provided funds on satisfaction of necessities of monastery.
And for presently small secluded Monastery it remains to Orthodox's, keeping traditions stopped up yet Yov Knyahunuckuy. Women can call on territory of monastery, as divine service is here conducted in a new church. From 1970 a monastery is considered a historical and architectural museum, but already in 2000 he purchased status of operating friary. This territory is considered saint, as here twice from' the most Holy Virgo Maria.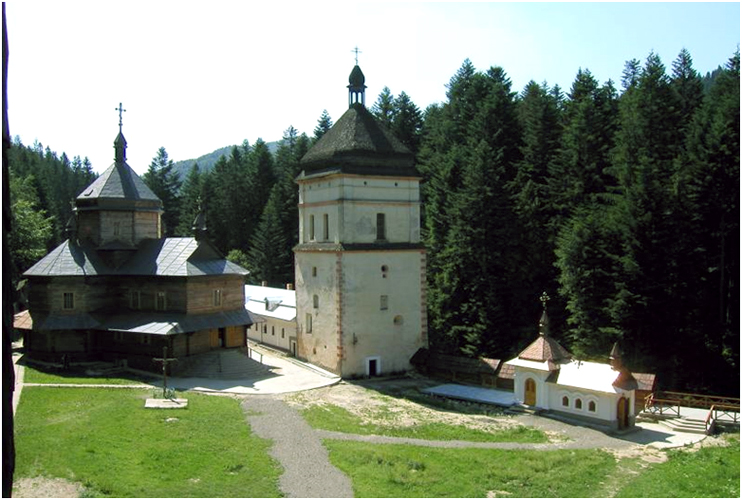 Global enough restoration of monastery took place in the last few years, again built the church of Vozdvuzenya of Honest Cross(2003р.). A church has gucul's style, inwardly is a tombstone of father superiors of Yov and Teodoziy. Locals consider that if to wash drops from a flag, then it is possible to be healed of different illnesses.
On the walls of towers it is possible to see painting that renewed and translated from a language. Except the church of  Vozdvyzhenya of Honest Cross, in small secluded Monastery there is yet the underground church adopted by Theotokion. Unfortunately, about her there are no records. As monks assert, she was historically the first in a monastery. Now, above underground part of church there is the built chapel. In church is icon of Divine Mother that «bleeds».
From Manyava's small secluded Monastery very many well-known historical figures are bound by. It is first of all needed to notice that the here buried hetman of Ukraine І. Vuhovskuy and mother of the Lviv bishop A. Shumlanska. Here the participants of «Russian trinity» (M. Shashkevuch, I. Vahulevuch, Y. Kholovackuy, A. Mogulnuckuy, Y. Celevuch), that wrote reviews about visits, visited also. Small records about small secluded Monastery left І. of Free, V. Graboveckuy, V. Peshchanskuy. in 1991 here was made a movie «gold of Carpathians». Manyava popular not only among the Ukrainian figures but also the president of Georgia Mikheil Saakashvili and well-known French actor Gérard Depardieu did not go round her attention.
It costs remember, that before to call at small secluded Monastery, you need to look after the original appearance. It follows to come women with the covered head and unbare body. In addition, it is not allowed to take pictures a church and priests. They need to be warned of survey. Be ready to the lack of roads and do not take a shoe on heels, because it will be much to walk.
Enigmatic Beatific stone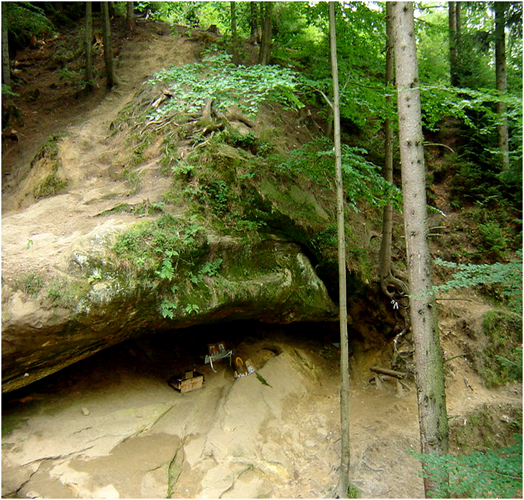 A beatific stone is the most enigmatic creation of nature in Maniava. He is placed in the distance a 850 m from a monastery. On legend, first this was a cave, where two monks from Lavra, which arrived to Carpathians to preach a faith dominical, settled. They had to find a place, where water would be heavier from brought by them from a lavra well. And became him Skutec, which met from Maniava.
Today healthful water that can cure from all illnesses follows from this source. However, to collect one litre of water even, it is needed whole day to expect, as water flows very slowly. Many histories according to that people were cured are known, trying this healthful water. With every year a stone all anymore in earth. If to look the photos done five-ten years back, then it is possible to see a sharp-edged cave, however now there only small opening.
Maniava's waterfall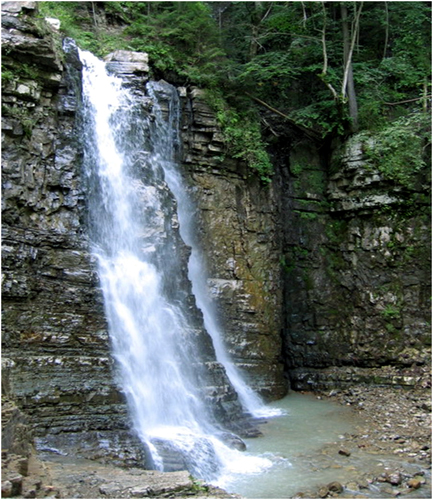 Another incredibly beautiful creation of nature is Maniava's waterfall. He behaves to hydrological sights of nature and is most in Western Ukraine (20 м). Here are yet and small waterfalls near that usually bath in summer.
A road to the waterfall is near: seven kilometres from the center of village, however with small barriers. To him it is possible to reach in two ways. The first come the river-bed of the river of Maniavka, and second on the south-west outskirts of village. If you decided to go a car, then it will be to leave him on an eventual stand, because road to the waterfall such, that not every machine will be able to pass. In such case you can get there a truck, which is usually used by locals at transportation of tourists.
Popular enough today camping – you can remain on nature a few days. Near a waterfall is something as though arbours, where it is possible to rest. By a large problem for this territory, there is behavior of a tourist that does not take away after itself, and in worse-case abandon a fire that causes forest fires often.
Museum of bear
Only in Ukraine «Museum of brown bear» was open in Maniava in 2006 outside independence, 26. He was founded by Mykola Skudanyuk, if to remind people about these animals, as in Borodchansky's and Solotvunskomu forest districts them there are four. Different exhibits are presented in a museum, in particular чучало, literature about the bears of region of Carpathians, picture and photo. Locals also participated in opening of museum, they searched information, drew pictures, and and, so to say, «followed up the scent of bear». For basis took «Museum of bear», that accommodated in Poland.
 Grant to Maniava…
In Maniava you also will be able to see a «Museum of habitants of the forest» of Carpathians, what  near small secluded Monastery. There is an unique exhibit of aurochs in him, although them there are already units.
Here Larch grows Polish, this kind is brought to the Red book of Ukraine. The larch planting grows at an entrance in a village. Such in Ukraine in all three. Often tourists are stopped here with camping tents, and simply, to die incredibly clean air in that smelled larch.
It is in-field possible to regale oneself a sweet-scented blackberry and juicy whortleberry, as these berries here very much. From every illness tourists collect st-john's-wort, chamomile, linden-tree. Locals sell herbages' for brewing of sweet-scented tea.
Regrettably that it the Ukrainian village is visited anymore by foreigners, than Ukrainians. However, tourists are – every year near tree-five thousand persons. Therefore thoughtful above that or not to go and to you to this picturesque temple of nature and historically-cultural sites.
Jana Vynnyk