In Kiev, there is a certain list of local brands. These include Independence Square, Kiev-Pechersk Lavra, Andrew's descent, etc. However, city residents or frequent visitors have been there dozens or even hundreds of times, so sometimes you want something extraordinary.
---
Romantic Kiev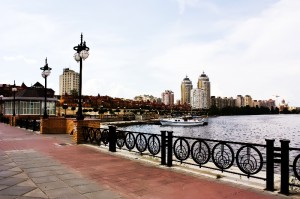 Such places in the capital very much. The classic versions are again Andrew's descent, Vladimir Hill, Mariinsky park. But if you look closely, you can find something special. For example, a walk along the embankment of the Dnieper, not only bring pleasure, but will also help to relax by the river air. Especially since you can not only walk, but remember the story about the founding of Kiev, because that leads to this monument of Kia, cheek, Horeb, and their sister Lybid.
Relatively new is Obolonskaya embankment, as the residential area – one of the youngest in Kiev. There is also a pleasure to visit with his second half. This place is especially attractive not only a long, paved with tiles, the path along the Dnieper, but the scenery – but because there is often possible to meet the wedding couple with a photographer.
Another beautiful place is the Landscape alley. It is because of the landscape, which opened here, and artists, who often show it in the pictures, it got its name. Here it is difficult to understand in what country you are, in fact colored houses in the Castle Hill Basin evoke the image of European cities, which are often found in magazines.
Mysterious Kiev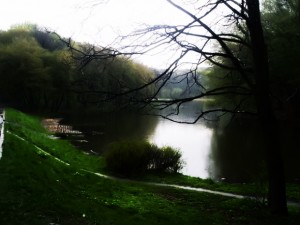 On the set of mysteries that enveloped the city and say nothing. It is widely believed that the most mystical place in the capital – is Goloseevsky park. Therefore, to visit him in the evening or at night – the game is not for the faint of heart. There is even a theory that there may be time to get into your pocket – you will stand on its own estimates of one minute, and at that time your people will seek you out for three days. But check this statement can only very brave.
Have you heard about the concrete ship? This place, which by all indications, subject to the "classified" – a huge concrete structure built in the 30th years of last century, as a strategic site, but almost no one knows exactly for what purpose. Outwardly, it resembles an underwater vehicle, hence the name of the people.
Still it is possible to allocate one seat, which knows not every resident of Kiev, to say nothing of the visit. If you really want to surprise your second half – invite her to tea club. It is located on the first floor of an ordinary house, but no signs, except for a large red logo on the building no. That is why it can be attributed to the secret places.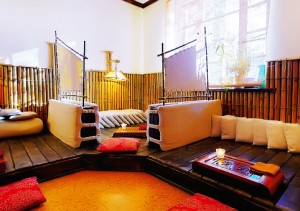 Within a few apartments joint and several rooms in the basement, where the various seminars, training, or meditation, which holds tea club. This place is special not only because of the huge collection of teas, but also because of the way of its submission. Every time you come and make a reservation, you will conduct a tea ceremony, learn about the history of tea and the associated age-old tradition. The main room, where booths are divided into ceremonies, each of which has a cushion on which you can go and feel almost like home.
Twilight reigns in the room, and in one corner of a large aquarium – a popular place for dates. At the entrance to this place you will be asked to set the phone to silent, and instead offered a shoe slippers. All this combined with a soft quiet music promotes relaxation and filling not only new energy and impressions.
Nightlife Kiev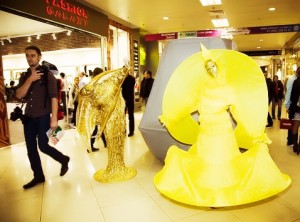 There are many people who are in the psychological literature as "owls." When most of the "Lark" under the warm blankets they see tenth dream, "owl", full of energy and forces seeking to see or try something new. Many of them live in the club world with loud music and alcoholic beverages. However, there are those who are not interested in the monotony of nightly entertainment.
Every year, for such people is carried out more activities that can be both cultural and commercial. For example, the Museum of Historical Treasures of Ukraine has repeatedly organized and led the event, "Night at the Museum", during which the offer visitors not only see the exhibits, but also to organize a real theatrical tour.
In Ukraine, as the fashion of Europe, on the night shopping. For those who really love the process arrange the sale of crazy famous brand stores, where discounts can sometimes reach 80 % of the cost. Such events tend to last several hours and preferably overnight. Therefore, in this case it is better to be "the owl" rather than "lark."
If you want to make insomnia useful thing you can get a job. For example, "McDonald's" always looking for employees on the night shift. However, this version more suitable for those who need not only new experiences but also the means to implement them.
Unexpected Kiev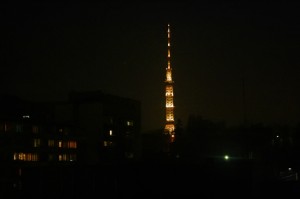 Some people dream to visit many countries around the world to gain new experiences and become familiar with another culture. It's really bright and nice dream, but, alas, many can not afford it. However, if you have a great desire for new experiences, we need only look at and pay attention to detail. Sometimes, to see something new does not necessarily go or fly thousands of miles away, and should just go out to the balcony. One winter evening, this situation happened to me.
From my window I can see Dorogozhytska TV tower. Usually, it glows pale red lights that little attention is drawn to the darkness. But this time the tower lit up with bright light, and, believe me, it was no worse than the Eiffel. My first reaction to what he saw was a desire to run fast for the camera and save the moment. Maybe soon it every night, so burn, and maybe this is another trick of Euro-2012.
However, the likelihood that everyone came out to the balcony, you will see something completely new or unexpected, is very small. For those who do not want or do not like to travel far, it is possible to simply walk down the street and pay attention to those objects which at the time of work, people were always out of sight. Such places can be found on many streets of Kiev. For example, for those who live near the Pushkin street, I propose to draw attention to the "yard, where he was a fountain" – so the people called this place. However, this estimate will be a nostalgic courtyard, only those who love the romance of Kiev of the last century. Passing through the arch of the house, pay attention to the decoration of stucco ceilings. In the center of the courtyard is buried in the ground concrete pool, which had previously worked fountain. Where once were shops, leaving only litter bins. But should give free rein to the imagination to see in my head what happened fifty years ago in this typical of their time outside.
So, find something new in this seemingly well-known city is real and is very easy. One has only to be more interested in and be ready to receive new impressions. Sometimes even a hundred times looked to be the thing to open up in a different way. So watch carefully!
Yana Polishchuk