Comfortable hotel, timely airport transfers, Ukrainian (and more – in Russian) guides with groups of 20 people, excellent hotel service and a quiet holiday – a standard set offered by any travel agency. For those keen to move more and travel may perhaps offer a tour of Europe – 10 countries in 7 days, 4 of which you sat on the bus. Individually drawn tour will cost more, as would have to abandon the conventional template and develop a route. A travel agency, where everything used to calculate to the last detail (which is not bad! ) Can make a good tour popular cities suggest you to visit famous museums and buy souvenirs in town. In other words, nothing too original there usually do not offer. Another thing – plan a tour on their own, without resorting to travel agents.
---
Documentum, documentum,documentum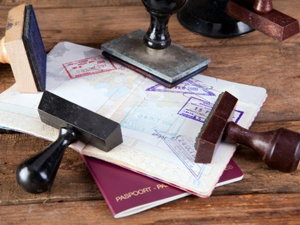 The most frustrating and the most difficult step, it seems, is to collect and document preparation. If you are going to Montenegro or Turkey, Vietnam, Cambodia, Thailand, or, for example, in the Maldives – a visa you can place on the Internet or on arrival – you just have a passport and a ticket in the opposite direction. However, if you are going to Italy, USA, UK and the Canary Islands, with a visa will have to run. List of required documents varies, but in order to get favored Schengen, you definitely need:
1. Visa form.
2. Colored picture on a white background size 3,5 x 4,5 cm.
3. Passport and photocopies of its pages.
4. Internal passport and photocopies of its pages.
5. Policyholders.
6. Statement of income.
7. Documents certifying the purpose of travel – hotel booking, tickets.
In addition, students will require a certificate from the university. Add documents can ask, for example, at the Embassy of Italy, because to get a Schengen visa harder there than at the Polish Embassy. In general, the list of required documents can be viewed on the Internet at specific sites or in many embassies. Would love to help you and travel companies – check all documents and advise on the process of obtaining a visa.
Festina lente
From the sophisticated to the best part – planning the trip. A lot of web sites, online resources and guides to help choose the most attractive route. However, the rush is not worth it. First you need to select the purpose of the trip – to lie quietly by the sea or curb plate for surfing and sailing learn to control? You should also consider the financial side of things – travel, planned their own, of course, has to do less, but if you calculate all the details. Above all, we must look for cheap flights – generally cheaper to fly with transfers, and who refuse to walk in Budapest, the Hungarian capital, if it is necessary to wait until 12 hours between flights? The next step – hotel booking. Many online services on the Internet offer free booking cancellation, and if book in six months, you can get a discount of half price! However, if you plan to visit a few places better not only book hotels in all cities. Typically, the most interesting and cheapest options you can find on arrival, talking with the locals or just looking in a couple of hotels. Moreover, for a visa you do not necessarily need to have booked a hotel for every day.
Of course we should think about moving between cities. There is the usual easy transfer from the airport to the hotel. But there is equally comfortable air-conditioned bus that goes from the airport to the city center in just one euro! One only has to capture not forget the map – and the fish in the net! However, over how cheap to get from Milan, such as Valencia, must be pretty pomizkuvaty. Generally, travel by train between European cities is not less than a flight from Ukraine to Bulgaria, but often railway companies conduct a variety of stocks when the favored ticket you can get almost free! Track promotions and special offers on the internet can be more difficult to buy them directly at the stations where many rogues trying to "give" tickets at a double rate. We must also keep in mind that in Europe the trains arrive to the minute! And if waiting train on the platform of Kyiv-passenger, you can spend half an hour in the rain badly, the delay for a moment the train in Italy can be fatal. Separately, we must also think about sightseeing and entertainment – if you book your tickets in advance can save up to 50 percent of the total. We must also not forget about alternative excursions – sometimes unpopular routes and interesting museums are found from the known.
Terra incognita and unknown language

To new horizons and new territory is added and a new language! In most countries fully understand nevpevnenenu English, a little French, German and sometimes Italian. Hope to meet inspired Netherlander who is studying Ukrainian and gladly show the way, not worth it – better to learn the language and remember that gestures and still has not been canceled! In addition, travel – a great alternative language learning: the use of words and phrases in real situations help to expand vocabulary and adds confidence.
In memoriam: what to remember?
By far the impressions have not – travel to remember forever, just have to plan it yourself! Experience shows that adventurers who refuse services turhanetsiy and agree to undergo a complicated way of preparing documents and bookings, get at least twice the excitement! When instead of a convenient bus that will take just under the hotel, you get in an ordinary trolley and fingers trying to explain how much you still need tickets, but there can understand – Is not zabuvayetesya. Sometimes to get out of your comfort zone (which often keeps the throat and does not breathe the fresh air), it is necessary to do something completely uncharacteristic, new, original, take a chance – and drink champagne! Not in fresh hotel, and somewhere in the Cote d'Azur of France in the company of new friends, not from Omsk experienced guide and 10 tourists.
Hanna Bielaia, director of the travel agency:
"Despite the growth of the Internet, people still turn to travel agencies. First, fewer headaches and hassle. The second, usually a trip planned independently, are at the level of already developed tours, because when the tour operator reserves a lot of space on board or negotiating with the hotel, it is give discounts. Thus comes about one and the same price. Although it is really a growing interest in traveling without the help of travel agencies ".
Oleksandra Myshkina