Every year millions of people strive to escape from the sweltering dusty streets, clogged routes, old trolleybuses, they are looking for leisure, adding a penny to penny. Then they fly to the Caribbean, Hawaii, go to the mountains, route to shores of paradise… What do those who because of certain circumstances can not escape abroad or even to go to the Crimea either in Carpathian Mountains?
---
According to statistics, four out of ten Ukrainians aged eighteen to fifty years old spend holidays and vacations in the bustling metropolises, going for a walk in the park or leaving on the plots to distant relatives. And all because the closer and cheaper to simply have no place to rest.
Why not choose an option, which for some reason, it seems, are not aware of any travel company or unforgettable trip agency – a small town near the capital. These "gaps" the manager of one of the branches of the travel agency "Serdica" in Kiev Ramazanova Alina explains that "in the summer a lot of customers want to go abroad at sea, and in general because of the rush and still have time for small towns, although these options are considered and remain valid for processing."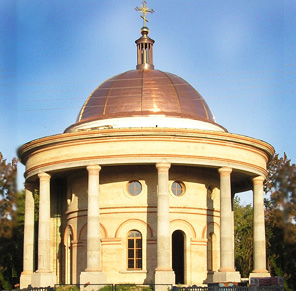 With a minimal amount of money in your pocket can be fun and rewarding time, for example, in Yahotyn of Kiev region.
This town of sugar beet and rivers of milk absorbed concerns of cyclists and restless workers, Ukrainian cuisine and countless lakes, asphalt and fertile land, evening of songs and daily walks, Ukrainian words and noisy youth, combines and BMW of latest models… Every corner is full of rich history and the present rapid, mysterious nights and dawns frank.
There are many legends about the origin of the name of the city. So, one of them in the area lived a wealthy landowner Yaho. He abused peasants. And once took their land and all hedged their very tall fence. People could not stand it, rebelled and killed Mr. and pinned his head to the ominous fence. So they called protected possession, "Yaho" and "tyn" – "Yahotyn."
This is really a wonderful city! It welcomes guests low houses, small streets leisurely, wide sunflower, wheat, buckwheat fields, smiling faces of residents.
According to official sources, the city was founded in 1552. At first it belonged to the province of Poltava and only eventually became a district center in the Kiev region. On its territory there are more than 47 lakes and rivers. And who would not go to places where Taras Shevchenko himself wandering in search of inspiration, where brush fascinated muse known self-taught artist Catherine Bilokur, take a stroll through the park, created by Prince Repnin, to run at the place where the palace of the last Hetman of Ukraine Kirill Razumovsky, drive to near the village and see firsthand the tiny amateur sports field under court grandfather footballer Andriy Shevchenko, where he began to love the athlete ball…
For residents and visitors is widely opens the door outbuilding in which Kobzar spent all his spare time during his visit to the Yahotyn district. You can touch the things the poet to see his paintings. You walk paths, meet a pair of lovers, and could not help imagine that maybe this is where Taras met with Barbara Repnina. Cordially invites museum, art gallery after Katerina Bilokur where colors fascinate her hollyhocks, a museum on the estate Repnins… Memorial Walk of Fame is calling his busts of heroes, at the same time shocking the hundreds of names of the dead. Rebounding Yahotyn Trinity Church, destroyed in 1936. Its grandeur is impressive. It is impossible to pass by the monument to Shevchenko depicting a young artist in full length (eg, the only two in the world: one in Canada, the other – in the courtyard Yahotyn School number 3). Look at him, tourists come from the U.S., UK, Germany…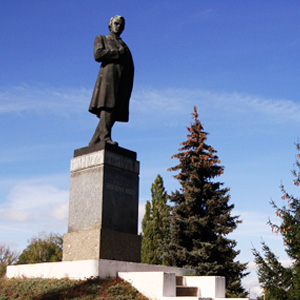 And the lure of a wide Supoi dreamy beach, calls in the heat of the water clear. Nature implies the depth and mystery. At such times, it is simply impossible to resist the temptation to sit in the park, flip through a book, think about eternity or have lunch with friends fishing. And you can go hunting or just to play ball. Disconcerting news graced us with the chairman of the City Council V. Goose that "already allocated from the budget to clean up two beaches, cleaning up parks and planting trees. It may, of course, a place near the water for the summer period will be paid (a nominal price promise: 0.5-1 uah), but the proceeds will go to the further improvement. Planned renting deck chairs, catamarans, boats…".
For fans of technical progress gladly arrange a tour of the famous Yahotin creamery, bakery, koncervny or even sugar factories will wander on the composition of the logistics center "Roshen", will show the second largest in Ukraine elevator will try to sausages "IDEX" or "mineral water Yahotyn" for mineral water plant. There you can watch the work of tractor. See a real cow that somewhere in the meadow graze old mistress, to help workers to dig potatoes, collect vegetables. It's all "their" natural. It seems that the technological revolution were settled there, but left untouched, pure, naive all around. Because in fact there is no house that tops obscure the sun, here and there were the usual dirt roads, all colorful, warm, colorful.
Go here is convenient, fast and cheap. On the suburban train station runs "Kiev – Yahotyn." In just 5 uah you can get to a fairy tale and all the way (and it takes about two hours) to enjoy the beautiful scenery outside the window. Another option – to go by bus from the metro stations Kharkivska and Chernihivska, but the cost is already in the 10-15 uah. If you own a car, you should ride only one and a half hours north of the capital.
As for accommodation, then no problem you can book a room in a hotel (which, however, hardly be called a five-star) or simply rent a room or an apartment from local residents. The prices are more affordable than 10-20 uah per day and a wide selection of homemade dishes. And you can just live with a lonely old lady, just to help you get a bucket of water from the well, chatted with her ​​for a cup of morning coffee on the porch and enjoy a delicious Ukrainian borsch with donuts.
Explore the city on foot, but transport is no problem. Plugs – something unreal, a fantasy. And a half hryvnia taxis or buses will take you from one end to the other Yahotyn, well, for the people there are quite sophisticated services of taxi drivers.
In Yahotyn are hospitals, many shops, markets where you can buy food and make sure that they do not contain chemichals.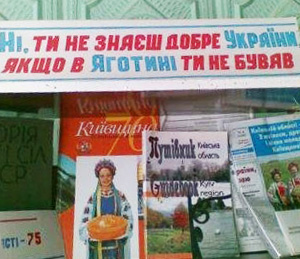 As for the "cultural program" for young people, you can go to the district library, sit in a cafe, to participate in the Youth Theatre, visit the literary evening, become a member of the chess club, sports team, enroll in a music school, art studio, on a circle of aircraft designers, amateur, embroiderers… Every evening, a disco, there are dozens of cafes, bars, saunas, night club "Maximum", where over 20 uah you can "hang" until the morning… Only 5 uah for you to go to theater. Ultimately, you can just sit on a bench in the park or around the yard, make a wish, enjoy the meteoric (in the big cities you can not see the sky like this.)
Yahotyn mesmerizing and leaves a memory fond memories and a desire to come back. This is a unique quiet corner in our globalized world, where you can still hear the song of a sincere Ukrainian grandmother who torn beets on the site. Here, you will not see any pizza or "McDonald's" in the streets close to many factories can still smell the freshly baked pies with apples, try jelly or green real Ukrainian borsch.
So, if you want a good rest, but do not have enough money or you just tired of monotonous expensive resorts, feel free to take family, friends, a backpack with the bare necessities, tents and sleeping bags – let's go and greet the dawn on the banks of the sleepy Supoi! Pleasant memories, good cheer, and saving millions of impressions are guaranteed!
Svitlana Zhevedenko