Much time has passed since the introduction and adoption of every nation. Different nations have their own characteristics and features unique to them, some are pale-skinned, the others are dark-skinned, some are dark-haired, the others are blond or red, some live in the natural deserts (both sand and ice), while others – in the concrete jungle. The same can be said about the national cuisine: some people have long been fed on meat products when others diet is consisted mainly of plant foods. Throughout its evolution, man has learned to turn raw materials into products and food, treating it in different ways, use a variety of spices and seasoning by combining one with other ingredients.
---
For every taste and color …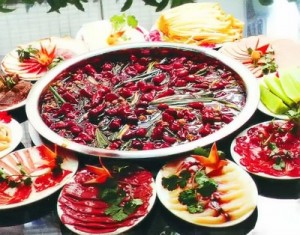 For centuries, the food specificity of each region was formed: some improved their cuisine, while others created an entirely new and original dishes, transformed the methods of cooking. Much has changed during the Age of Discovery – with the precious metals explorers brought back to their countries of valuable knowledge about everything, including cooking. India has given Europe hundreds if not thousands, of species of spices, without which we today would not imagine even familiar dishes. Every nations in the world throughout its existence, willing to conquer each other, fought many battles. Conquerors always tried to take everything of value, and it was not always the minerals, precious metals and treasures. They were primarily hunting for knowledge, which gave the most power and strength.
There have always been and still is the difference in nutrition between poor people and rich estate. Some people eat ordinary bread, and rejoice that they have it, while others – stuffed pheasants for three kinds of sauces. But it is impossible to draw conclusions about national cuisine based on neither the first case, nor the second.
Cuisines of the world are a very interesting phenomenon, because it sometimes happens that the two neighboring nations have very different culinary preferences, and only some of the dishes can be similar. Today's world presents many examples where people from two different continents share the love for dishes from a different part of the world. But in the case with European cuisine, first of all, it attracts the attention to deliberation, the traditions, the harmony of taste and refinement. Under the "European" we understand such cuisines: Austrian, British, Belarus, Balkans, Belgian, Greek, Danish, Estonian, Irish, Spanish, Italian, Catalan, Dutch, German, Norwegian, Polish, Slovak, Hungarian, Ukrainian, Finnish, French, Czech, Swedish, Swiss. What national dishes they have to offer to the foreigners?
Sweet Paradise of Austrians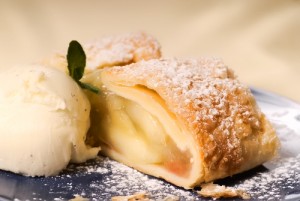 Austrian main meat dish is the famous Viennese schnitzel. It is fried in breadcrumbs large piece of soft veal that certainly served with vegetable salad. Another symbols of Viennese cuisine are fried chicken "bakhun" as well as Kaiser omelet (which looks more like a light cake with whipped eggs) "kayzershmarn". Also on the table you can see the Austrian boiled beef with horseradish and apple, "tafelshpits" trout fillet, noodles and cheese "kasnoken" and cheese soup, Serbian carp, dried ham, similar to Italian "pasta" – "nokerl" and delicate goose the liver.
A lot of dishes made from fermented cabbage, such as dumplings and sauerkraut "krotspattsn", hot "hoarneystnidey" and a lot of side dishes. In Austria, they also bake delicious bread, which, unlike other European countries,  you sure can find on the table.
By number of sweet dishes Viennese cuisine is unrivaled in the world. In addition to the traditional apple pie "apfelshtrudel" (apple strudel), the world-famous are chocolate cake "Sacher", rum cake "gugelhupf," a sweet soufflé "Salzburger nokerln", baked in an egg white bread with jam and sugar "armagh rieter ", apricot dumplings "marilenknedl", viennese crepes "palachinken", a variety of cakes and pastries.
There would be no oatmeal, sir!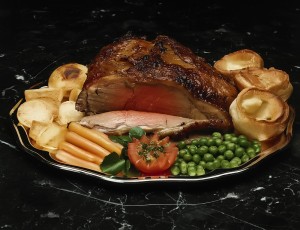 The basis of English cuisine make up the meat, fish, vegetables and grains. There is very diverse range of the British snacks, especially fish delicatessen, sandwiches. For the firs course the British eat various of soups and puree. The British eat a lot of meat: beef, veal, lamb, lean pork. Roast beef and steak are their favorite and the British national brand. The meat is served with variety of sauces, marinades, mostly tomato sauce and pickles and on the side dish – potatoes or vegetables.
A special place is occupied in the British diet by a variety of puddings. They are trained as a main dish (meat, cereals and vegetable puddings) and desserts (sweet and fruit puddings).
From drinks in Britain tea is traditionally popular. It is drunk during breakfast, afternoon and dinner. In tea the Brits usually add sugar and milk. From the intoxicating drinks special love the British have for beer – white ale and porter, especially prized is draft beer and from other alcoholic beverages – whiskey, gin, brandy, rum and port wine.
Food preferences of the southern and eastern Slavs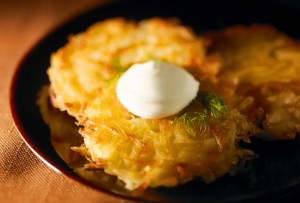 The Belorussian cuisine is characterized by cooking corned beef from the meat of domestic animals and birds, as well as the use of by-products, especially meat dishes made from the stomach or the udder boiled form. Boiled dishes and formlessness admitted ideal of the ancient Belorussian cuisine, because with such products have been particularly easy to fill a bowl. Well, and a hallmark of Belarus are legendary deruny (pancakes from grated potato).
The distinctive features of the Bulgarian cuisine is the presence of hot spices, succulent meats, vegetables and an abundance of spicy flavor. One of the main features is the thermal processing of foods at low heat. This allows you to save the nutritional value, a pleasant scent and reach original taste combinations. Condiments are usually added in moderation, because their purpose is to set off the main flavor dishes.
European gentlemen prefer simplicity
Czech cuisine is hearty and has juicy-sweet desserts. The most important characteristic of Czech cuisine is roast pork and dumplings. Garnish with the Czechs are quite diverse – potatoes (boiled, fried, fries), vegetables, grains. The Czech consider roast goose  a delicacy.
German cuisine has a great variety of dishes of pork, veal, beef, poultry, game and fish. Also it has variety of vegetables, especially cabbage, potatoes, most often in boiled form. Widely distributed are dairy products, sandwiches, egg dishes.
Irish cuisine is very traditional and simple. Even the Irish do not appreciate it. Recently, however, due to international influences, it has become more sophisticated in nature. The traditional dish are potatoes. The whole world knows Irish stew, and the country's credit cards are a variety of beers (Stout, Guinness).
First course in Denmark is a soup, usually broth with noodles or dumplings mannymi. The second dish is served with roast pork or Brussels sprouts with apples and prunes. No less popular are and pork liver with crispy fried onions. In Danish hot meals are often added sugar, is also popular and slightly caramelized potatoes.
Swedish cuisine is typically Scandinavian, it is very similar to Danish. It's characterized by simplicity, and the main ingredients are fish and turnips. The also often prepare meals of fresh, marinated and smoked seafood, as well as dishes from elk and venison.
The great combinators, or how to reconcile the irreconcilable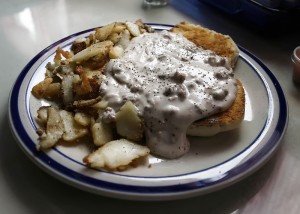 Estonian national dishes seem very original to anyone if you try them for the first time. The national dish of Estonians, kama, for example, is made from rye, peas, wheat and barley and is used with milk or yogurt. Very popular in Estonia are pea soup with pearl barley, roasted pork with onion sauce and pickled pumpkin, Estonian black bread with marinated anchovies.
Estonians, perhaps, can be regarded as the most "bloodthirsty" people of Europe, because they love to feast on blood sausage with lingonberry jam, and  do blood pancakes  based on them and other "bloody" meal. There are not afraid to mix milk with peas or fish. The result is a delicious and safe for the stomach  meal. The whole carnival of flavors Estonians wash down with beer – light "Saku" and dark "Saar" from the island of Saaremaa, and the original honey beer and mulled wine "hoegveyn".
Paprika and fish of Finno-Ugrics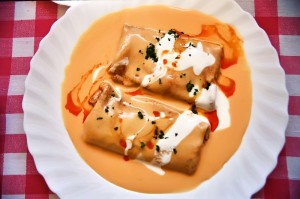 Finnish cuisine is very healthy through the use of whole foods, as well as fish and berries. Finns eat a lot of fish food, they are particularly fond of salmon, trout, pike, perch, cod, and small varieties. Meat dishes, except for the venison and game, reflect the influence of European (mainly French) cuisine.The desserts are dominated by dishes from northern berries – cranberries, cloudberries, polanica. Very popular are sweet pastries.
Hungarian cuisine is characterized by dishes that are prepared with the use of red pepper and tomatoes (the famous Hungarian goulash, chicken paprikash with dumplings and cabbage). A special place is occupied by the bow, the most famous of its kind – "Mako" – is  growing ariund Kalucha that in the southern part of Hungary. The meat is traditionally pork, but over time the Hungarians were administered in the diet of fish, poultry – foods that lower cholesterol. Almost all the national dishes are made from paprika – without it we can not cook goulash (a cross between a thick soup or stew meat), stew (ragout of chopped onions), tokan (a dish similar to stew) and paprikash (all dishes with cream sauce and paprika).
Romanian recipes of the "philosopher's stone"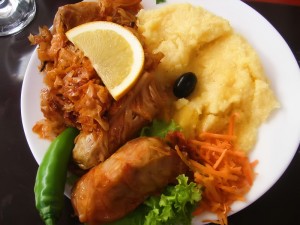 In the national dishes Romanians use ingredients that slow the aging process. It is used a lot of vegetables, fruits, eggs, dairy products. Perhaps that is why the Romanian dishes retain the natural taste. For the preparation of a variety of seasonings used on the basis of crushed dried herbs medical herbs. A characteristic feature of the Romanian cuisine is cooking over moderate heat, and the fact that certain ingredients are cooked just enough so that they are sufficiently soaked.
European countries are similar in terms of culture and politics, but their culinary map is surprisingly varied. As the proverb says: "Bread is the head of everything" – so you can make a metaphorical conclusion that the head and thoughts in these countries are quite different, as different are people living on their territory, but that all of their shares – their own and combines.
Victoria Kramar